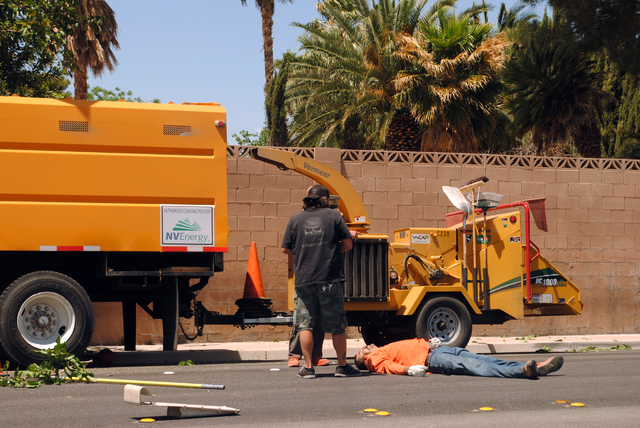 A man was transported to Sunrise Hospital and Medical Center in critical condition Friday after falling from a tree-trimming bucket near Sandhill and Russell roads.
The man, an NV Energy subcontractor, was trimming trees around power lines along the 3700 block of Crelin Circle when his elevated bucket was struck by the top of a passing truck, Las Vegas police confirmed Friday.
Officer Jesse Ruybal said fatal detectives were dispatched to the scene shortly after 12:30 p.m. on Friday.
The driver of the truck, described by a witness as an Ashley Furniture moving van, remained at the scene.
Las Vegas resident Gloria Torres said the man took what she described as a 20- to 35-foot fall from the bucket. She said the man, identified by a coworker as "Martin," was in the bucket swinging from a boom into oncoming traffic when he was struck by the furniture truck.
By the time Torres reached the man he was lying flat on his back, breathing heavily and foaming from the mouth. She said the man opened his eyes but did not speak or move before an ambulance arrived.
"The guy from Ashley was crying, saying he didn't want to lose his job," Torres said of the truck driver. "He said, 'We were driving along, and we didn't even see the basket.'"
Representatives with West Coast Arborists, an NV Energy contractor and the man's apparent employer, could not be reached for comment.
Sgt. Richard Tusko reports the Metropolitan Police Department's fatal detail did not respond to the incident, which the department is treating as a traffic accident.
He said no arrests were made in connection with the incident.
"The officer who responded treated it as a regular accident," Tusko said. "If the boom was hanging out in the lane it wasn't (the furniture truck driver's) fault."
Contact James DeHaven at jdehaven@reviewjournal.com. Find him on Twitter: @JamesDeHaven.