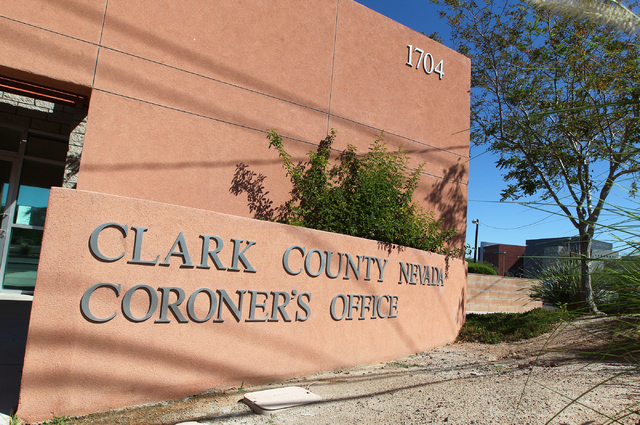 A man known as the "pantyhose prankster" behind thousands of random, lurid phone calls on the East Coast died Nov. 25 after police said he was stabbed in a scuffle over a change jar on the Strip.
Rip Alan Swartz, 46, had been sentenced to prison in Pennsylvania for making random calls to banks, restaurants and other numbers he found in the phone book, the Associated Press reported. The Harrisburg Patriot-News reported Swartz told police that asking women about their pantyhose was how he "got his jollies."
Swartz, who was homeless, was found on a pedestrian bridge on Harmon Avenue about 12:40 a.m. Nov. 25 with a stab wound to the chest, Las Vegas police said. He died at University Medical Center.
Calvin Boyden III, 33, was arrested in Swartz's death after a foot chase through a casino, police said. He is suspected of stabbing Swartz near Walgreens, 3717 Las Vegas Blvd. South, near Harmon Avenue.
Boyden's friend, Derick Flores, who was with him the night of the stabbing, told police that Swartz and Boyden got into an argument on the Harmon pedestrian overpass when Boyden took Swartz's change jar and threw it across the bridge, according to an arrest report.
Flores told police he saw "a struggle" between the two men when Swartz fell to the ground, saying he had been stabbed.
A woman who had been sitting next to Swartz on the bridge said Boyden had approached Swartz and demanded the jar of change, at which point Swartz called Boyden a racial slur, the report said. She told police Boyden left the scene on foot, still holding the jar.
Boyden and Flores were stopped shortly after by an officer on a motorcycle. Boyden ran and was found in Caesar's Palace where a short chase ensued before he was taken into custody, the report said.
Boyden is being held without bail at the Clark County Detention Center on charges of murder and robbery with a deadly weapon. He is scheduled to appear in court on Dec. 15 for those charges.
Boyden is set to appear in court Thursday for charges of first degree burglary and domestic battery with a deadly weapon, related to separate cases.
Reporter Ricardo Torres contributed.
Contact Kimber Laux at klaux@reviewjournal.com and 702-383-0381. Find her on Twitter: @lauxkimber.