Mechanical problem reported before Metro helicopter accident
December 31, 2014 - 7:50 pm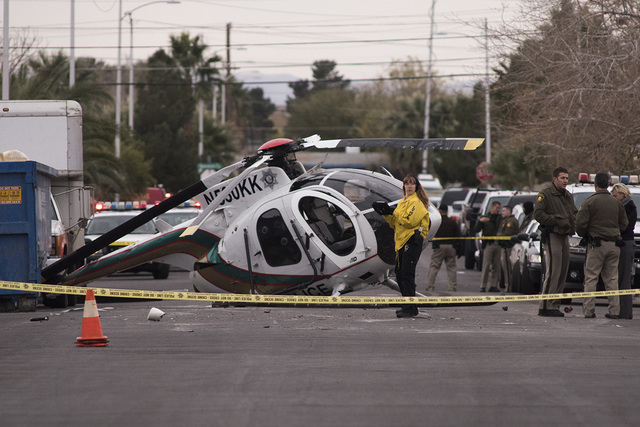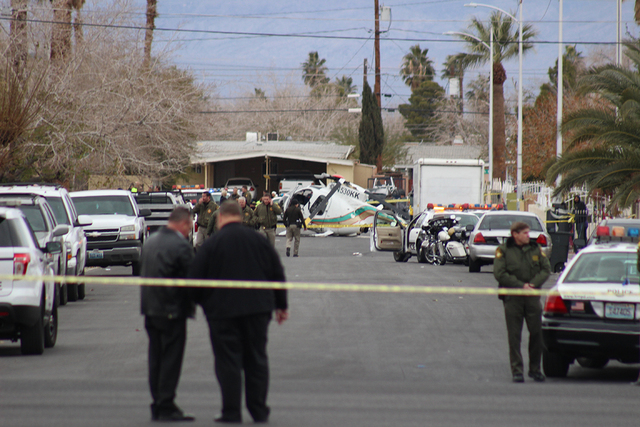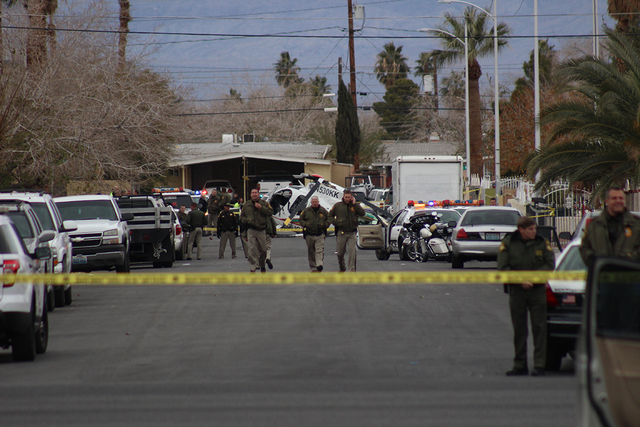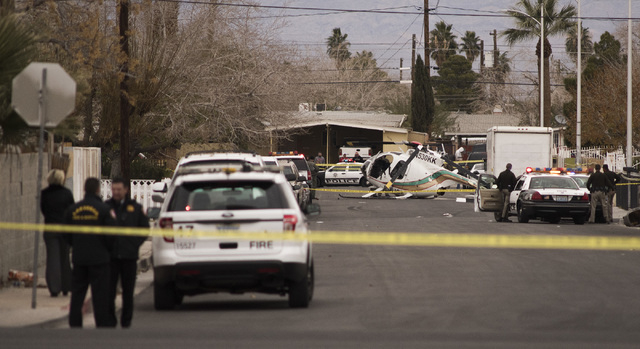 A police helicopter dodged power lines, people and houses as it came to a hard landing east of downtown Las Vegas on New Year's Eve.
Early indications are that the Metro helicopter went down on the residential 23rd Street after the pilot reported mechanical problem, said Federal Aviation Administration spokesman Ian Gregor. The nature and cause of the problem remain under investigation.
Two officers were taken to University Medical Center with injuries police described as not life-threatening. No one else was hurt, police said.
The MD Helicopters 530F — one of three in Metro's fleet — left the North Las Vegas Airport at 1:22 p.m. to respond to a battery call. While helping patrol units on the ground, the helicopter went down about 1:29 p.m. Wednesday just north of Bonanza Road, near Eastern Avenue, Metro said in a news release Wednesday night.
Metro Air Support Lt. Jack Clements said the pilots did "exactly what they're trained to do in that situation."
As the helicopter was going down, the crew looked for a safe place to make the unplanned landing — in this case 23rd Street, right in front of a house. While autorotating, a power-loss maneuver that allows a pilot to remain in control with the rotor blades still turning to slow the descent, the Metro pilot avoided several power lines.
The aircraft landed upright in the street, but was heavily damaged. Photos of the scene showed the tail assembly broken off, the skids badly bent and other damage. It is unclear how far the helicopter dropped or how long it took to reach the ground.
The intersection of 23rd Street at Bonanza Road was closed about two hours. The helicopter was hoisted onto a flatbed truck and hauled away shortly before 6 p.m.
FAA records show Metro purchased the helicopter, tail No. N530KK, in 2010. Manufactured in 2006, it had no other reported incidents or accidents.
The identities of the helicopter's crew have not been released. The FAA and the National Transportation Safety Board will release any future information regarding the accident, Metro said.
Roguel Covarrubias, 25, was visiting his aunt, who lives about three houses away from where the helicopter went down, when she said she heard a commotion.
"She got scared," he said.
Covarrubias ran outside to check out the sounds. He said it's typically a quiet neighborhood.
"You just don't hear stuff like that," he said.
Around the corner, Saul Pema, 17, was just arriving home when he saw the helicopter down in the street. He said it looked like its tail broke after hitting a large dumpster.
Seeing a Metro helicopter fly over the area isn't unusual, said another resident, Brian Starin.
"But they never fall out of the sky," said the 47-year-old, who lives about two blocks west of where the aircraft went down. He said he didn't know anything had happened until he heard sirens coming his way and stepped outside.
"There wasn't no boom. No nothing," Starin said.
Metro's Air Unit has seen tragedy and close calls, and has faced criticism in the past two years.
In May 2012, a rescue helicopter clipped a Red Rock Canyon wall with its rotor during a training mission.
In September of that year, pilots were practicing a hard landing maneuver at the North Las Vegas Airport that caused $1 million in damage to helicopter, damaging it beyond repair. Two officers suffered minor injuries in the crash.
After those two incidents, Metro assigned then-Lt. Gawain Guedry, now a retired police pilot, and two other officers to investigate. Some changes from the officers' report, such as creating a safety officer position and updating training and operational procedures, have been implemented while other recommendations, such as installing recording equipment in helicopters, have not been finished.
In July 2013, Officer David VanBuskirk died after falling from a helicopter during a rescue mission on Mount Charleston.
Just weeks after VanBuskirk's death, Guns N' Roses lead guitarist DJ Ashba and his then-girlfriend were given a private tour of Las Vegas that ended with a planned marriage proposal in a field next to a table with roses and champagne.
Reporter Cassandra Taloma contributed to this report.
Contact reporter Colton Lochhead at clochhead@reviewjournal.com or 702-383-4638. Find him on Twitter: @ColtonLochhead. Contact reporter Wesley Juhl at wjuhl@reviewjournal.com or 702-383-0391. Find him on Twitter: @WesJuhl