Medical pot lawsuits grow but weed doesn't in Vegas
December 13, 2014 - 1:20 pm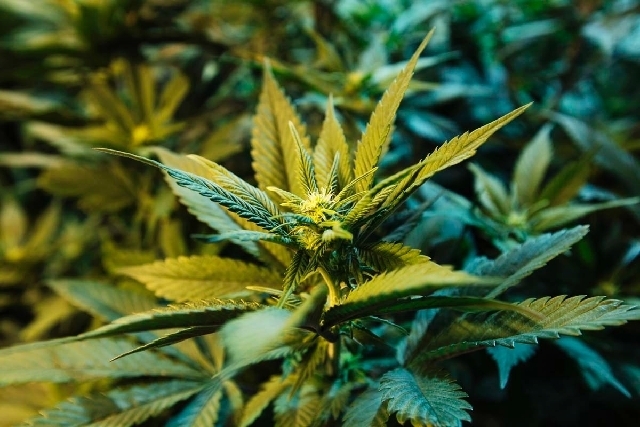 The first medical marijuana dispensary in Nevada is yet to open, but the lawsuits are already flying as applicants jockey for a starting position in the state's green gold rush.
GB Sciences Nevada LLC, a company that won city approval for a Las Vegas dispensary but missed the cut on state licensing, has filed a lawsuit challenging the state's rankings. The state also faces a lawsuit from seven dispensary applicants hoping to open in unincorporated Clark County who gained county approval but not state approval.
Industry observers say the lawsuits won't stop the medical marijuana boom, but deal a setback that will slow the expansion of the industry at a critical juncture.
Much is at stake for Nevada's would-be medical pot barons: Entry into the lucrative field is limited and competitive, and the possibility of legalized recreational use could fuel the industry's future growth.
The Nevada industry's entry into the courtroom mirrors what has happened elsewhere in the United States as medical marijuana started, including neighboring Arizona.
"My opinion is it's not good for the industry," said John Laub, president of the Las Vegas Medical Marijuana Association, of the lawsuits. "I'm not happy with it."
On Friday, lawyers for the seven applicants who won approval from Clark County but not the state asked a judge to order the state to reconsider.
Dennis Kennedy, a lawyer for five of the applicants, said state law requires people to get local zoning approval before the state can grant provisional licenses.
That means, Kennedy said, that eight of the 18 people approved by the state should be rejected — and perhaps replaced with his clients and others.
Lawyers for the dispensaries in the opposite position — they won approval from the state, but not the county — said state law gives the Division of Public and Behavioral Health the discretion to decide who gets licenses regardless of what a county or city decides.
LITIGATION TAKES TIME
District Judge Kathleen Delaney gave the lawyers a week to file more briefs laying out their positions. She said she'll decide after that whether to have a full evidentiary hearing or issue a ruling based on the lawyers' arguments.
Linda Anderson, chief deputy attorney general, admitted the state's process was flawed and said the state might consider disqualifying some of those it gave provisional licenses, depending on what Delaney decides.
Such a move would likely lead to even more litigation, said Todd Bice, a lawyer for two applicants whose licenses are threatened.
The case that originated from Las Vegas came after the City Council unanimously approved GB Sciences' application in October to open up a dispensary near Las Vegas South Boulevard and East Charleston Boulevard.
Five days later, Nevada health division regulators ranked the company as the 13th-best dispensary hopeful in a town with only 12 pot shop licenses.
GB Sciences responded with a lawsuit against the state and two of its Las Vegas competitors — Desert Aire Wellness and Nuleaf CLV, companies with applications the suit claims were "improperly accepted" by state regulators.
The filing goes on to allege that pot shop defendants with Desert Aire and Nuleaf left key information out of their state applications, including proof of local land use and business licensing approvals.
Both companies were reintroduced into the city's pot permit process a day after GB Sciences filed suit.
City leaders have decided to allow Nuleaf to find a new location for its proposed pot shop before rehearing the company's application. They plan to give Desert Aire its first public pot shop hearing on Dec. 17.
GB Sciences' attempts to kill those hearings were rebuffed by District Judge Jerome Tao on Tuesday.
The company had sought a temporary restraining order to block City Council members from reconsidering Nuleaf and Desert Aire's applications, claiming in court filings that doing so would cause "irreparable harm" to GB Sciences.
Tao only needed a few paragraphs to dismiss that notion.
"The mere calendaring of a matter for 'consideration' by the City Council … does not automatically or necessarily mean that (GB Sciences) has, or is likely to, suffer any harm at all," the judge wrote in his decision, "much less harm that is legally 'irreparable.'"
Attorneys with GB Sciences did not return requests for comment.
The company shed three principal investors in the four months between Clark County and Las Vegas' pot hearings, dropping former investment banker Bruce Raben and Beano's Casino gaming license holder Barry R. Moore on its way to City Hall.
The company also parted ways with developer and slot machine route operator Bruce I. Familian. Familian was sanctioned by the Gaming Control Board for his ties to the medical marijuana industry in July.
Longtime Las Vegas Valley developer James D. Hammer, GB Sciences' president, did not return requests for comment.
Andrea Small-Howard, company investor and "Chief Science Officer" at publicly-traded GrowBlox Sciences Inc., also could not be reached.
CLARK COUNTY DETAILS
In the Clark County case, county commissioners issued special use permits to only 18 dispensary applicants in June, and some of them didn't match up with the the state's top choices posted in early November. As a result, only 10 applicants have the needed approval from both the state and the county. The lawsuit calls into question the state's selection process, seeking a court order forcing the state to grant provisional certificates to applicants with county permits.
The lawsuit was also filed against all other dispensary applicants who fared differently in the process.
"I think they're hurting themselves over the long haul," said Derek Peterson, chief executive officer of Terra Tech. That company's subsidiary, MediFarm, gained state approval for two dispensaries, but didn't get permits from the county. The company has a dispensary project moving forward in the city.
He said the lawsuit doesn't help the industry or the reputations of the plaintiffs.
"They're hurting jobs," Peterson said. "They're hurting patients."
Bice, an attorney for Livefree Wellness and Nuleaf Clark Dispensary, led the argument in court Friday on behalf of the applicants with state but not county approval.
He said Kennedy and another opposing lawyer were cherry-picking one part of the law by arguing the county's zoning decisions tied the state's hands. Another section of the law says the state has to consider applicants' experience and financial resources, as well as how a dispensary would affect a neighborhood, among other factors.
But the attorney general's office's Anderson, in a court filing, said the state "does not dispute that (it) issued registrations to applicants who did not comply with" the law.
She said it can only reverse those decisions and award new licenses with a court order because the 90-day period for it to consider this year's applications has passed.
Anderson suggested in court that the state's rush to decide who got licenses and balance competing interests led to the missteps.
"They were trying to get it done in an expedited fashion, and I think unfortunately this was the result," Anderson said.
Steve Cottrell, owner of Cannext Labs, plans to open a laboratory in Las Vegas. He also opened up a laboratory in Arizona in 2011, and says multiple lawsuits in that state slowed down the growth of the industry.
"It's a complete déjà vu," Cottrell said. "I have been there before."
Lawsuits in Arizona happened on a variety of fronts. Applicants sued that state over a one-year deadline to get approval from local jurisdictions, and there was litigation centered on potential locations of dispensaries.
"It was incredible frustration," Cottrell said, noting that applicants put millions of dollars into their businesses only to be put on hold.
But Cottrell still has a good outlook for the region's long-term future with medical marijuana.
"I have great aspirations for Las Vegas," he said.
Review-Journal writer Eric Hartley contributed to this report. Contact Ben Botkin at bbotkin@reviewjournal.com or 702-405-9781. Find him on Twitter: @BenBotkin1. Contact James DeHaven at jdehaven@reviewjournal.com or 702-477-3839. Find him on Twitter: @JamesDeHaven.