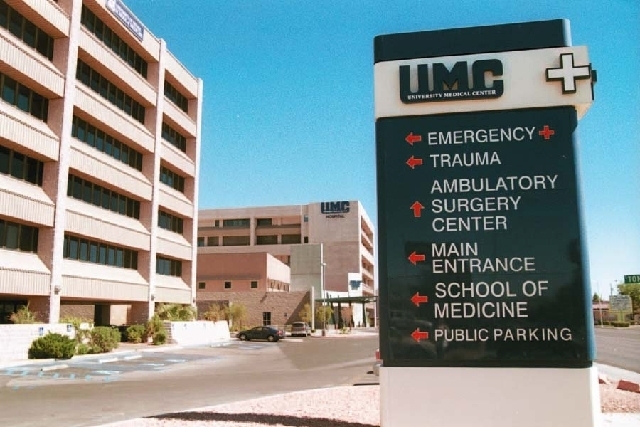 Upheaval involving improper patient discharges at Rawson-Neal Psychiatric Hospital is affecting Clark County hospitals now struggling with an influx of the mentally ill.
The problem reached a critical point Monday afternoon at University Medical Center, which declared an "internal disaster" because of the overflow of mentally ill patients.
UMC shut down its adult emergency room to arriving ambulances for 12 hours, the hospital's chief of staff and head of emergency services said Wednesday.
An angry and frustrated Dr. Dale Carrison said nearly half of UMC's 45 emergency room beds were taken by patients the hospital lacks the capability to treat.
Six more mentally ill patients were housed in another area of UMC.
"We have noticed that Southern Nevada Mental Health Services has slowed down the number of patients it is now taking in a 24-hour period since the problems arose" at Rawson-Neal, Carrison said.
He stressed that UMC trauma services and pediatric emergency patients were not affected by the adult emergency room shutdown that ended early Tuesday.
Earlier Wednesday, Mary Woods, spokeswoman for the Nevada Department of Health and Human Services, said there were no problems at Rawson-Neal.
While other hospitals are carrying more of the load for treatment of mentally ill patients –– Southern Nevada Health District records show that 183 psychiatric patients are being held at area hospitals –– no other hospital on Wednesday reported problems as severe as UMC's.
The situation is unfair to the mentally ill patients going untreated and to those with physical ailments whose emergency room waits have gotten longer, Carrison said.
"The worst thing about this is that state government is doing nothing to change it," he added.
Records kept by the Health District's Office of Emergency Medical Services and Trauma System showed that all area hospitals are housing mental patients, including 28 at Valley Hospital Medical Center; 22 at Desert Springs Hospital Medical Center; 17 at three St. Rose Dominican hospitals; 13 at Sunrise Hospital and Medical Center; 12 at Summerlin Hospital Medical Center; and eight each at Southern Hills Hospital and Medical Center and Spring Valley Hospital Medical Center.
The problems at Rawson-Neal spring from allegations of cross-border dumping of mental patients that grew out of a Sacramento Bee report on a mentally ill patient who had been discharged and bused to Sacramento, Calif., with no support waiting for him.
A state review of 1,473 cases in which patients were bused out of state in the past five years found 10 that may have involved an improper discharge.
On Monday, two Rawson-Neal employees, both doctors, were fired, while three others will be disciplined for their roles in the 10 cases. Nine employees in total were involved in improper patient discharges, but four no longer are employed at the hospital.
On Tuesday, the Review-Journal learned the names of two officials, Dr. Anurag Gupta and Dr. Rao Puvvada, who were fired in connection with the "patient dumping" claims at Rawson-Neal.
They both are listed as senior psychiatrists in the hospital's organizational chart.
Two more doctors were planning to resign, according to a Rawson-Neal employee who asked not to be identified.
Woods would not confirm the names or job categories of those fired or disciplined but said the job actions would not compromise services offered to patients at Rawson-Neal.
The hospital has about 32 physicians and nurse practitioners, she said.
"They are making it work now," she said. "It's a common occurrence to manage (patient care) with vacancies."
Late last week, Rawson-Neal was given 10 days by the federal Centers for Medicare and Medicaid Services to correct "serious deficiencies" in its mental health discharge policies or face a loss of federal funding.
Gretchen Papez, a spokeswoman for the Valley Hospital Health System, said Valley has reserved space near the emergency room to care for the influx of mentally ill patients.
"We can still accept emergency patients," she said, "but we do have to increase staffing to watch the mentally ill."
Officials at Sunrise Health Systems and St. Rose hospitals did not comment.
In 2004, then Clark County Manager Thom Reilly declared a mental health emergency when there were 105 psychiatric patients crowding area hospitals.
At least three hospitals have been built since then, however, noted John Hammond of the Health District's Office of Emergency Medical Services.
Hammond said ambulances arriving at six area hospitals with patients now must wait at least 30 minutes before a patient gets a bed. The ambulance can't leave until that happens.
Carrison said that is the least of the problems.
"Who is speaking for the mentally ill in this state?" Carrison asked. "Because they don't have a face — we can't give out their names because of privacy laws — nothing is done. Well, something must be done. This isn't right. We're talking about people who need help just being held at a hospital, and nothing (is) done for days."
Contact reporter Paul Harasim at pharasim@review journal.com or 702-387-2908. Contact reporter Yesenia Amaro at yamaro@reviewjournal.com or 702-383-0440.