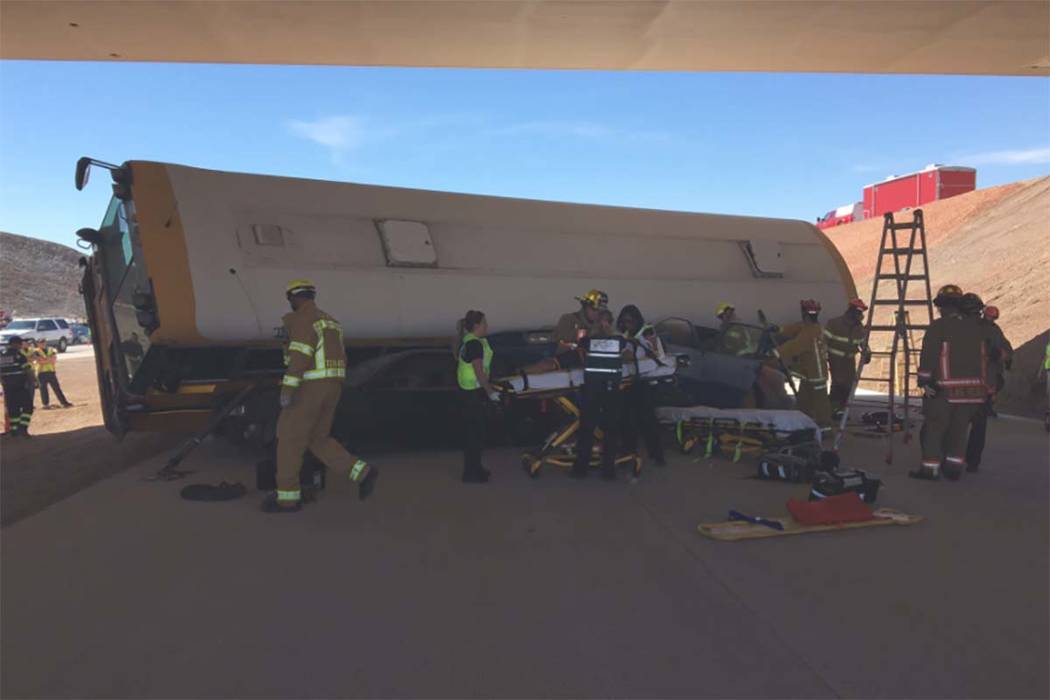 Multiple Las Vegas agencies participated in a mass casualty training exercise Monday morning involving an overturned school bus.
Nevada Highway Patrol tweeted photos and video of the mock crash site, which shows a white passenger car perpendicular to a large overturned school bus.
The scene is similar to a May 4 crash that killed a woman and sent more than a dozen middle school students to a hospital. In the fatal crash near Nellis Boulevard and East Carey Avenue, a white Ford Taurus LX sedan ran a red light and T-boned a Clark County School District bus.
Despite the similarities, Highway Patrol spokeswoman Chelsea Stuenkel said, "there is no specific link or reference to the other (May 4) crash."
Stuenkel said the bus is being used in this training to represent a large passenger vehicle and multiple fatalities. The vehicles used in the training were previously damaged or out of service, she said.
Contact Lawren Linehan at llinehan@reviewjournal.com or at 702-383-0381. Follow @lawrenlinehan on Twitter.
An inside look at multiple LV agencies working together on mass casualty training exercise @nevadadot @cityofhenderson @LasVegasFD @LVMPD pic.twitter.com/2AyBnNpUzd

— NHP Southern Command (@NHPSouthernComm) May 22, 2017