'Money, money, money' stressed in education reform talks
December 16, 2014 - 11:20 pm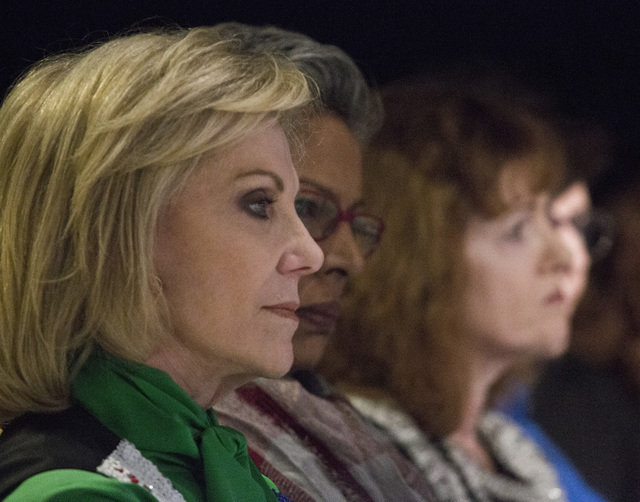 A lot of plans and not enough money.
That was the message running throughout Tuesday's conversation for improving Nevada's public schools, as stated by some of Nevada's leading education officials and a reform-minded state lawmaker.
The state won't waver in its devotion to its new academic standards — Common Core State Standards — as some would like to see happen as it has in other states, said Sen. Joyce Woodhouse, D-Henderson, chairwoman of the Legislative Committee on Education. But teachers need to be trained for bringing students up to these more rigorous standards, she said.
"We need to look at our state budget and find some more dollars," said Woodhouse, who also serves on the Finance Committee and vowed to find increased funding for this and other public school purposes.
Woodhouse and other panelists gathered at Vegas Public Broadcasting Service to talk education reform in a discussion televised live Tuesday and hosted by the Las Vegas Metro Chamber of Commerce.
Panelists promoted pursuit of all kinds of programs: Creating a system awarding extra pay to high performing educators, making full-day kindergarten standard, providing incentives for teachers venturing into high-poverty schools and those with few English-speakers, creating more advanced computer science and technology courses, and reinventing the state's nearly 50-year-old funding system currently providing schools a flat rate per student.
A bill draft request under consideration for the 2015 session would provide up to twice as much for students in special education, living in poverty or learning English.
All of these plans have one thing in common: a price tag above and beyond what's currently paid for in Nevada public schools.
"We continue to talk about money, money, money," said John Cole, a community member and former Clark County School Board member, questioning the panel and noting how voters overwhelmingly quashed the state's two recent ballot measures to increase education funding.
About 79 percent of voters statewide rejected November's ballot question for a 2 percent margin tax estimated at providing $800 million annually to public schools in 2012. The Clark County School District asked voters for a property tax increase providing $669 million over six years for improvements to aging schools, and county voters shut that down 2-1.
"How are we going to convince the community we need more money and we're spending it effectively?" Cole asked the panel.
Clark County Superintendent Pat Skorkowsky painted a grim picture of increased enrollment in an already overcrowded district of aging schools, a district which doesn't have the money to build new schools.
"The biggest challenge we face is providing a quality seat for every student," said Skorkowsky, emphasizing the district's overcrowding in elementary schools, which cumulatively enrolled 699 new students in October alone. "I could literally build 24 elementary schools right now and they would be overcrowded."
Skorkowsky said a few dozen schools have been put on a watch list to possibly switch to year-round class schedules in 2015-16. Both these points were also emphasized by the district in its 2012 campaign to increase property taxes.
"You yell fire in a crowded theater and the community is going to shut it down again," Cole contended.
Contact Trevon Milliard at tmilliard@reviewjournal.com or 702-383-0279. Find him on Twitter: @TrevonMilliard.