Monsoon storms left a destructive path for some Las Vegans
October 6, 2012 - 10:39 pm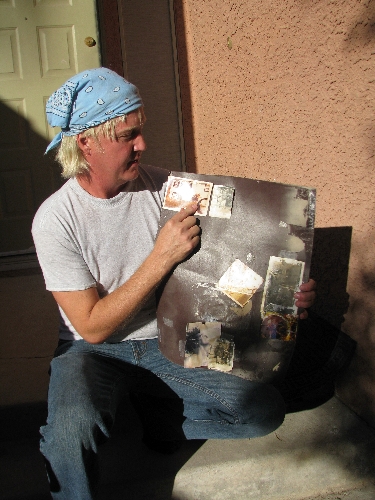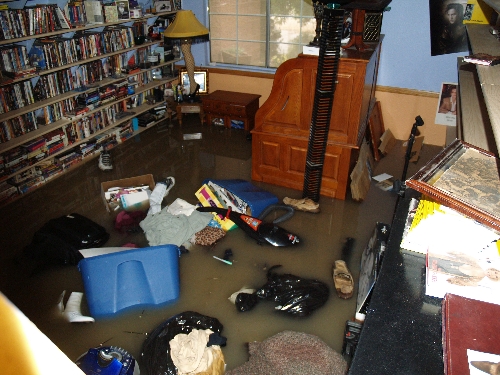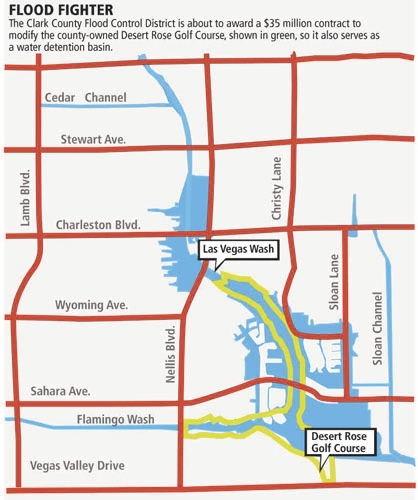 James Rompel, who lives on the edge of Desert Rose Golf Course, has spent decades as an Elvis tribute artist building up a collection of costumes, musical equipment and memorabilia.
Most of it disappeared in 20 minutes under 2 feet of floodwaters Sept. 11.
"The water comes in off the concrete channel, and when it hit the golf course, it just spread out," Rompel said. "I've lived here five years, and I've seen the golf course flood plenty of times, but nothing like this."
A pair of storms on Aug. 22 and Sept. 11 resulted in multiple swift-water rescues, shut down streets, flooded hundreds of homes and caused $2.6 million in damage to public property. They also led to the deaths of two people.
Rompel speculated that the conversion this spring of the Las Vegas Wash to a concrete-lined channel upstream from the course caused the floodwaters to spill over into his neighborhood.
Gale Fraser, general manager and chief engineer for the Clark County Regional Flood Control District, said the Sept. 11 flooding was a function of the rainfall pattern more than anything else, with the storm moving across the valley from west to east and dropping rain on its own runoff.
But flood control officials have long recognized that the county-owned golf course, where the Flamingo and Las Vegas washes and the Sloan Channel converge, is a serious flood hazard. Stormwater from about two-thirds of the valley passes through it.
So even before the recent storms, they had planned to spend $35 million to lower the golf course's elevation to serve as a flood detention basin and revamp the adjoining flood control channels to limit flood damage to the neighborhood should another big storm strike. The project goes out for bidding in about a month.
Fraser said that if the project had been in existence, it would have prevented the damage that Rompel and others suffered.
"Since I've been here, every time we've had a major flood we've had a project in design that would have mitigated that," Fraser said.
THE BIG STORMS
The storm on Sept. 11 was the second killer storm to rage through the valley. It happened about three weeks after teenager William Mootz was killed after disappearing into a flood channel on Aug. 22.
Unbeknownst to Rompel, while he frantically tried to move cardboard boxes of valuables and electronic equipment out of the rapidly rising flood­waters, his next-door neighbor's dogs were drowning. And near his backyard at the golf course, Luis Lopez-Solis, a worker repairing damage from the previous storm, was lost in the surging wash.
"If there's one thing we want to get the word out about, it's to let people know how dangerous floodwater is," said Fraser. "The channels become raging rapids. If you get close, you're taking your life in your hands."
The flood control district's website, ccrfcd.org, has a number of tools to track rainfall and channel flow at spots across the valley, both in real time and archived. According to the site, water reached 7.3 feet deep at the Desert Rose Golf Course, and about 9,150 cubic feet per second was flowing down the Las Vegas Wash.
"If you want to visualize a cubic foot, think of a basketball," Fraser said. "It's like that many basketballs going by every second."
Fraser said the flooding from these storms was so intense simply because the storms were so intense. He rates them worse than the 1999 storm that tore out a large section of the Miracle Mile Trailer Park, shut McCarran International Airport and much of the city for the better part of a day and caused $20 million in public damage.
"There's no doubt in my mind that the storms we had this summer, both Aug. 22 and Sept. 11, were worse," Fraser said. "I've never seen any storms like that since I've lived here."
FLOOD CONTROL UMBRELLA
Fraser said that since the 1999 storm, the flood control district has more than doubled the number of detention basins and added about 200 miles of channels and tunnels.
"I'm proud of what we've accomplished," he said. "It's regrettable that lives were lost and buildings were flooded, but there's no doubt in my mind that it would have been much worse if the community didn't recognize that there should be a regional method of handling the flooding in the deserts in Southern Nevada. The stuff we're doing is making the community more sustainable and resilient."
Since 1987 the flood control district has invested $1.7 billion building 90 detention basins, and 573 miles of concrete-lined channels and tunnels.
The Las Vegas Valley's propensity for flash flooding is caused by multiple factors. Much of its annual average of 4 inches of rain falls in a few intense storms during monsoon season in late summer.
Also, most of the desert soil is hard and doesn't absorb the rain. And explosive growth over the past few decades has led to more and more of the valley being paved.
Finally, there is the valley's geography. Its wide plain, all but completely surrounded by mountains that act as a great tilted bowl, collects rain and funnels it down the washes to Lake Mead.
RESIDENTS WERE WARNED
On Oct. 2, the Clark County Commission began the process of requesting that Gov. Brian Sandoval declare the flooded section of town a disaster area in an effort to secure federal funds.
"There's no threshold of a dollar amount for the state to accept our request," said Chris Giunchigliani, Clark County Commissioner for District E, the area most deeply affected. "For federal disaster funds, there's a $6.6 million threshold. We thought it was appropriate to at least begin gathering the information to see if we qualify for federal assistance."
The funds the county is seeking to acquire from state and federal sources could only go toward public facilities. If the valley is declared a federal disaster area, homeowners would have the opportunity to apply for low-interest federal loans, but Giunchigliani fears that many residents may simply be stuck with the financial and emotional hit. Many of the residents did not have flood insurance.
She said she had been informed of 319 homes damaged in the flood, 19 of which were declared unsafe or not habitable.
The Desert Rose Golf Course was built in 1964 on a naturally irrigated area at the confluence of the Flamingo and Las Vegas washes. The homes on the south side of the course were later additions and built on higher ground than other homes near the golf course. They were not included in a recent revamp of the flood basin boundaries based on updated technology despite their proximity to the washes. The assessment was made by the flood control district and approved by the Federal Emergency Management Agency. But those were the homes that were flooded.
"I held three town halls, mentioned it in two newsletters, and we sent out direct mail to inform folks they were in the new basin," Giunchigliani said. "We were informing homeowners that, as of Nov. 1, 2011, they're required to have flood insurance if they still have a mortgage. I reiterate that even if you're not in the flood zone, but you live along the wash, get flood insurance."
Rompel bought his home in 2007.
"It was back when they were just rushing things through and giving out loans to anyone, he said. "No one ever said anything to me about flood insurance."
Rompel was in the process of packing up for a hiatus from the valley, so the water not only destroyed his furniture, television and other household items, but also musical equipment, signed books, costumes and memorabilia collected over decades that was in boxes on the first floor.
"I'm safe, my dogs are safe. That's the important thing," Rompel said. "The stuff that I lost are just things, but things I've been collecting for years."
CLEANING UP THE MESS
Rompel's home is habitable, but a far cry from Graceland. He has worked as an Elvis tribute artist since the mid-'80s when he performed in "Legends in Concert." He's also worked as one of the city's good will ambassadors for the Las Vegas Convention and Visitors Authority, touring the world as Elvis. Weeks after the flood, he's just a tired man literally picking through the rubble of his life.
"I've lost all my photo albums, all my speakers and amps for work," he said. "I've got some of my costumes still, but my best leather jacket for the shows was downstairs. I'm hoping I can find some way to salvage it, but it looks awful right now."
Weeks after the storm, Rompel's neighborhood is filled with giant trash containers full of sodden furniture, carpeting and mud-covered household items.
"I just found this today, it just kills me," Rompel said of a box full of video­tapes. "It's not just my performances. It's family events, friends, anything I shot ever."
In the days after the flood, Rompel considered trying to organize a benefit show to help out his neighbors, but soon realized that just getting his own house back into shape was a tax on his resources.
He has spent his time trying to dry everything out and clean things up, but mostly he's throwing away decades of memories. In the days to come he might decide if it's worth rebuilding. For now he's just taking care of business.
Contact Sunrise/Whitney View reporter F. Andrew Taylor at ataylor@viewnews.com or 702-380-4532.