Mother gets 16 to 40 years in prison for abuse of 7-year-old son who died
December 3, 2014 - 4:25 pm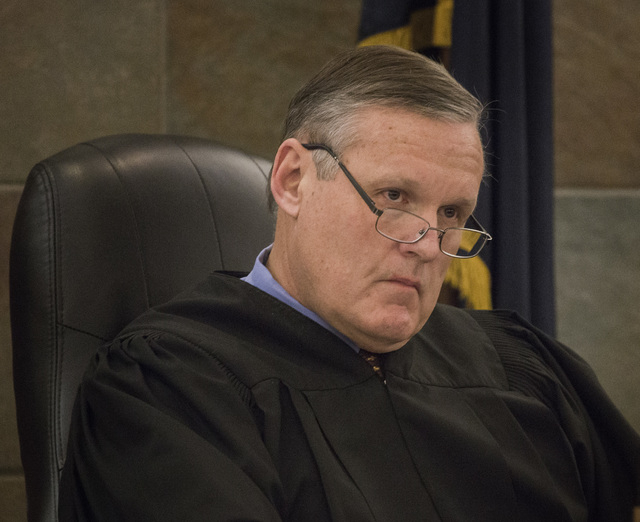 Roderick "RJ" Arrington lived for seven years, two months and 25 days before his mother introduced him to her new husband.
In the final two months of his short life, the couple tortured the boy.
For her role in the beatings leading up to her son's death in November 2012, Dina Palmer was sentenced Wednesday to between 16 and 40 years in prison.
Palmer pleaded guilty in September to two counts of child abuse, neglect or endangerment with substantial bodily harm in connection with the beatings RJ suffered inside a Las Vegas apartment.
In exchange for Palmer's plea, prosecutors dropped a murder charge, and she agreed to testify at her husband's trial last month. During her testimony, she told a jury she still loves the man who killed her son.
On Wednesday, she said she accepted "full responsibility" for her actions.
"This has been the most difficult two years of my life," she told District Judge David Barker. "I don't think any punishment can exceed how much I punish myself."
She cloaked the abuse of her son in religion. While still living in Illinois, she was questioning God and in early 2011 reached out to Markiece Palmer, who convinced her Jesus died for their sins.
After a monthslong online courtship, she moved to California so they could get married. RJ stayed in Illinois while the couple lived out of suitcases, surviving mostly on welfare and getting kicked out of apartments and friends' homes.
By the latter half of 2012, the couple found a place in the central valley, and RJ came to live with them on Sept. 8, 2012. He would be dead 83 days later.
Markiece Palmer wanted to instill religion and honesty in the boy. When RJ lied about reading the Bible, the couple took turns beating him until they grew tired. If the boy fell asleep with his head in the Bible, he was beaten.
They forced him to stand against a wall with his arms outstretched or bend over and touch his toes.
They used a belt, a coaxial cable, a shoe, a broom stick and a wooden brush that snapped on RJ's backside.
Dina Palmer said RJ would sometimes fall to his knees and get back up in the middle of punishment.
But in stoic defiance, the boy never cried.
In one of the last moments of his life, after being pressured for an honest answer, RJ admitted that he hated Markiece Palmer because of the abuse.
So the couple beat him again.
A neighbor who drove RJ to school on Nov. 28, 2012, testified at Markiece Palmer's trial that she told school officials the second-grader had trouble walking and sitting. She also called Clark County Child Protective Services with her suspicions. The night before, she heard yelling between a man and woman in the apartment next door.
A school counselor called a child welfare hotline with suspicions of abuse at the boy's home, but social workers never responded to the school. RJ died two days later.
Because school employees did not observe the extent of RJ's injuries, the hotline worker who took the call had assigned a 24-hour response from Clark County Child Protective Services.
A CPS investigator assigned to RJ's case testified that the calls "should have been handled differently."
Doctors who tried to save RJ's life found his body riddled with more than 100 welts, bruises and cuts on his arms, abdomen, back, legs, thighs and buttocks. The boy's brain was swollen from having been slammed up against his bedroom wall.
Dina Palmer first told police that RJ hit his head while running away from her husband.
But last month at the trial, she said Markiece Palmer had picked up the boy and started to shake him, when his head snapped back and struck the wall.
Prosecutor's believe that blow to the head caused RJ's death, Chief Deputy District Attorney Michael Staudaher said.
Two weeks ago, jurors convicted Markiece Palmer of first-degree murder and two counts of child abuse. He faces life in prison without the possibility of parole at a sentencing in January.
Barker presided over the trial, and in handing down Dina Palmer's sentence Wednesday, the judge called the facts of the case "as chilling as any I've ever heard."
He wasted little time giving her the maximum sentence for the child abuse charges and said, "You failed your son in every way a mother could fail a child."
Contact reporter David Ferrara at dferrara@reviewjournal.com or 702-380-1039. Find him on Twitter: @randompoker