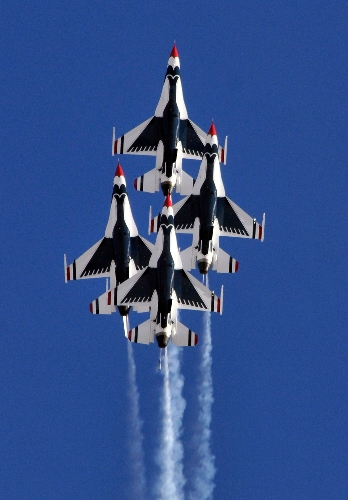 The spectators who will watch the November air show at Nellis Air Force Base don't share the potential risks of those who were killed during last week's deadly crash at the Reno air races, a Nellis spokesman said.
The difference in potential danger for spectators is akin to the risk factor for speed skating versus figure skating, a Nellis spokesman said.
The Sept. 16 crash in Reno of a souped-up World War II-vintage P-51 Mustang that killed pilot Jimmy Leeward and 10 spectators "will have little or no impact" on the Aviation Nation air show, scheduled for Nov. 12-13 at Nellis Air Force Base, spokesman Chuck Ramey said.
"The Reno air races and Aviation Nation are Nevada's two largest aerial events; however they are two completely different types of events. The Reno mishap occurred during an air race, which is very different from aerial demonstrations which take place at military open houses and civilian air shows," Ramey wrote in an email this week.
"The key distinction is that an air race is an unscripted, dynamic competition while an air show consists of choreographed, highly rehearsed aerial demonstrations. In comparison, air races are to aerial demonstrations as short-track speed skating races are to figure skating performances."
Ramey said safety is paramount at the annual Nellis open house event, and aircraft fly within an "aerial box" cleared as a boundary between performers and spectators.
Regulations also dictate that aircraft can't fly directly at the audience during the demonstration.
Air Force regulations also outlaw air races by fixed wing, rotary wing aircraft or hot air balloons.
"With this level of safety in place, there has not been a spectator death at a military open house or civilian air show in 60 years," Ramey said.
"While there is inherent risk in flying, and there have been a number of mishaps at air shows, these safety precautions have ensured no harm has come to the audience."
The Thunderbirds' F-16 Fighting Falcon jets of the Air Force aerial demonstration team based at Nellis traditionally have been the main attraction at the Aviation Nation event. The open house drew an estimated 142,000 spectators total for both days last year.
In the past eight years, Thunderbird jets have been involved in two incidents at air shows in the United States but not at Nellis. Neither involved spectators.
On Aug. 20, 2005, a pair of Thunderbirds touched in a midair maneuver and sent a missile rail from one plane into Lake Michigan during the Chicago air show.
On Sept. 14, 2003, a Thunderbirds' F-16 exploded in a fireball on impact during an air show at Mountain Home Air Force Base, Idaho. The pilot thought he was about 1,000 feet higher than his aircraft actually was when he began what's called a "split-S" maneuver after takeoff.
Ramey said the Aviation Nation open house "is part of a long tradition of military events whose ultimate goal is to demonstrate what we do in order to remain accountable to the public."
Contact reporter Keith Rogers at krogers@reviewjournal.com or 702-383-0308.
AVIATION NATION
When: Nov. 12-13
Where: Nellis Air Force Base
Theme: 70 years of airpower in Las Vegas
Cost: Free
More info: nellis.af.mil/aviationnation