New helicopters boost Nevada National Guard for rescues, disasters
Updated May 17, 2023 - 10:00 pm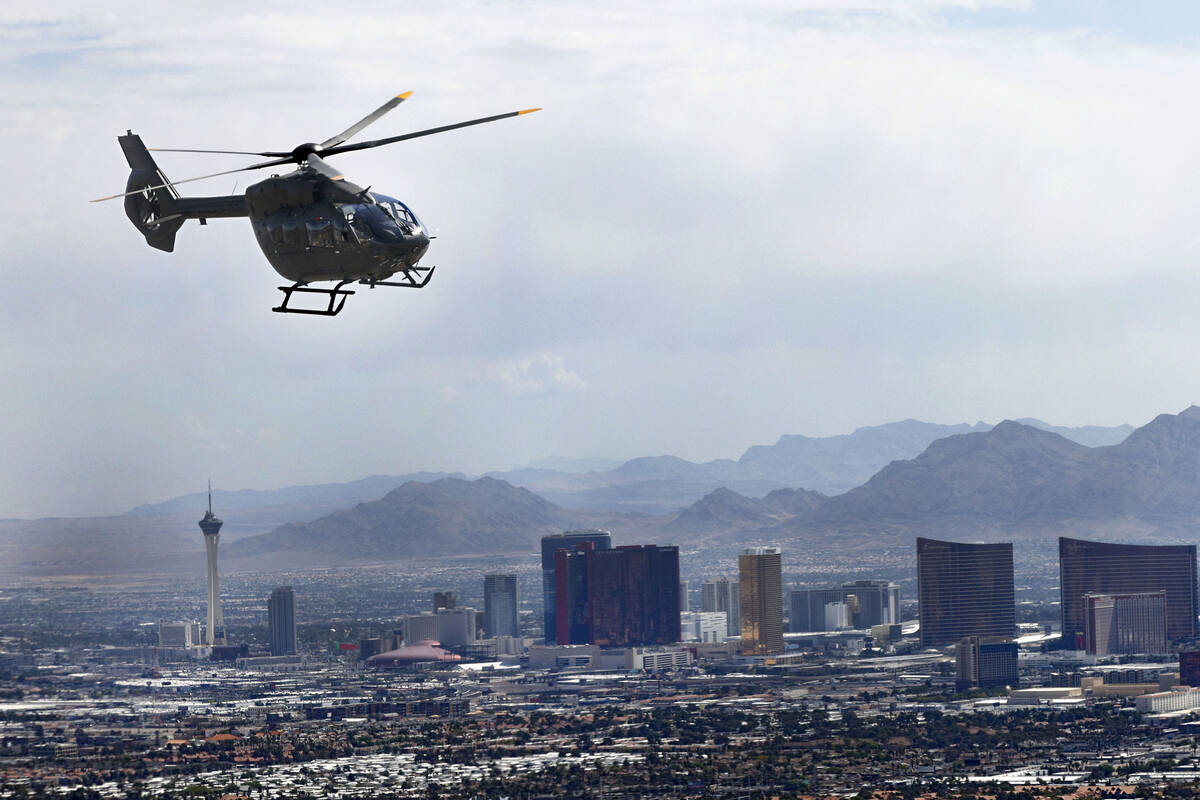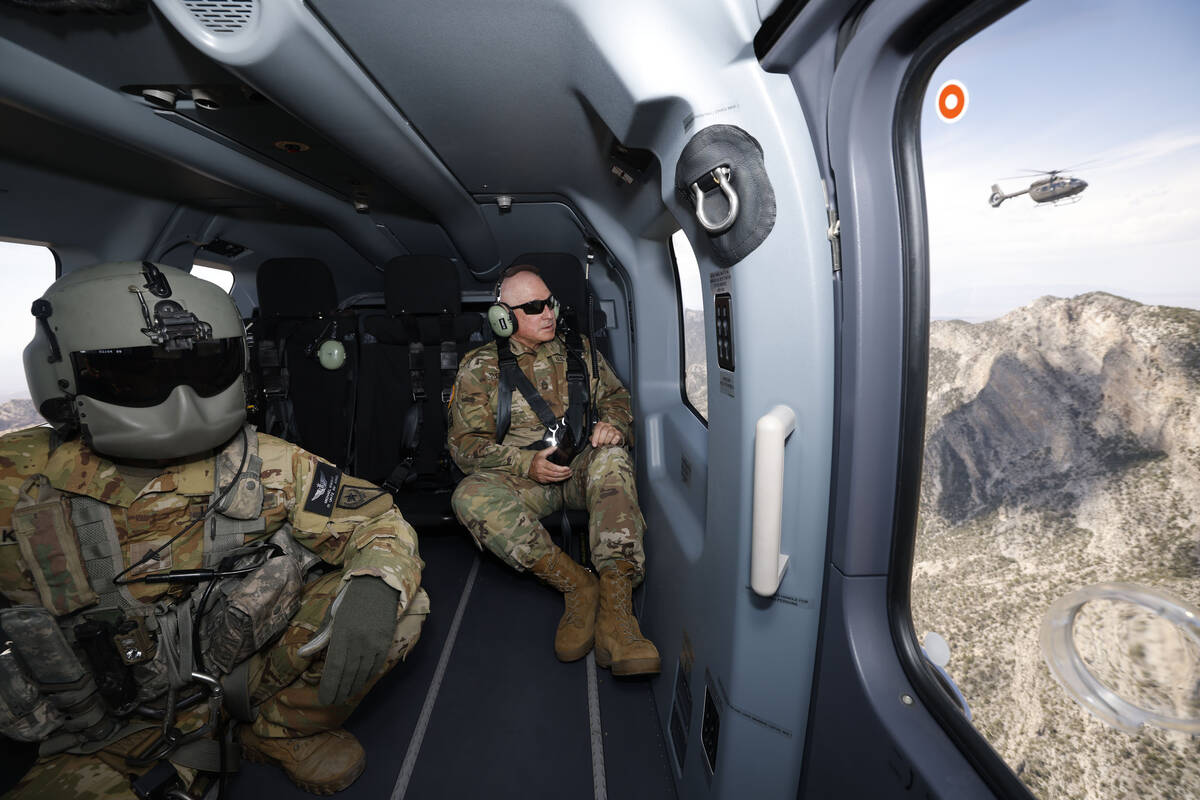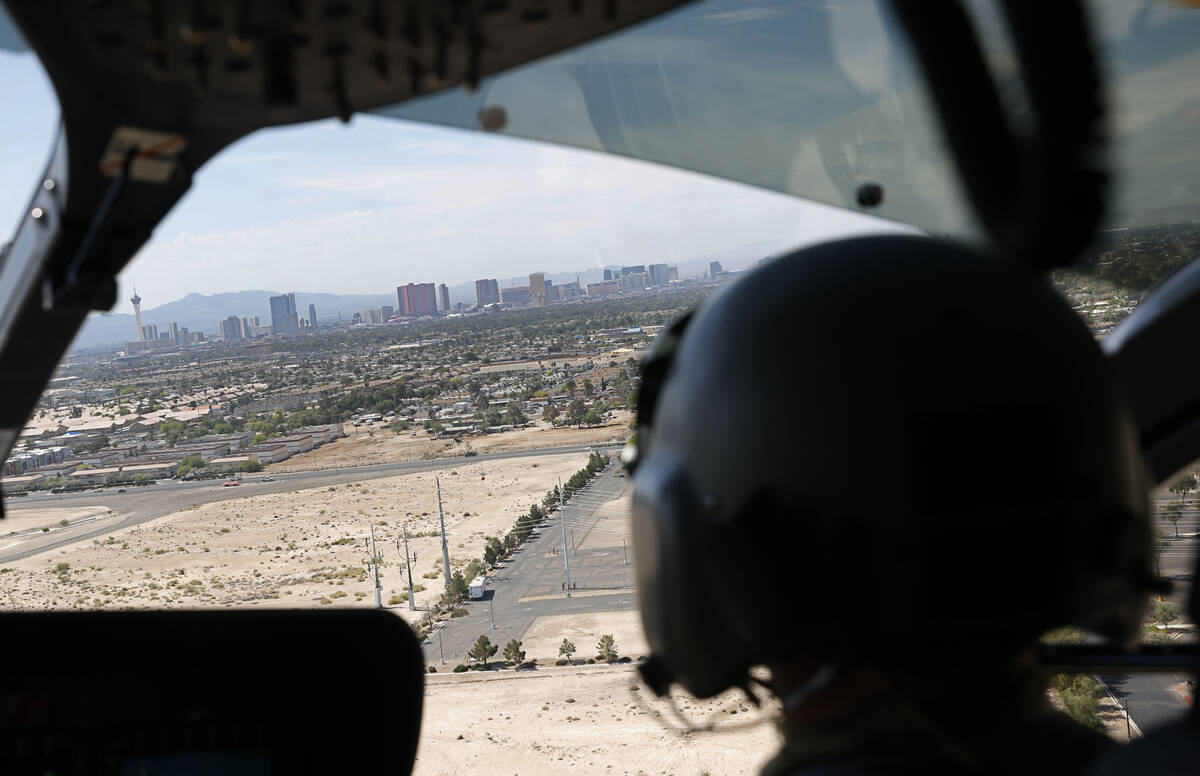 Nevada National Guard pilots took to the skies Tuesday to showcase two new helicopters that will bolster capabilities for rescues, wildfire containment and disaster response missions.
Nevada was one of nine states to receive Lakota UH-72B helicopters, each costing $8 million, from the U.S. Department of Defense.
In a demonstration flight for local media, the pilots flew the helicopters above the mountainous terrain in the Red Rock Canyon National Conservation Area to test out their capabilities. Such terrain is what pilots of the new Lakota helicopters are likely to face on their missions.
The helicopters will be able to perform search-and-rescue missions in nearly any local environment using a hoist and medical responders, according to a news release. The helicopters also are able to suspend cargo that weighs not more than 8,000 pounds through a long line hanging from the bottom of the helicopter. In a different configuration, it is able to do air surveillance with an infrared camera that soon will be used at the border of the United States and Mexico. In another configuration, the helicopter can carry up to nine people with the added cabin space.
Of the nearly 3,400 Nevada National Guard soldiers, Chief Warrant Officer 2 Joel Oscarson is one of the few that was born and raised in Las Vegas. Oscarson, owner of Aspen Insulation, serves part time as a helicopter pilot for the National Guard.
"The big buy-in for me is that I get to serve my own community while also working in my own community," Oscarson said, who joined the National Guard roughly 15 years ago.
Pilots in the National Guard are required to serve their regular hours plus additional hours of flight time. Helicopter pilots are required to have nearly 100 hours of flight time in a year, which is less than airplane pilots because planes have longer flight times, Oscarson said.
The new Lakota helicopters, which are able to travel over 400 miles before needing to refuel, are more powerful than their UH-72A Lakota counterparts, which makes ascending easier on the aircraft when it is on a search mission. The added stability from a five-blade main rotor that keeps the cockpit from shaking too much, according to Sgt. Michael Knight, a crew chief.
The two new helicopters are going to be staying in Las Vegas as it's considered one of nine states with a mountainous environment. The military keeps wartime helicopters such as the Black Hawk and the Chinooks in Northern Nevada, while Southern Nevada has light utility helicopters for domestic missions, Oscarson said.
The wartime helicopters are used to help fight fires because of their greater capacity, but burn too much fuel and are too large for urban environments.
"Historically we've had Katrina, earthquakes, Haiti and we've had all these different nonwartime disasters where this is really designed to help in these situations," Oscarson said.
The North Las Vegas-based B/C Company, 3rd Battalion, 140th Aviation Regiment will maintain and operate the helicopters.
Contact Jimmy Romo at jromo@reviewjournal.com or call 702-383-0350. Follow @jimi_writes on Twitter.