New Henderson fire chief sworn in
January 19, 2016 - 8:34 pm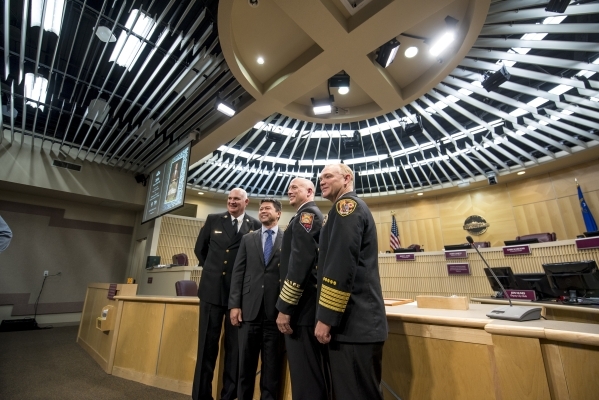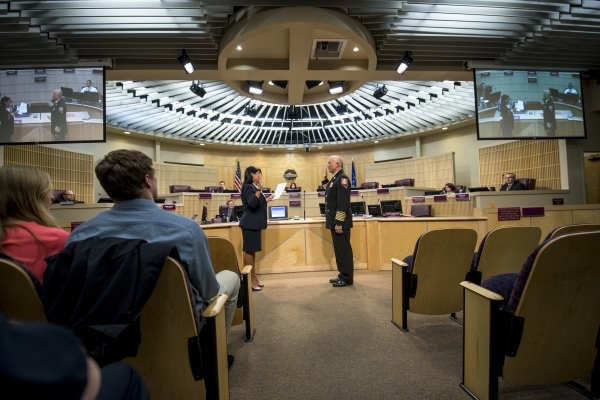 The Henderson Fire Department has a new chief.
The City Council approved the appointment of Matthew Morris to the position Tuesday night. Morris' predecessor, Steve Goble, retired from the department Jan. 6.
Morris, 48, most recently served as a deputy fire chief for the department, a post he has held since 2011, according to the city.
He took his oath of office in front of dozens of his fellow firefighters and city police officers, as well as two of his fellow Southern Nevada fire chiefs: Greg Cassell from Clark County and Jeff Lytle from North Las Vegas.
Don't expect a major shift in how the department operates under the new chief of the second most populous city in Nevada.
"I'm not planning on changing anything," Morris said after the appointment. "We've got a great department, a great city. It really doesn't need a lot of change."
Goble, who lost out on a bid for city manager to Bob Murnane in the summer, retired after 26 years with the department.
"It was just one of those things where it was time to pass the mantle on to the new folks coming up and seeing where they're going to take the department," Goble said.
Goble said Morris was prepared to take over as chief and lauded his idea to use data and statistical analysis for streamlining fire services.
"He'll take the Henderson Fire Department to the next level," Goble said.
— Contact Colton Lochhead at clochhead@reviewjournal.com or 702-383-4638. Find him on Twitter: @ColtonLochhead