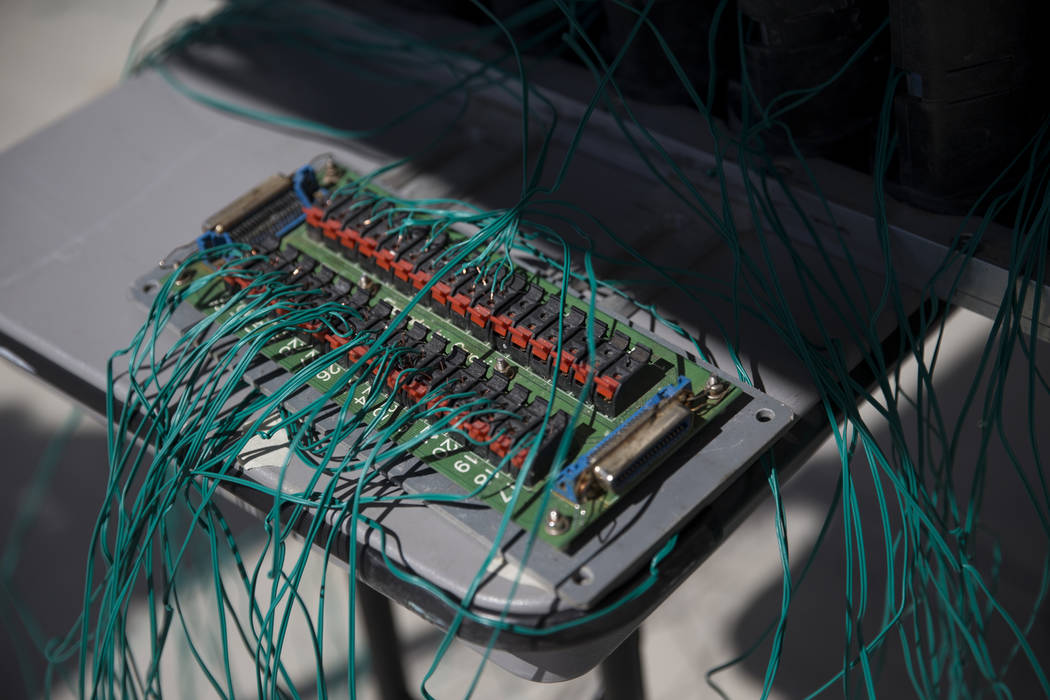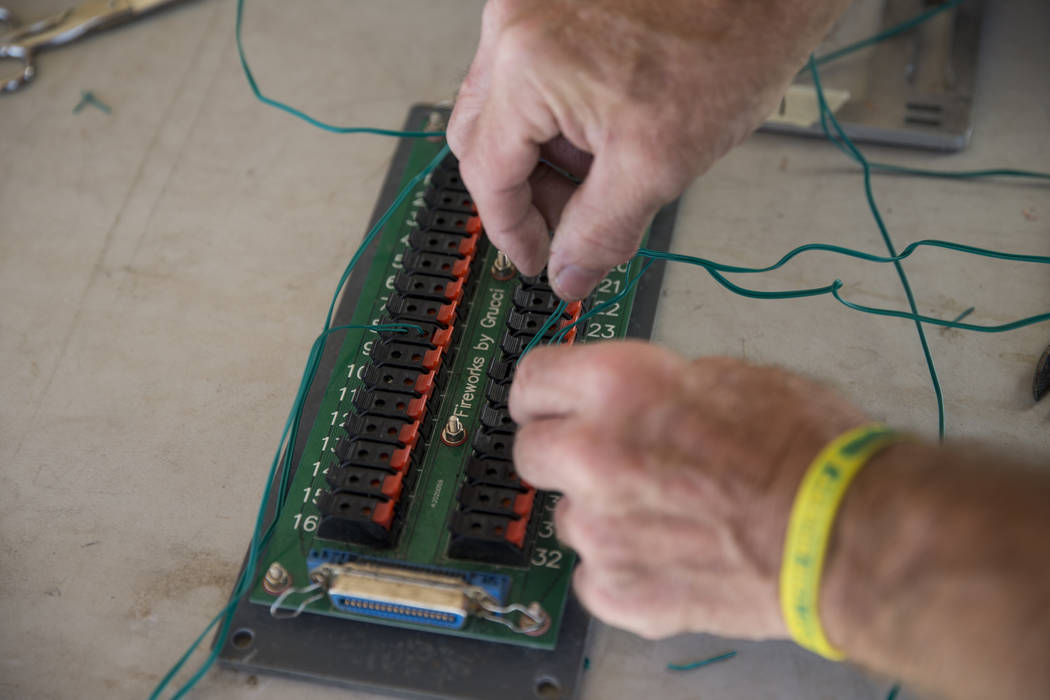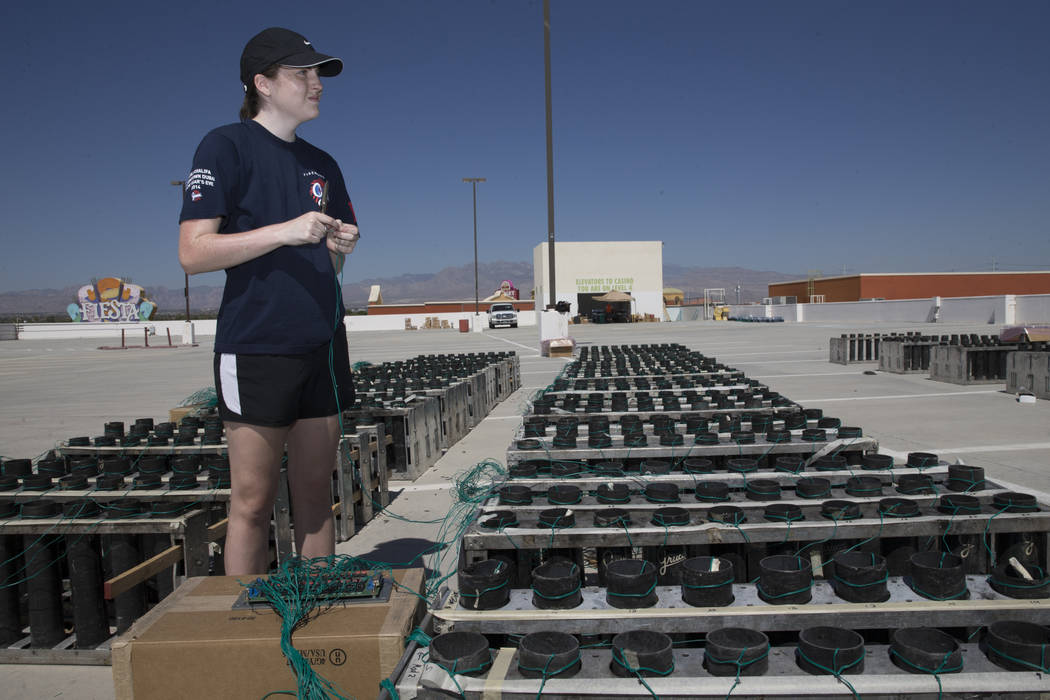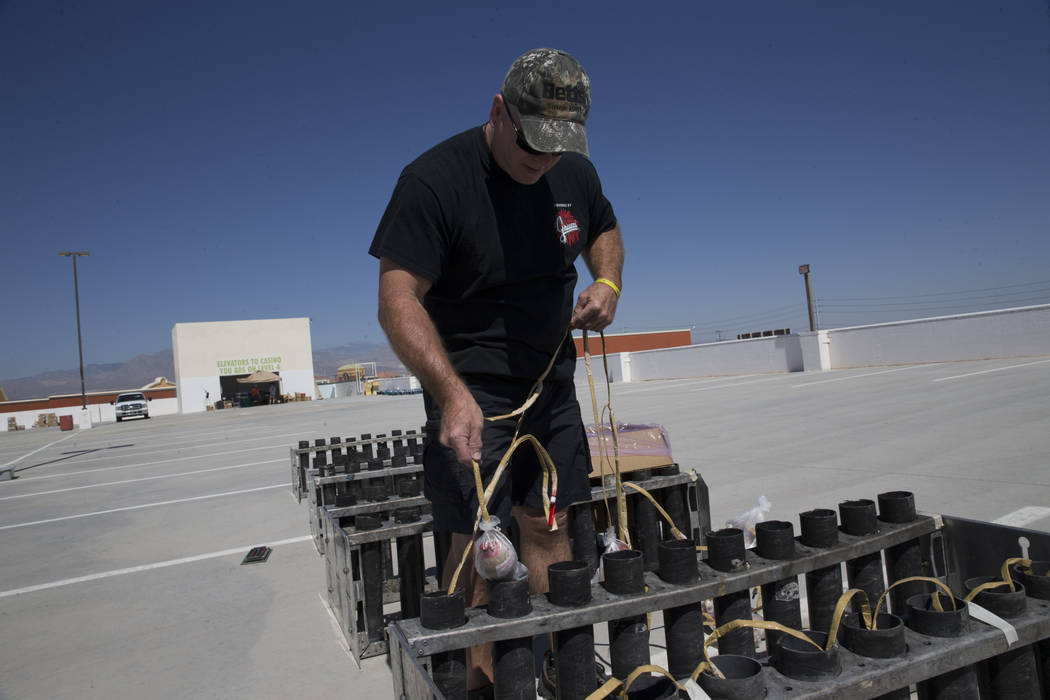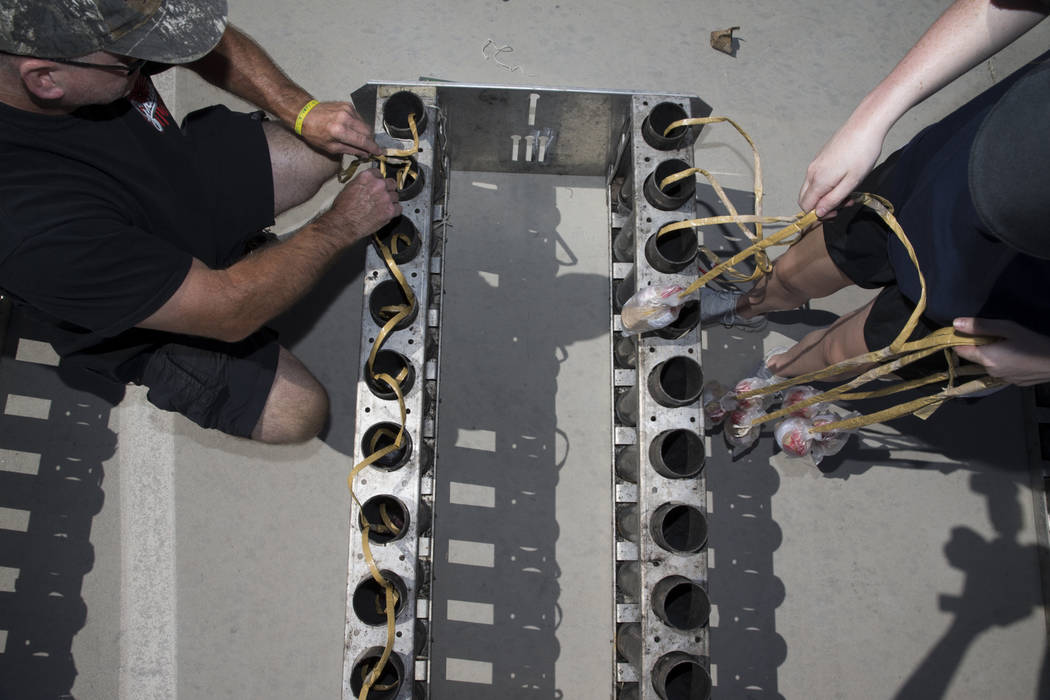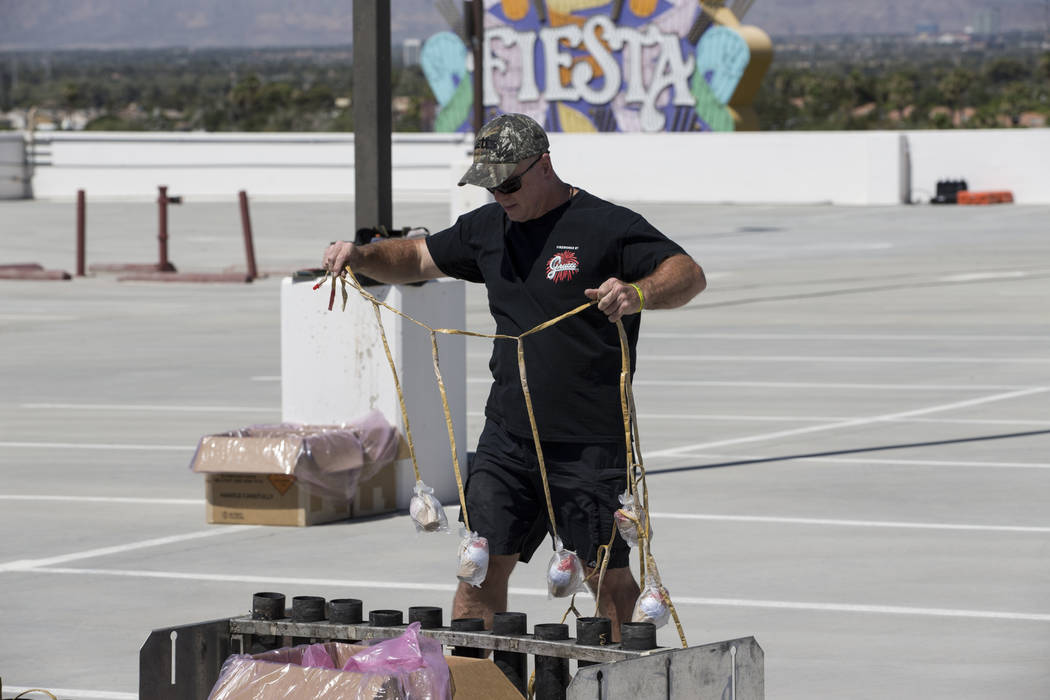 Mike Sullivan will tell you he has pyrotechnics in his blood, suggesting his heart might be pumping a bit faster than usual as he adds several hundred pounds of explosives to the already overwhelming display in the Las Vegas Valley skies on the night of July 4th.
Sullivan, a chief pyrotechnician for Fireworks by Grucci, has produced the Station Casinos' Fourth of July firework shows with his team for 12 years at the Green Valley Ranch in Henderson and Red Rock Resort in Summerlin. This year, he's adding a show at the neighboring Texas Station and Fiesta Rancho casinos in North Las Vegas for the first time.
Visitors to the casinos, located off of Rancho Drive, will be able to watch Wednesday night's show for free, Stations Casinos spokeswoman Lori Nelson said.
Sullivan, 60, said the show will last about 12 minutes and feature music and 5,000 explosive devices launching from the top of the Fiesta Rancho parking garage. Sullivan's team connected wires to switch boards Tuesday morning that will enable them to launch the explosives remotely.
"We don't even have to be out there," said Sullivan, who's worked as a pyrotechnician for 22 years. "It's a great safety feature and if anything does go wrong we'll shut it down right away."
His team spent 650 man hours setting up the fireworks at each location. The pyrotechnicians start at 5 a.m. to beat the heat and will continue working right through Wednesday morning.
The North Las Vegas location alone accounts for several hundred pounds of explosives.
Nelson declined to say how much the displays cost, but said, "For what we spend it's well worth the thousands upon thousands of smiles and oohs and aahs we get each year."
Sullivan said his wife's family, the Gruccis, have been in the firework business for over a hundred years. His son, who was part of the team helping set up the show Tuesday morning, is a sixth-generation pyrotechnician.
"For me it started as a child blowing up firecrackers in my own little family," Sullivan said. "I met my lovely wife in 1996 and she was part of that family, and then I became part of her family right away."
He said watching the fireworks and being able to set them off is like being "a kid in a candy store."
"It's the roar of the crowd and the audience clapping after everything is done that makes it all worthwhile," Sullivan said.
Contact Katelyn Newberg at knewberg@reviewjournal.com or 702-383-0240. Follow @k_newberg on Twitter.
Details on the Station Casinos' Firework Shows
All the shows will start Wednesday night at 9 p.m. The shows and parking are free, but guests should arrive early to find a parking spot.
— Green Valley Ranch Resort in Henderson at 2300 Paseo Verde Parkway
— Red Rock Resort in Summerlin at 11011 W. Charleston Blvd.
— Fiesta Rancho, 2400 N. Rancho Dr., and Texas Station, 2101 Texas Star Lane, in North Las Vegas
Texas Station and Fiesta Rancho are also hosting a "Battle of the Alamo" block party from 4 p.m. to 11 p.m. Wednesday Besides the fireworks, the event features line dancing, salsa demonstrations, music, food vendors, a kids zone and a mechanical bull.