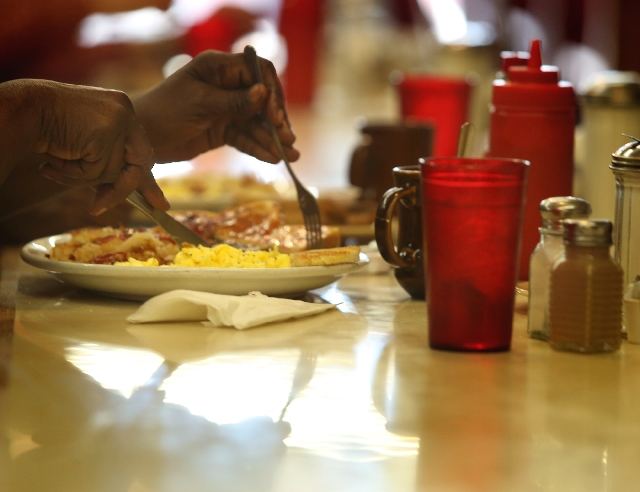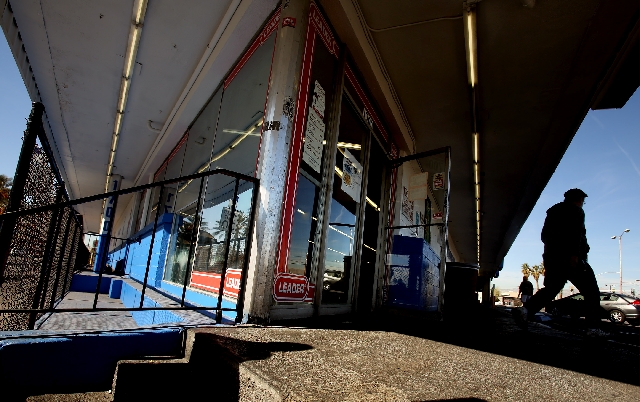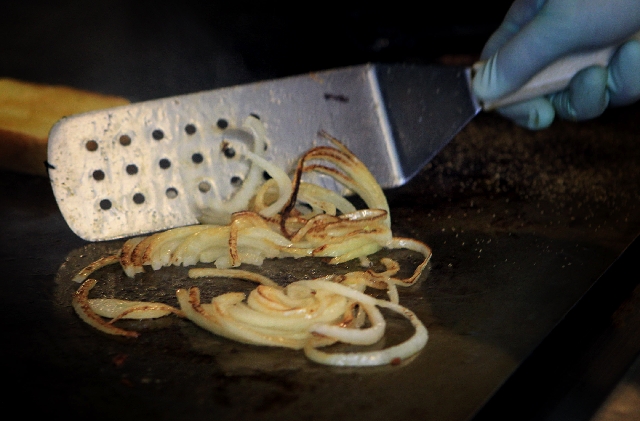 Seven days a week, Teddy Pappas wakes up at 2 a.m.
In the early morning hours he prepares the daily soup, meats and sauces for his restaurant, so they're fresh and ready to go when customers place their orders. At 73, Pappas has owned Tiffany's Cafe for 10 years, but he's worked in the restaurant for more than three decades.
On a Wednesday morning the restaurant's counter slowly filled to capacity, with hungry customers trickling in off Las Vegas Boulevard. But it's not that way every day.
"The last two or three years, it's been very bad," Pappas says of his restaurant's business.
He cites the economy as the main reason because he says, as tourists tip less in cabs, bars and casinos, the cabdrivers, bartenders and dealers who eat at his place have less discretionary income to spend.
The closing of the adjoining White Cross Drugs in 2012 also has had its effects.
"People don't know if I'm here or not," Pappas says. "But I'm here to stay."
His 10-year lease agrees with him.
The adjacent White Cross Drugs closed last March, but White Cross Market is slated to open soon in the same space at 1700 Las Vegas Blvd. South. The latest incarnation is owned by brothers Jimmy and Naseem Shoshani, who also own the Bells Market convenience store across Las Vegas Boulevard and the Bells Market gas station at Owens Avenue and H Street.
Construction on White Cross Market is mostly finished, and the Shoshanis plan to start ordering product within the next few weeks.
Pappas says he's hopeful the opening of the market will help boost his business.
Tiffany's has been open for 65 years, catering to a largely local clientele. Pappas never uses any preservatives or additives in his food, which he says is the reason his customers are loyal and why he's been able to stay afloat through rough times.
Pappas says the restaurant can be extremely busy sometimes, or not busy at all, depending on the day.
At the 1,200-square-foot Tiffany's Cafe, breakfast is served any time, with classics such as biscuits and country gravy, hotcakes and corned beef hash and eggs on the menu. Dinner offerings include New York steak, chicken-fried steak and trout. A dessert case holds homemade chocolate cake, pie and cheesecake.
On St. Patrick's Day, Tiffany's will serve corned beef and cabbage.
When White Cross Market opens, its owners have said they plan to stock it like a traditional grocery store. The new store will have a deli with Boar's Head brand products, fresh produce with items from local growers and a craft beer section.
Jimmy Shoshani says he expects to hire 15 to 20 employees for White Cross.
The Shoshanis bought the nearby Bells Market, which had been Mighty Mart, three years ago.
"We took a place that was hurt, businesswise, and remodeled it," Shoshani says.
The convenience store sees about 600 to 800 people come by every day, and its owners stock about $60,000 in inventory to keep up with the walk-up customers who patronize Bells.
"We have a good feel for what's needed in the neighborhood," Shoshani says.
And a 6,400-square-foot grocery store, Shoshani adds, may be just what the doctor ordered. The new White Cross is taking more time and money to open than anticipated, but Shoshani says it should be worth the effort in the long run.
"So far we've spent over $400,000 and we haven't purchased inventory yet," he adds.
Pappas got into the restaurant business after coming to the United States from Greece. He started out by washing dishes, then transitioned to cooking. He's owned a dozen restaurants between New York, Arizona and Nevada during 53 years in the restaurant industry. He came to Las Vegas to open a pizza shop with a friend, but decided it wasn't for him.
Then he found Tiffany's, which he affectionately calls "my baby."
"It's my life. I love it," Pappas says.
Contact reporter Laura Carroll at lcarroll@reviewjournal
.com or 702-380-4588. Follow @lscvegas on Twitter.