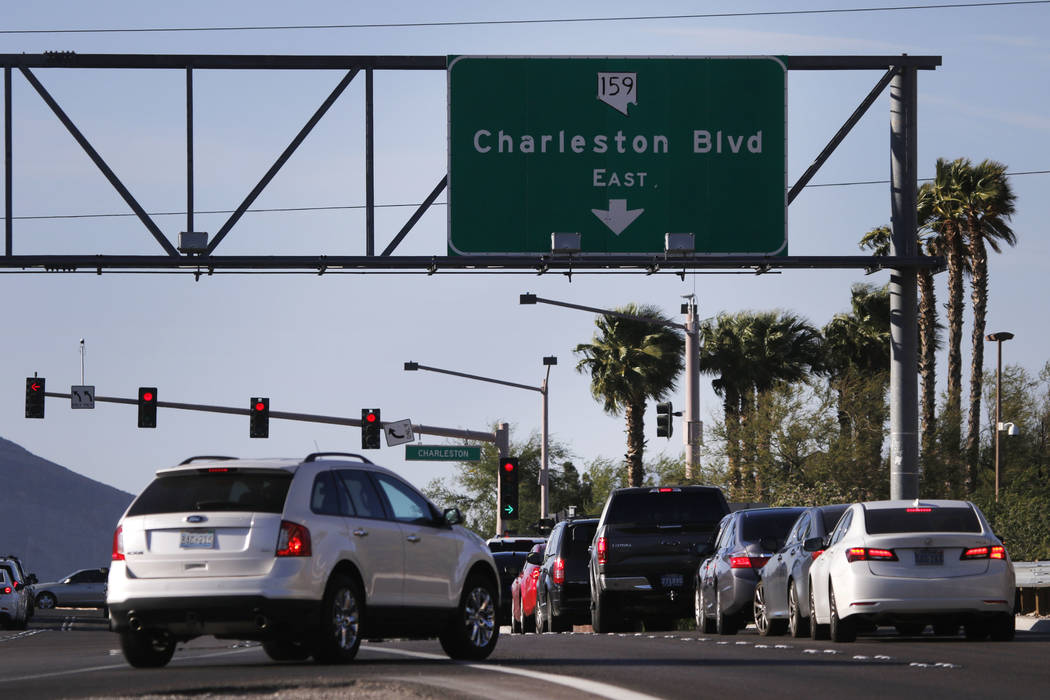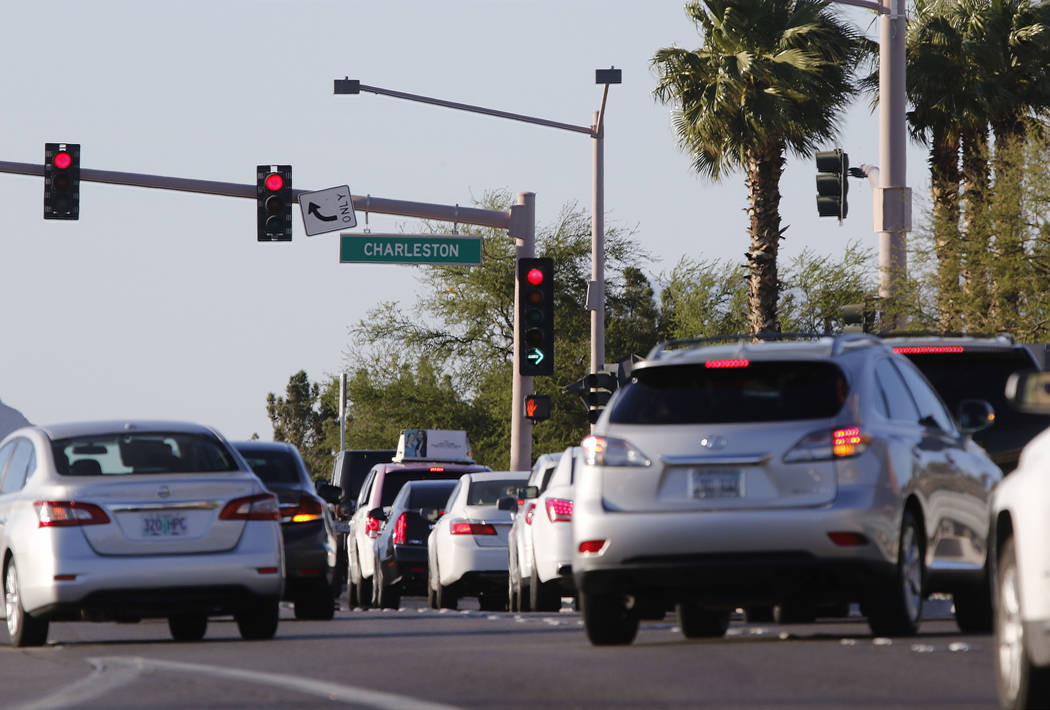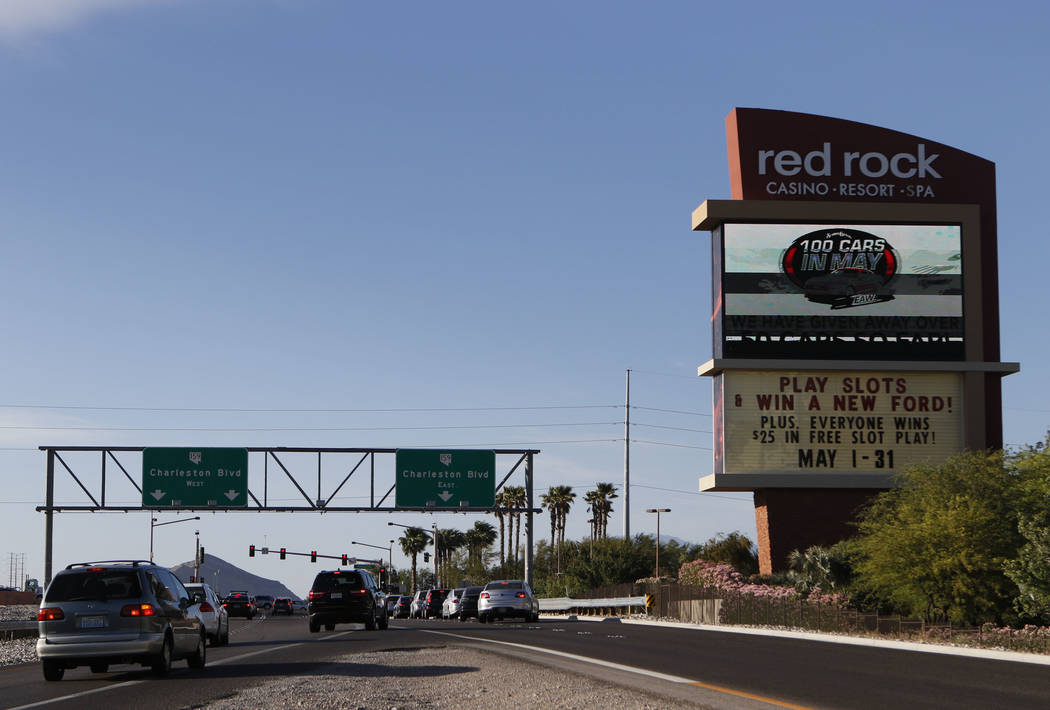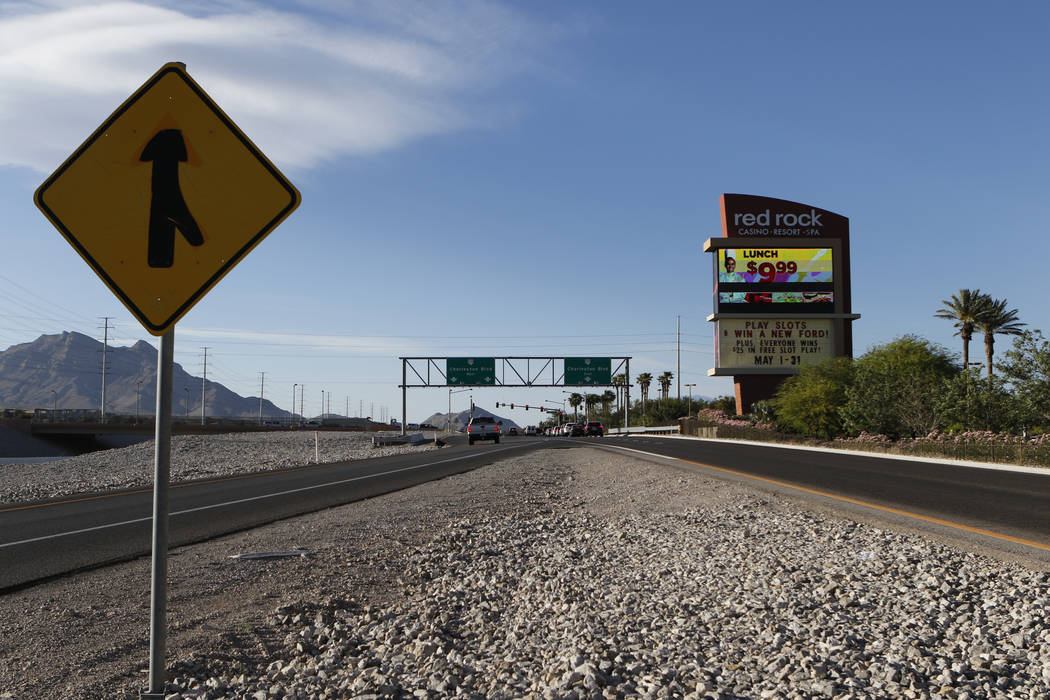 Turning right usually goes wrong for drivers headed to Downtown Summerlin.
A quarter-mile stream of red brake lights creeps along the northbound 215 Beltway, attempting to exit Charleston Boulevard during most evening commutes and warm weekend afternoons.
Messy merges at this popular exit often lead to heated exchanges between drivers, punctuated by an occasional one-finger turn signal.
Fender-benders sometimes add to the congestion as motorists jockey for the right lane and head east on Charleston to access the popular outdoor shopping mall, Red Rock Resort, residential neighborhoods and — soon — a new NHL practice rink for the Vegas Golden Knights.
"It's pretty intense," 60-year-old Summerlin resident Jeff Pyle said.
"When it's rush hour, you don't have much time or room to make a lane change," Pyle said. "Some cars allow you to merge, but some don't."
Much of the chaos can be blamed on the current configuration of the Charleston exit from the Beltway, motorists and transportation officials said.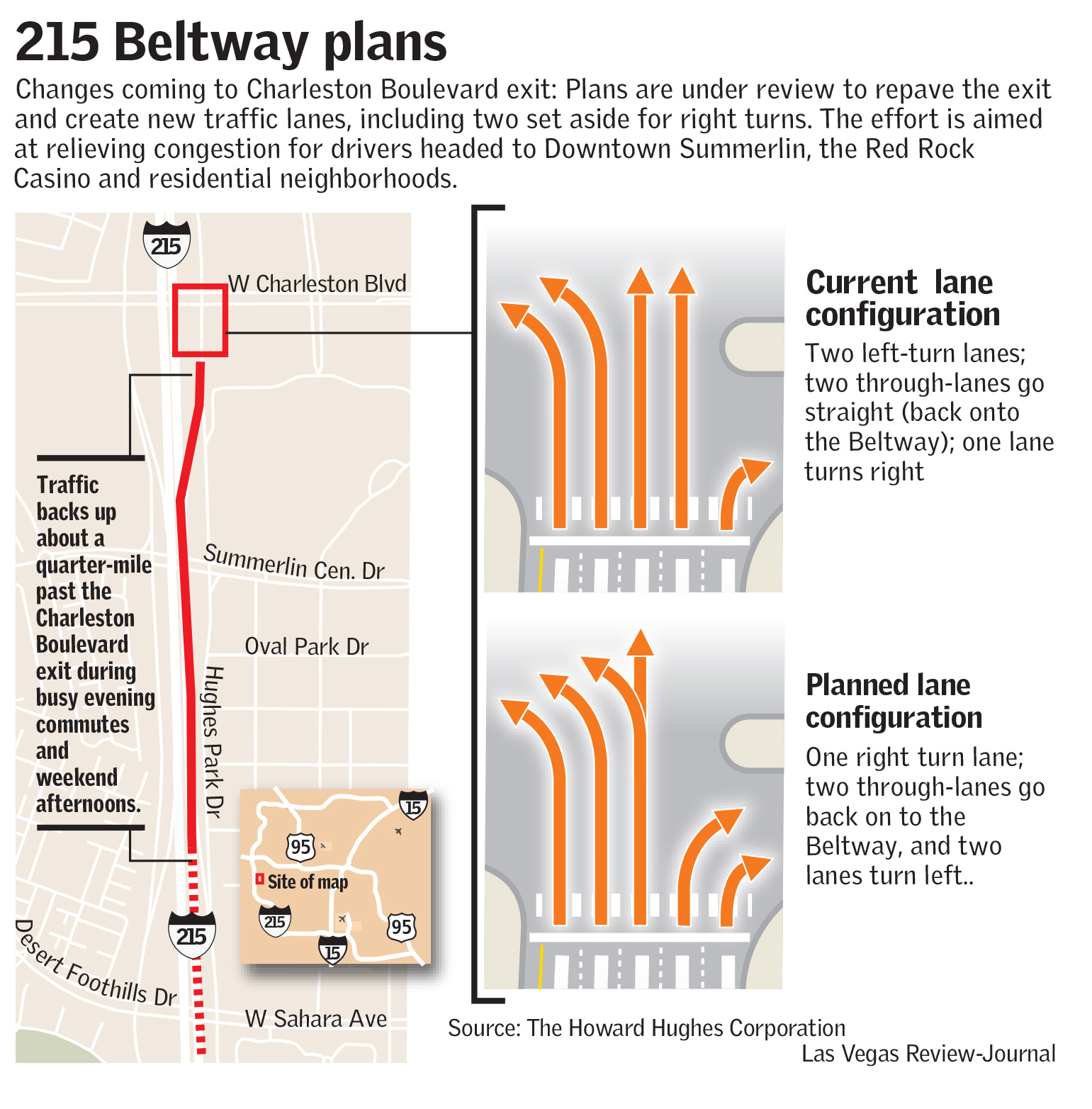 Vehicles exiting the Beltway have to merge with traffic traveling north on a frontage road known as Hughes Parkway Drive. From there, motorists have the option of five traffic lanes at the foot of the offramp.
Only one lane allows drivers to turn right. Two other lanes are designated for left turns, while another two head straight back onto the Beltway.
"I've had people cut me off and slam their brakes pretty hard just to get to the right lane," 39-year-old Summerlin resident Ryan O'Mara said.
"It seems like a very simple redesign to add another right-turn lane at this exit," O'Mara said. "The developers should've figured this out a long time ago."
The Charleston exit opened in 2000, when Summerlin was still a budding residential community and drivers primarily headed west to the Red Rock Canyon National Conservation Area.
It was also long before a casino or an NHL practice facility was ever imagined for the rapidly growing neighborhood, said Tom Warden, senior vice president at The Howard Hughes Corp., which developed Summerlin.
Traffic significantly worsened at the exit three years ago, when the Downtown Summerlin mall opened.
"In retrospect, it could have been better designed as a two-lane right turn," Warden said.
That's exactly what's in store for the Charleston offramp.
Plans for new lane
The Howard Hughes Corp. submitted permits earlier this year to Las Vegas and the Nevada Department of Transportation, asking to repaint the exit lanes to accommodate two right-turn lanes onto eastbound Charleston. The two left-turn lanes would remain, while the center lane would give drivers an option to turn left or continue driving straight on the Beltway.
But the work is going to take longer than originally expected because of the number of government entities involved: Clark County oversees the Beltway, NDOT maintains Charleston, the city operates the traffic signal for the exit, and The Howard Hughes Corp. owns the right-of-way access.
"Since this involves so many agencies, it has taken some time to sort out the designs," Warden said.
The work requires a bit more than simply painting new lanes along the exit ramp, NDOT spokesman Tony Illia said.
NDOT wants The Howard Hughes Corp. to remove an old layer of asphalt, mill the ramp and lay new asphalt, which will take a little more time and money to complete.
"We're asking that it be done correctly with a deep overlay, or you're left with old traces of ghost striping that can cause confusion for drivers," Illia said. "We don't want to come across as hampering progress or not approving the project. We just want it done correctly."
After gaining approvals from the city, county and NDOT, The Howard Hughes Corp. must submit a plan detailing how traffic will continue to flow out of the Charleston exit during the road work.
A construction schedule is not yet set, and Warden declined to provide an estimated cost for the project.
"We're going to pick this up because it needs to be done and it's related to our projects," Warden said. "The hockey facility is going to be a big draw, and we have additional office and housing projects in the pipeline, so we want to get that right-turn issue squared away as soon as possible."
Contact Art Marroquin at amarroquin@reviewjournal.com or 702-383-0336. Find @AMarroquin_LV on Twitter.
Peak-hour traffic counts for the Charleston Boulevard offramp at northbound 215 Beltway
Morning peak
2016: 686 vehicles
2012: 547 vehicles
Evening peak
2016: 1,446 vehicles
2012: 1,114 vehicles
Source: City of Las Vegas