New trial sought for Las Vegas man whose disabled son died in hot car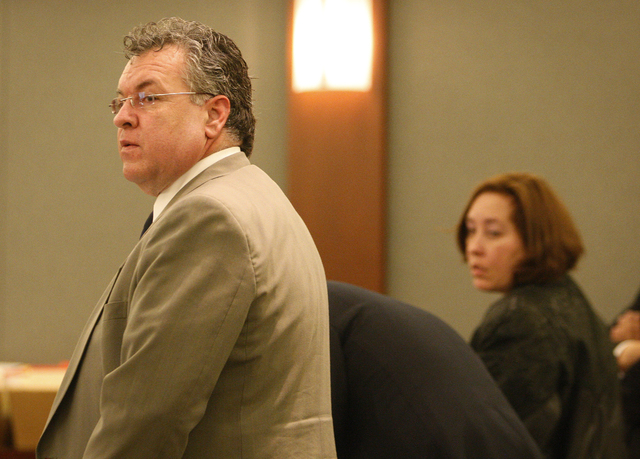 The father of a 4-year-old who died in a hot SUV in 2008 deserves a new trial on several issues, including he fact that he was tried along with his wife, a lawyer for Stanley Rimer told the Nevada Supreme Court Wednesday.
The Las Vegas man is appealing his March 2011 conviction on charges of involuntary manslaughter and child neglect. His wife, Colleen, was convicted of similar charges during the same two-week trial. Jason Rimer died after being left in a hot SUV for 17 hours.They also were convicted of child abuse and neglect for physically abusing five of their eight children and letting them live in squalor.
Authorities said Jason's death from heat stress could have taken three to five hours in the estimated 130-degree temperature in Ford Excursion where he was left after his mother and siblings returned home from church at about 2 p.m.
Stanley Rimer maintains he was unaware Jason was in the vehicle. He said he was ill and left church before his family, spending the rest of the day in his bedroom. Colleen Rimer told Las Vegas police she was solely responsible for the disabled boy's death.
Five members of the Supreme Court listened to arguments Wednesday by deputy public defender Nancy Lemke and prosecutor David Stanton. Rimer's appeal includes 25 issues from his trial.
During oral arguments Lemke said it was reasonable for Rimer to believe his wife was caring for their son while he was ill.
Justice Michael Douglas appeared to scoff at the notion.
"Is it reasonable to totally absolve himself," Douglas asked. "Wouldn't a reasonable parent inquire about a special-needs child?"
Stanton later told justices the Rimers often left Jason, who suffered from myotonic dystrophy, a crippling genetic muscular disorder, in the care of their other children.
"It's not a question of poor parenting and a dirty home," Stanton said. "It's a question of no parenting at all."
Justice Michael Cherry said he had an issue with prosecutors "boot-strapping" the manslaughter count, or supporting it by introducing earlier neglect charges.
Stanton said the child neglect charges showed a pattern that continued on the day of Jason's death.
Cherry suggested a partial reversal of some child neglect counts, but not manslaughter, might be appropriate.
The court will rule at a later time.
Contact Francis McCabe at fmccabe@reviewjournal.com or 702-224-5512. Find him on Twitter: @fjmccabe