NLV mayor calls child porn allegations 'completely and absolutely false'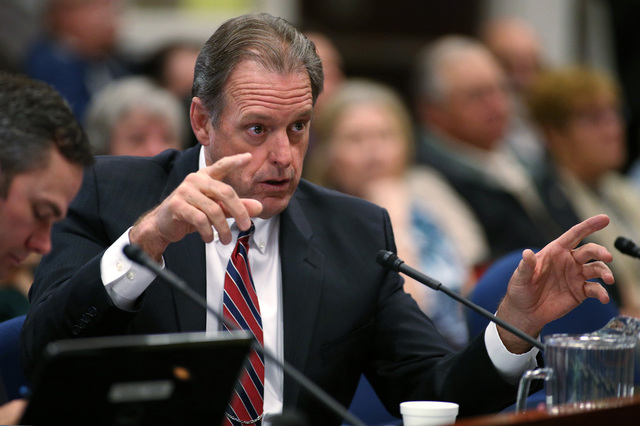 North Las Vegas police on Wednesday released a detective's report regarding suspected child pornography on an iPad belonging to the city's mayor, John Lee.
The release came in response to media pressure in the wake of Las Vegas Review-Journal articles on the issue last week.
Lee disputed parts of the report's account last week, but in a prepared statement released Tuesday night via Reno-based marketing firm Draper Strategies and Communications, the mayor said he hoped the document's release would resolve the matter.
"Not only are the allegations currently being made against me completely and absolutely false, I strongly resent any implication that I have engaged in any improper conduct or behavior. It is unfortunate that some individuals who might not have agreed with the political and leadership decisions that I have made in order to benefit the City of North Las Vegas have decided to make irresponsible, harmful and egregious allegations against me with impacts far beyond my political career," the statement said.
"As evidenced by the North Las Vegas Police report released today, there was nothing illegal on my iPad and all standard procedures were followed. I am disheartened that, by proactively contacting the police department to address something I found very concerning, the situation has been grossly misrepresented by some in the public, calling into question my character. I hope with the information provided today by the North Las Vegas Police Department, this issue can be resolved so that I can continue to focus on my duties as a husband, father and mayor. I understand the North Las Vegas Police Department has requested a complete and independent review and I will not comment further on this matter until it is completed."
According to the report, Lee approached an officer at City Hall on Oct. 9, saying he received an email that uploaded child pornography onto his iPad and seeking help to eliminate it.
When a detective uploaded and searched the iPad's contents, he found no such email. Instead, he found links in the browser history to pornographic sites, including one he suspected of showing child pornography, the report said.
"I did locate several possible photos that could be considered child pornography, but since they were in a different country, I could not verify the age of the people pictured," the detective wrote.
Considering the investigation to be at a dead-end, the detective took the iPad to an Apple Store and had it wiped clean before returning it to Lee.
Last week former North Las Vegas Police Chief Joseph Chronister told the Review-Journal that Lee received special treatment in the brief investigation.
"We're talking about the mayor of North Las Vegas," Chronister said. "He is a person of authority. He is a person of power. He absolutely has the ability to control certain aspects of our department."
Chronister said he now wishes his department had done more and had sought help from an outside agency.
The department said Tuesday that the FBI will conduct an independent review of the handling of the case.
Lee has said he does not view child pornography and that he brought the issue to the attention of police to help apprehend the pornographer.
The mayor said he never grabbed a detective at City Hall. Instead, he said, he saw what he thought was child porn on his iPad and he asked his assistant what to do. She called police for him, he said.
Lee also said he did not delete an email he said contained child pornography.
This is a developing story. Check back for updates.
Contact reporter Colton Lochhead at clochhead@reviewjournal.com or 702-383-4638. Find him on Twitter: @ColtonLochhead.
Like the RJ on Facebook: