NLV police, faith leaders talk about building trust
December 19, 2014 - 8:35 pm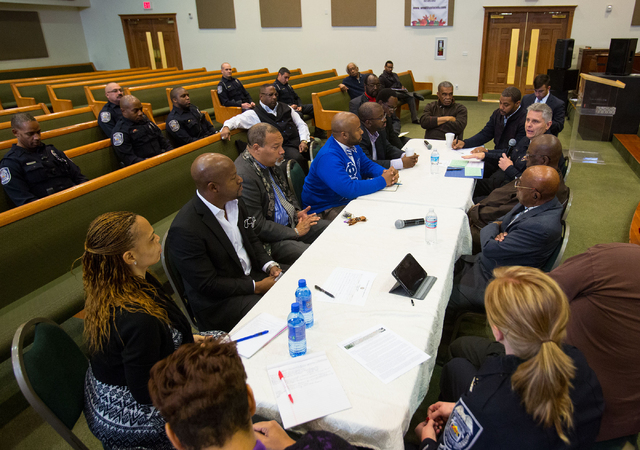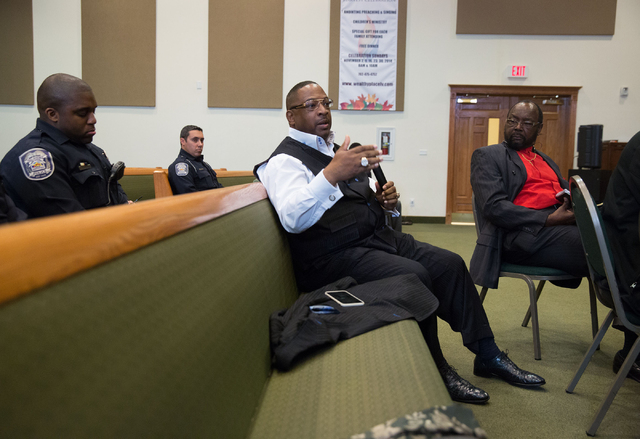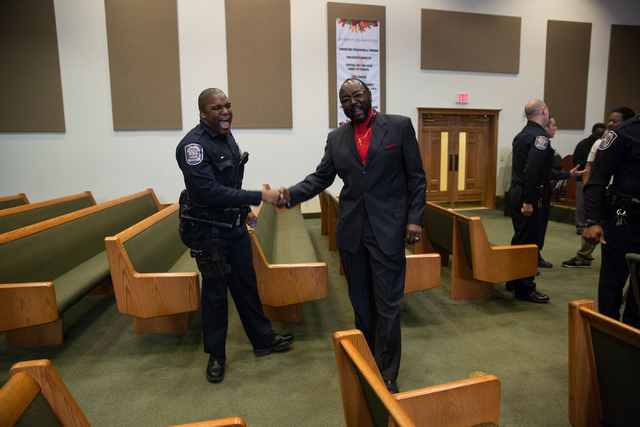 North Las Vegas police want to change.
Police Chief Joseph Chronister's optimism is high after the department won a $100,000 grant dedicated to building trust in communities of color and another grant for $1.6 million that will allow the department to hire 13 more officers.
On top of that is a donation from a camera company to test 31 body cameras and 5 dashboard cameras for roughly 45 days. Finding a way to get body cameras is a good way to boost trust and accountability, according to Chronister.
This is all coming as communities around the nation grapple with a growing distrust of police in the wake of police officers killing unarmed African-Americans in New York and Ferguson, Mo.
In a more than two-hour discussion at Ebenezer Church of God in Christ led by outgoing Rep. Steven Horsford, D-Nev., more than 15 black faith leaders and seven North Las Vegas police officers and the chief of police talked about what the department can do to build trust between law enforcement and communities of color.
The conversation was raw. The bottom line? The faith leaders want their community to have a say in future police policy.
"If we're going to forge a community relationship with the authorities then that's necessary that we sit down and develop policies," Pastor Bill McDonnell said, also noting that there needs to be a better understanding of current policies, too. That helps, because then people don't have to rely on the officer's word, they can rely on the policy.
There might soon be a medium to make that happen. Police officials are looking to create a multicultural advisory council. Pastors were intrigued with the idea, but firm that to make any difference such a council must be an active force for transparent change, not just people sitting around talking.
Faith leaders raised a host of issues, both local and national. Racial profiling. The lack of officers of color on the force. Fears that good cops protect bad ones. The fact that at least in North Las Vegas, churches feel compelled to hold classes to teach kids about what to do if they interact with an officer.
In addition to the police chief and spokeswoman Sgt. Chrissie Coon, three officers also spoke about their challenges and the reality that officers are human and make mistakes.
"There is profiling that happens. There shouldn't be," officer Steven Wiese said. He said there's also the issue that people make assumptions about officers, too. Wiese, a white officer, said he feels hurt that people assume he will beat them up.
"I don't profile you for your color. I don't want to be profiled for my badge," Wiese said.
Officer Michael Harris talked about how people don't understand that when he asks people to get out of the street, it's because he's had to clean dead children out of the road. And about how often as a black officer he has faced people asking for a pass based on race.
The general consensus of Friday's conversation was that it had the potential to be a starting point. And like many of the department's proposals, getting to actual change will depend on how the next steps unfold.
For example, some officers are wearing cameras now, but that's a temporary pilot program, with the hope of netting federal funding in light of President Barack Obama's request for $263 million to fund police body cameras and training.
As for the cultural changes, Coon made a point of saying those will take time.
"We want to do better and that's why we're here," Chronister said. "We know we have a long way to go. We have a long way to go in our city, but I think our city's committed as well."
Contact Bethany Barnes at bbarnes@reviewjournal.com or 702-477-3861. Find her on Twitter: @betsbarnes.