North Las Vegas: Weeks more to investigate fire chief's role in training accident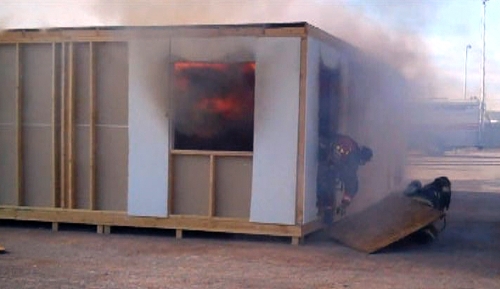 The investigation into the North Las Vegas fire chief's role in a January accident that injured four firefighters will take two to three more weeks to complete, city officials said Tuesday.
They would not answer any other questions about the topic, saying they were all related to a personnel investigation.
City Manager Tim Hacker placed Chief Al Gillespie on administrative leave this month. Hacker was out of town and did not return a message left Tuesday.
The incident was summarized in a report by retired Clark County Fire Chief Steven Smith.
Jeff Hurley, president of the International Association of Firefighters Local 1607, which represents the city's firefighters, said Gillespie had nothing to do with the accident.
The department was hosting a training exercise also attended by firefighters from Las Vegas, Henderson and Clark County, on Jan. 24. It involved setting a fire inside a makeshift building to measure the potential effects on a victim trapped between a fire and a window or other exhaust port.
The exercise turned dangerous when fuel that was going to be used later in the exercise spontaneously ignited, sending several firefighters scrambling to escape.
No firefighters were taken to the hospital or sought treatment on the scene, the report said. But two days after the Jan. 24 incident, a Las Vegas firefighter sought treatment at University Medical Center and missed work. A Henderson firefighter also missed work. Two others, whose agencies were not mentioned in the report, suffered injuries that were not considered serious.
The report, which does not lay blame or name any names, came about after the city of Las Vegas hired an outside consultant to investigate the incident.
It concludes that national safety guidelines were not followed, the pre-fire briefing was inadequate, communication was limited, warning signs were ignored, too much fuel was included, and several other issues led to the incident.
The report makes eight recommendations, including that guidelines be followed in the future, that a regional training policy be established and that departments ensure proper communication between instructors and participants.
In May, shortly after Smith's report was finished, Las Vegas officials notified Hacker that the two cities no longer would cooperate on training exercises, saying a prior agreement was void because North Las Vegas never drafted a proper operational plan.
Tim Colbert, North Las Vegas' assistant city manager, would not answer questions, including whether anyone was disciplined and whether any changes have been made in the department regarding training.
Those questions "pertain to an ongoing personnel investigation and further information related to that investigation cannot be given at this time," he wrote in an email.
"No one was disciplined," said Hurley, who said he was there during the incident. "The chief wasn't involved at all. This is ridiculous."
He repeated that he believed Gillespie was being punished because he did not publicly support budget cuts that Hacker wanted. Gillespie has not returned messages seeking comment.
The city administration and the firefighters union have been at odds recently over budget-cutting moves, including the suspension of pay increases and, beginning July 1, the virtual elimination of overtime.
The overtime policy has led to temporary closures of some stations or equipment. Firefighters from Las Vegas or Clark County have responded to an increased number of calls in North Las Vegas since July 1.
Contact reporter Richard Lake at rlake@reviewjournal.com or 702-383-0307.