Officials call on public to help curb DUI crashes in Las Vegas
Updated September 8, 2018 - 7:47 pm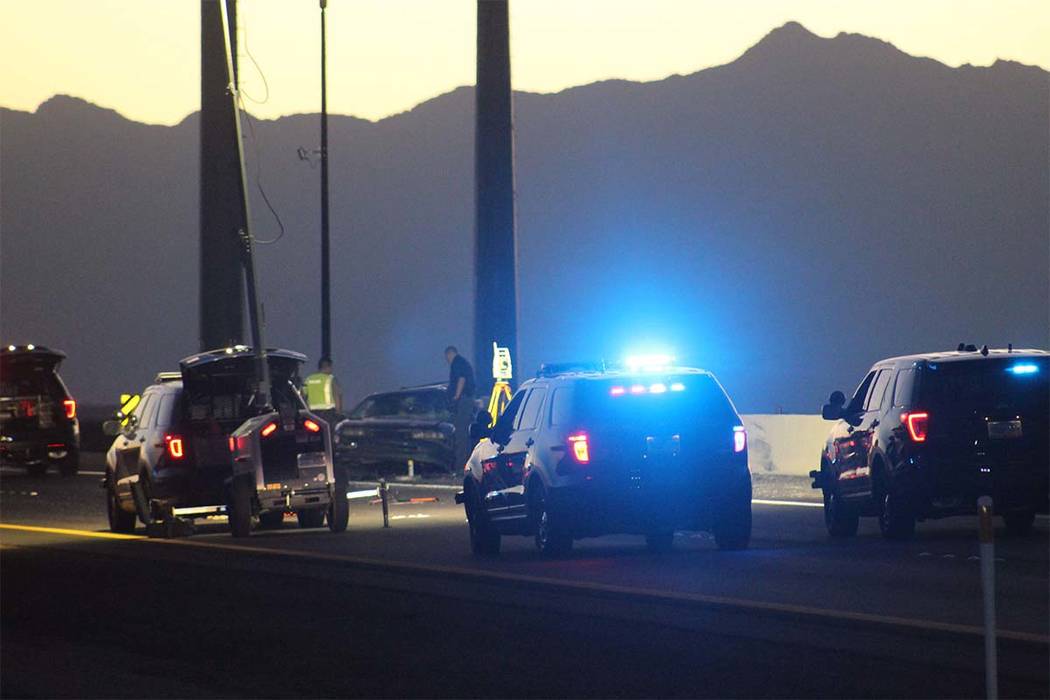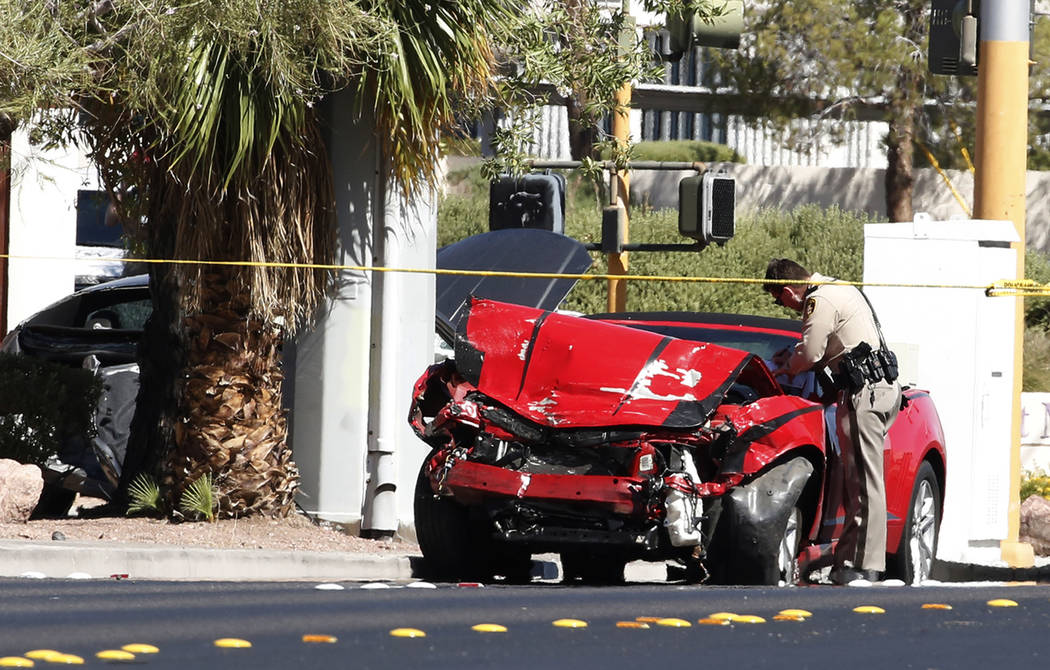 A recent uptick in deadly DUI crashes across the Las Vegas Valley has left local law enforcement agencies frustrated and calling on the public to step up.
"Law enforcement can't fix this all on our own," Nevada Highway Patrol trooper Jason Buratczuk said Friday at the agency's southern command headquarters, where representatives from the Highway Patrol, Metropolitan and North Las Vegas police departments and the state's Office of Traffic Safety gathered to speak up about impaired driving. "It really comes down to personal responsibility. We need the public's help."
The state was plagued with 16 fatal crashes between Aug. 31 and Friday afternoon, according to the Office of Traffic Safety. At least nine of those were in Clark County, and officials suspect about half were DUI-related, Las Vegas Review-Journal records show.
During that period, Metro investigated five fatal crashes. At least four involved suspected impairment, police said. At the same time, the Highway Patrol's southern command investigated one deadly crash and one critical-injury collision — both believed to be DUI-related. Days before the deadly weeklong stretch, the Highway Patrol investigated a double fatal crash Aug. 28 at Interstate 11 south of Las Vegas. The collision killed a man and a woman after their sedan was rear-ended by an alleged DUI driver.
Those numbers are expected to rise as toxicology and blood test results come in.
North Las Vegas police investigated two deadly collisions during that week, while Henderson police investigated one. None was related to impairment, officials from both police departments confirmed Friday.
The particularly deadly stretch on valley roads began Aug. 31 with two crashes in Metro's jurisdiction, one of which killed 8-year-old Levi Echenique. The suspect in the crash, Aylin Alderette, 25, was going 103 mph in a 45 mph zone, police have said.
"We've completely turned into a selfish driving community," Metro traffic Sgt. Paul McCullough said Friday, his arms folded. Capt. Nick Farese, who responded Friday to the scene of the crash that killed Levi, nodded in agreement.
"Let's just start with the uncomfortable conversation. We start as a community, talking about the selfishness." Farese said. "If one person hears our message and talks to their family or friends, or has the intestinal fortitude to stop one of their friends or loved ones from getting behind the wheel after they've had a few drinks, that's a start."
Although North Las Vegas police did not investigate any fatal DUI crashes during the deadly stretch, spokesman Eric Leavitt chimed in Friday, imploring the public to "always have a plan in place" before a night out drinking — or even smoking. People should choose a designated driver or decide ahead of time that they will order a ride home, he said.
"That way you have something to follow when your decision-making skills go out the window," Leavitt said.
As a last-ditch effort, Farese, the Metro traffic investigator, also warned the public that prison time for DUI is "not a slap on the wrist."
"Our detectives have put people in prison for 20 to 60 years for their actions," he said.
"Driving is not only a privilege, but it's a risk," Farese added. "Vehicles are deadly weapons if not operated safely and efficiently."
Contact Rio Lacanlale at rlacanlale@reviewjournal.com or 702-383-0381. Follow @riolacanlale on Twitter.
Fatal suspected DUI crashes in the valley between Aug. 31 and Friday
Aug. 31: John Kaleimamhu, 27, crash his pickup truck on the 9500 block of Russell Road. He died a day later from his injuries and is suspected of drunk driving.
Aug. 31: Levi Echenique, 8, was killed near Eastern and Harmon avenues when a suspected impaired driver, going 103 mph in a 45 mph zone, allegedly plowed into the car carrying Levi and his parents.
Sept. 2: Suspected impaired driver Brandie Rossow, 28, fatally crashed her car near Frank Sinatra Drive and Jay Sarno Way. Investigators said she was speeding and weaving between vehicles before the crash.
Sept. 3: An unidentified man suspected of impaired driving left the marked travel lanes on U.S. Highway 95 near the Tropicana Avenue exit and struck the concrete median barrier. The vehicle rolled over, eventually coming to a stop on its driver's side.
Sept. 6: Matthew Hammond, 41, was killed when a suspected DUI driver collided head-on with Hammond's vehicle on the 215 Beltway near the Cheyenne Avenue exit. The suspect was driving the wrong way on the highway with his headlights off, officials said.
Sept. 6: Two Idaho residents, George Cangro, 68, and Linda Cangro, 67, were struck by a suspected impaired driver while crossing Las Vegas Boulevard South in front of South Point.