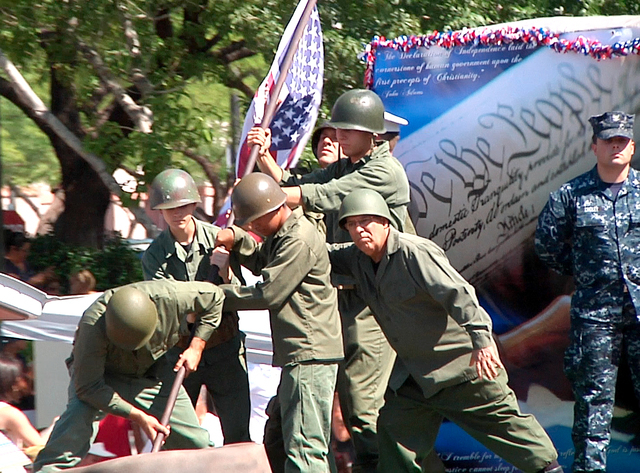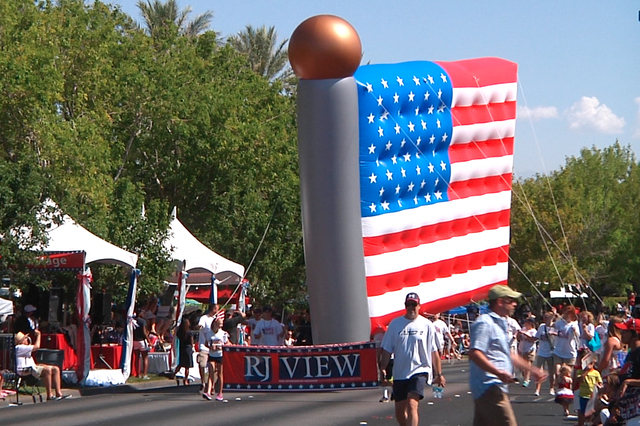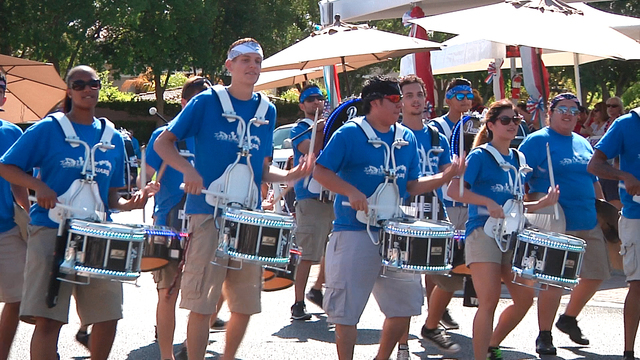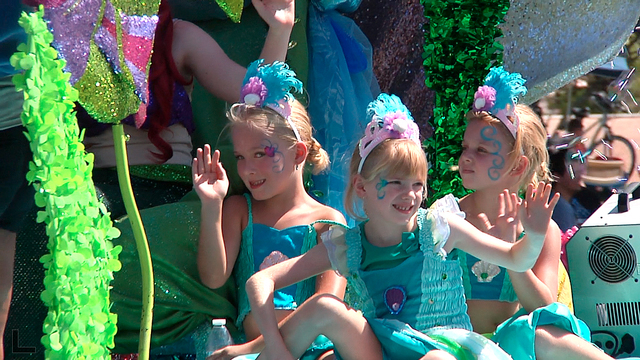 Weather that was warm but not scorching, and a morning wind that took the edge off helped stir up patriotism among about 35,000 people at Summerlin's annual Fourth of July parade.
Nothing screamed America more than the sidewalks on Hills Center Road at the Trails that were filled with people, dogs, coolers, tents, lawn chairs and American flags to commemorate the nation's independence from British rule.
Officials called the parade, put on by 2,500 people, the largest the Las Vegas Valley has ever seen.
Adrienne Augustus, the parade's spokeswoman, said people were setting up their tents and blankets as early as 7 p.m. the day before.
The Starbucks line was well out the door as parade-goers staked out the coffeehouse's patio for their tables and shaded areas.
The parade, which was celebrating its 20th birthday, was part of Nevada's yearlong sesquicentennial celebration.
Boulder City residents turned out Friday morning for their own Fourth of July celebration — the 66th annual Damboree "Wings of Freedom" parade.
The parade, which included a designated water fight section, was the main event among a full day of activities that included food, music, games, a carnival, and fireworks after dark.
In Summerlin, Robyn and Joel Garcia said the parade was much better than last year's, noting that the breeze helped. It was about 97 degrees one hour after the parade started.
The official high for Friday was 102 degrees, according to the National Weather Service. Temperatures reached 113 degrees in 2013.
Gov. Brian Sandoval led the special Nevada 150th float in a dark gray Ford Mustang GT convertible, waving to Summerlin parade-goers as he passed by them. The blue, green and gray float was designed to represent the Great Basin National Park with a water stream surrounded by a bed of grass and rocks.
It was followed by the three-tier, red, white and blue 20th birthday cake float that came with the Dixie Jazz Band playing celebratory tunes.
The parade's grand marshal, Col. Brandon T. Snook, commander of the 99th Surgical Operations Squadron at Nellis Air Force Base, led the float saluting the armed forces in a white Ford Mustang GT convertible.
Each float and parade entry that honored the service men and women had people standing on their feet, clapping and saluting those who have served their country.
This kind of response was exactly what Alexandra and Damien Silver and their twin daughters, Talia and Liza, admired about their second Summerlin parade.
"We like the tradition and the sense of community, spirit and patriotism it gives," Alexandra Silver said. "We want our girls to be around that and become familiar with what it represents."
Patriotic symbols could be found throughout most of the parade. A giant bald eagle balloon slowly flew along the roadway, as did a red, white and blue top hat balloon and a Lady Liberty.
There were many first-timers who were pleased with how the parade turned out.
Melissa and Jordan Kendall, with their son Max, just moved to Summerlin. They said it was fun to see the interactive and patriotic crowd. Their favorite part was seeing Max light up when a parade sponsor handed out beach balls, his current obsession.
The giant-sized balloons and prop-filled floats gained a good amount of "oohs" and "ahhs" from the crowd. But it was clear which were favorites, as the high volume of cheers and screams erupted from the crowd.
The singing group Desert Angels stood on their sparkly red, white and blue chariot singing happy birthday to the USA with their rendition of Pharrell Williams' 2014 hit song "Happy."
What many looked forward to and didn't seem to be disappointed by was the "Frozen" float. A mini-version of ice Princess Elsa stood in front of a snowflake arch with friends Kristoff, Olaf and Princess Anna — characters from Disney's computer-animated film — as snowflakes flew out to the crowd. A young girl and her friend rushed over to the front of the sidewalk to snap a picture, singing along to "Let It Go."
The parade closed out with a steamboat float featuring Donald and Daisy Duck and an Uncle Sam balloon, with local band Imagine Dragons' "On Top of the World" playing.
Announcing the parade were 8NewsNOW anchors Sherry Swensk and Brian Loftus on the north end of Hills Center Drive, and Channel 13's Beth Fisher and Shawn Tempesta on the south end of the parade.
Parade festivities ended just before 11 a.m. as families packed up their chairs, hats, coolers and children, leaving behind red, white and blue confetti blowing in the wind.
Review-Journal writers Paulina Rojas and Wesley Juhl contributed to this report. Contact reporter Cassandra Taloma at ctaloma@reviewjournal.com or 702-383-0381.