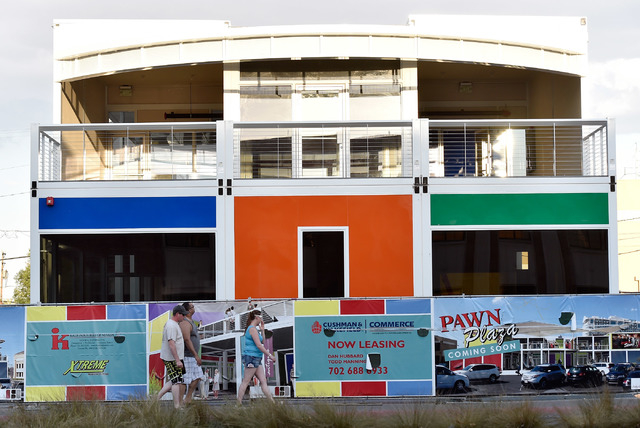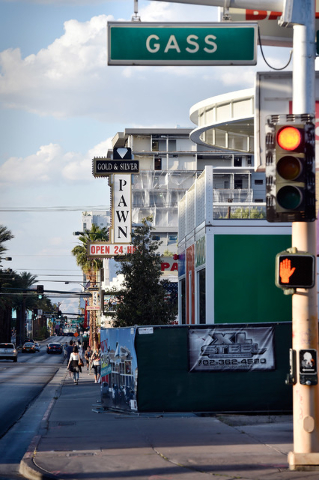 In most cities, big, bawdy neon signs are frowned upon.
In Las Vegas, they're not only encouraged, but sometimes required, as "Pawn Stars" star Rick Harrison learned Wednesday.
Harrison, who stars in the long-running History Channel series shot at his downtown pawn shop, hopes to open a Container Park-inspired restaurant and retail shopping complex this summer next to his famed Gold and Silver Pawn Shop near Garces Avenue and Las Vegas Boulevard.
Planning staffers contend Pawn Plaza — like dozens of other businesses along the world famous boulevard between Sahara and Washington avenues — must have all signs to be either animated or illuminated by at least 75 percent neon.
Harrison, together with lobbyist Jay Brown, argued the $2 million, 11,700-square-foot plaza is too "modern" to feature neon signs.
A planned 7-foot-tall, Welcome to Fabulous Las Vegas-inspired roof sign features enough neon and animated LED lighting to meet zoning codes, though three of the plaza's other proposed wall signs and marquees do not.
It didn't take long for City Council members to side with Harrison, unanimously awarding a zoning exemption rejected by the city's Downtown Design Review Committee last month.
City Councilman Bob Coffin said the plaza — which is made up 22 multicolored, modular cubes that some have likened to a Rubik's Cube — shouldn't suffer under the weight of an "outdated" zoning rule.
He could think of at least one other boulevard business, a new Walgreens at Sahara Avenue, that had recently received such a waiver since the city first adopted its neon signage rules in 2004.
He didn't see why the plaza, built to house six restaurants and 16 retail outlets, ought to be treated any differently.
"I think you're entitled to some experimentation with the signs," Coffin said. "I don't see the harm. … We can't cling to the past all the time."
It wasn't clear if the city plans to water down its neon requirement on that stretch of Las Vegas Boulevard.
His colleagues offered no further comment on the move. Councilman Steve Ross did jokingly ask Harrison for a price quote on his watch.
Reached for comment before winning the waiver, Harrison said he could have lived with either ruling, explaining he doesn't expect a street sign will make or break the new complex.
He just prefers to handle such design decisions himself.
"I understand the whole history with neon, but everything doesn't need neon," Harrison said. "It just clashes so bad (with the plaza).
"I think I know how to draw people downtown. Four thousand people come through (Gold and Silver Pawn) a day. A good 40 percent are international."
Lobbyist Brown reported as early as Tuesday afternoon that he didn't think Harrison would have a problem winning an exemption.
Modern or not, he said, not all buildings are created equal, and not all should have to play by the same rules.
"They're building this modern container park and we don't think neon is appropriate," Brown added. "If you have a new Supreme Court building, or new federal court building downtown, you're not going to want neon."
Contact James DeHaven at jdehaven@reviewjournal.com or 702-477-3839. Find him on Twitter: @JamesDeHaven.