Politics aside, cheap gas cherished at Las Vegas station
September 20, 2012 - 9:41 am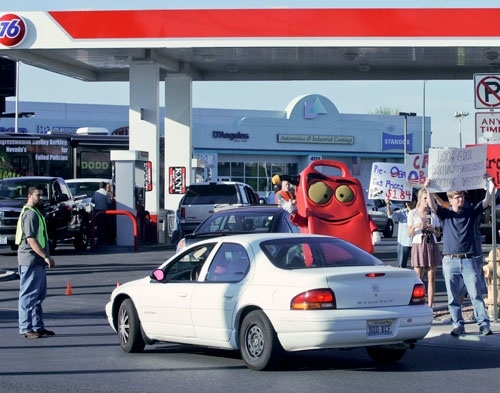 It was a publicity stunt, the line of a hundred cars as the sun rose Thursday morning.
The line snaked north on Wynn Road from Desert Inn Road, where a Speedee Mart gas station sat.
The folks at the front of the line had been here since 6 a.m., when it was still dark.
They were driving Chevy Suburbans and Toyota 4-Runners, Ford Windstar minivans and aging sedans. The cars all had the thirst.
The drivers needed to quench the thirst. We all need to quench that thirst.
That's what this event was about. Its organizers, a group of conservative political organizations, said it isn't a stunt so much as a way to get people thinking about why gas prices are so high.
These groups – primarily Americans for Prosperity and Morning in America – blame President Barack Obama.
They stage these events across the country. They make deals with gas station owners to subsidize their gas, selling it for $1.84 a gallon to the first 150 people in line, with a 15-gallon maximum.
That is what gas cost when Obama was inaugurated, $1.84 a gallon, down from a whopping $4.10 a gallon in the summer of 2008, 7 percent higher than the national average was on Thursday.
Debbie Dalton sat four cars from the front of the line in a gray Mitsubishi Lancer.
It was a big deal for her, to be able to fill her little car's gas tank. She said she hasn't done that in years. She's too broke.
"I'm just putting in five dollars here, five dollars there," she said.
She's a cabdriver. She said she's lucky to give one ride an hour. Times are tough.
"I don't know how it's going to feel, being filled up," she said of her little car.
She got the thing so full, gas spilled out, $17 for 9.448 gallons.
"It's overflowing with joy," she said.
Most everyone was there for the same thing, no matter their politics. Cheap gas is cheap gas.
Except for Ray Johnson. He was here making money. He's the Speedee Mart's operations manager.
He said he doesn't give a hoot about the politics. The organizers came to him and asked if they could essentially buy 150 people full tanks of gas.
What businessman is going to say no?
"Naturally, I had to say yes to that," Johnson said.
Contact reporter Richard Lake at rlake@reviewjournal .com or 702-383-0307.