Program helps criminals seal their records, start fresh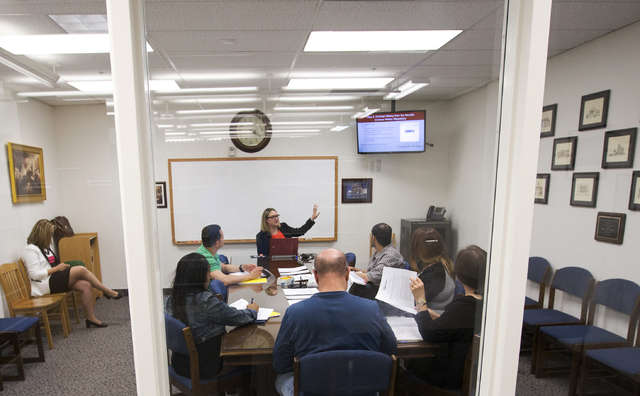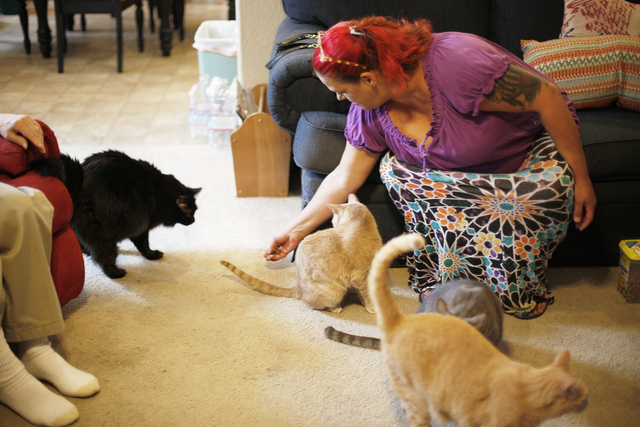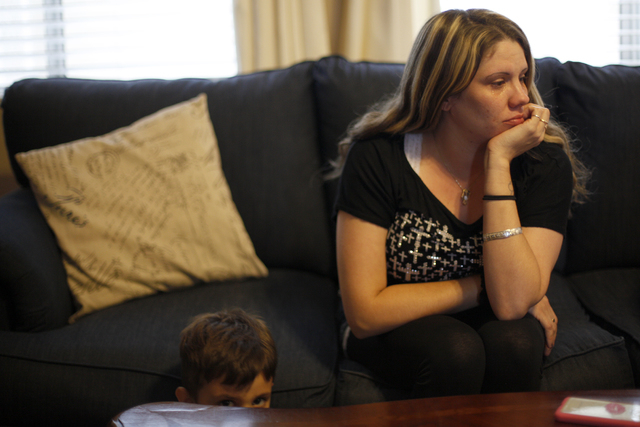 The six men and women who escaped the drizzle Monday afternoon and gathered around a conference table at the downtown Clark County Law Library had two things in common: criminal records and a will to move past them.
A law clerk with Nevada Legal Services stood at the front of a small room in the back corner of the library for about two hours, teaching attendees how to wipe their slates clean of criminal blemishes. The meeting marked the start of what the Department of Justice designated "National Reentry Week," an effort to ramp up public safety events that help formerly imprisoned people return to productive, law-abiding lives.
The opportunity for people with arrests or convictions to seal their records is essential in Nevada, where jobs in gaming — the state's largest industry — are often off-limits to people with a criminal past, said Kris Bergstrom, directing attorney at Nevada Legal Services' local office.
Bergstrom's office, a federally funded civil aid organization, usually is only able to give legal help to people who fall below a certain income level. Because the funding for the record-sealing program came from an AmeriCorps grant, the program is free and available to anyone, regardless of income.
Cheryl Culpepper, a 50-year-old Henderson woman in the process of having her record sealed, said the program has been a game-changer for her.
She was addicted to methamphetamine for 36 years and was in and out of jail until about 16 months ago, when her mother helped her sober up and find work, she said. During her years of addiction she accrued two felony drug convictions that she says are now keeping her from her lifelong dream of being a veterinary technician.
Culpepper, who is in her second semester at College of Southern Nevada and has worked at Deseret Industries since April last year, said the second half of the school's veterinary instruction is a health-services program that doesn't accept felons. Deseret Industries pays her tuition as long as she meets monthly with a mentor and is meeting the goals she set when she was hired, one of which was to go to college.
"To not be able to finish school after overcoming so much," Culpepper said, "it was kind of like getting punched in the face."
COMPLEX PROCESS
She went to the record-sealing class three times to learn how to navigate the 22-step process, which includes obtaining police and court records, filling out and sending petitions and affidavits to all of the jurisdictions where the records exist, and communicating back and forth by mail with the district attorney's office and the courts involved.
"I still wasn't grasping it. I was pretty sure I'd either never figure it out or lose interest before I figured it out," Culpepper said of what she calls a "confusing, complicated" process.
Culpepper approached AmeriCorps fellow Kendra Jepsen after one of the classes and is now more than a year into the process of sealing the record from her first conviction. Without Jepsen, who works full time on record-sealing issues and leads the group sessions, and the hope she's gotten through the record-sealing program, "a lot of the doors that were slammed in my face would have been a relapse waiting to happen," said Culpepper, who said her record kept her from doing volunteer work when she first kicked her addiction.
Because Culpepper has two felony convictions, the soonest she normally would be able to seal the second conviction from her record would be 2021, 15 years after the case closed. Jepsen is pursuing other avenues to seal the charge sooner.
Although Culpepper said she has paid about $150 so far in fees associated with obtaining police records and filing forms with the Nevada Criminal History Repository, which keeps a database of all the state's convictions, the legal help is free. A man at Monday's meeting said he had been quoted a price of between $600 and $700 at a private law firm. Bergstrom said private attorneys can charge up to $2,000 for record-sealing services.
The free record-sealing class was founded in 2014 by Deputy Public Defender John Piro and then-Deputy Public Defender Bita Yeager, in conjunction with UNLV's Boyd Law School and Legal Aid of Southern Nevada. After Yeager was appointed a Las Vegas justice of the peace in February 2015, the program was handed over to Nevada Legal Services, which teaches the classes year-round and supervises Boyd students who teach them during the school year.
A statute of limitations applies to the record-sealing process, depending on the type of crime a person committed. The soonest records can be sealed after a case is closed is two years for a misdemeanor, five years for a gross misdemeanor and seven years for an "enhanceable misdemeanor," a misdemeanor charge that becomes more severe based on past convictions, such as a DUI or domestic-violence-related battery.
If charges have been denied or dismissed, there is no waiting period.
A person must wait seven years after a category E felony case closes, 12 years for a category C or D felony and 15 years for a category A or B felony, the most serious types of crimes. Criminal records that never can be sealed include crimes against children, felony DUIs, sex offenses and cases in which a person was dishonorably discharged from probation or parole or had their probation revoked.
While Bergstrom and others tout the program's benefits, especially its ability to remove barriers for felons seeking jobs, others say record-sealing has drawbacks.
DOWNSIDE OF SEALING
A spokesman for the Reporters Committee for Freedom of the Press said a more appropriate solution to the re-entry problem would be to make it illegal for employers to refuse employment on the basis of a person's criminal past.
"We are sympathetic to the issue, but the answer isn't to hide the official record of something that is of public interest," said Gregg Leslie, the committee's legal defense director.
Record-sealing became an issue in Clark County District Court in June when a local family doctor accused of videotaping himself having sex with patients was found to have a criminal history involving lewdness charges nine years earlier.
Dr. Binh Minh Chung, 42, was arrested and charged with sexual assault, battery with intent to commit sexual assault, first-degree kidnapping and administering a drug to aid the commission of a felony, among other charges, after he was accused of filming himself having sex with a sedated girl while in his office.
Chung also had been arrested in 2006 in connection with open and gross lewdness with a teenager, court records show. He was able to seal his record and start his own medical practice, still licensed by the Nevada Board of Medical Examiners, because the charges were dismissed the same year after he completed 100 hours of community service and went through impulse control classes.
Leslie said sealing one's criminal record also ignores the fact that employers shouldn't discriminate against people who served time for a crime unrelated to the job they're seeking. He cited "Ban the Box" initiatives, which would make it illegal for an employer to ask applicants about prior convictions, as an alternative.
Another issue with record-sealing is that it skews crime and court statistics that help gauge the effectiveness of different justice systems, he said.
"You might think the county doesn't have a problem with DUI drivers re-offending," Leslie said. "You might not ever realize you're missing the most important cases because they've been sealed."
Yeager, one of the founders of the record-sealing program, said the usual time for convicted criminals to re-offend is about three years. She argued that this gives statisticians a decent amount of time to study recidivism before the offenders are even eligible to have their records sealed.
As for Leslie's concern about matters of public interest, Yeager noted that record-sealing statutes were intended for people who have served their time and turned their lives around. Judges still have the discretion to hold hearings on the record-sealing petitions and can deny a request if a person's offense was serious enough, she said.
One woman at Monday's class was simply worried about what her criminal history will mean to her growing family. The woman, who asked not to be named, came to the law library Monday afternoon for help sealing a petit larceny conviction she received years ago, before she had children.
"Now that I have kids, I need to be an example," she said.
To contact Nevada Legal Services for record-sealing legal aid, call 702-386-0404 or visit the organization's Las Vegas office at 530 S. 6th St.
Contact Kimber Laux at klaux@reviewjournal.com or at 702-383-0391. Find her on Twitter @lauxkimber