Project Neon workers in Las Vegas guzzle 924 gallons of water
August 17, 2018 - 4:59 pm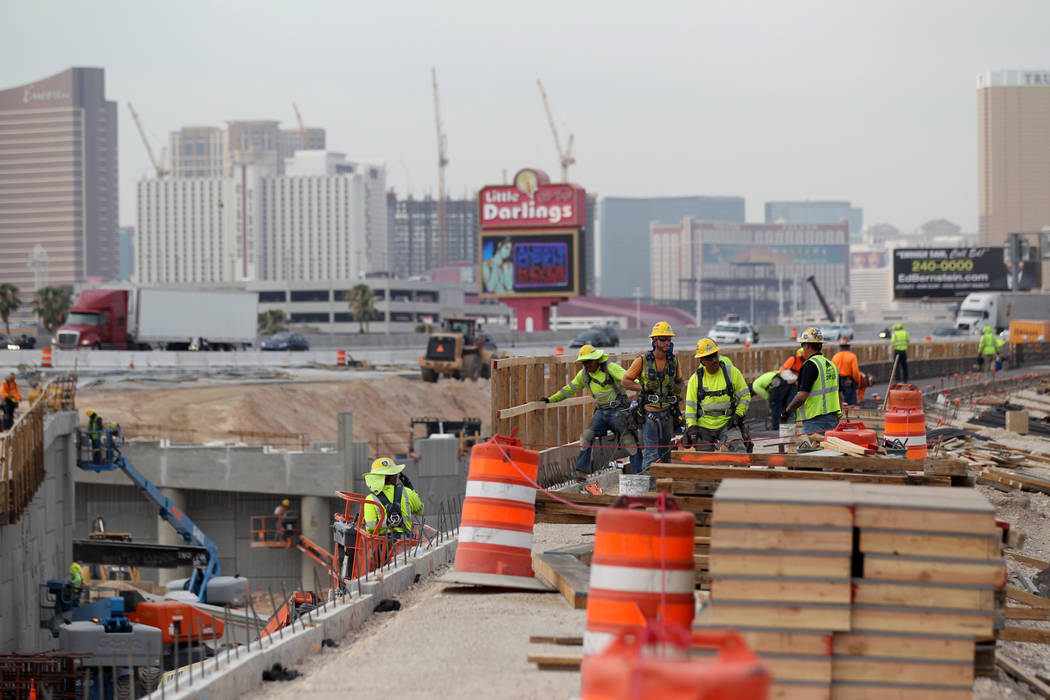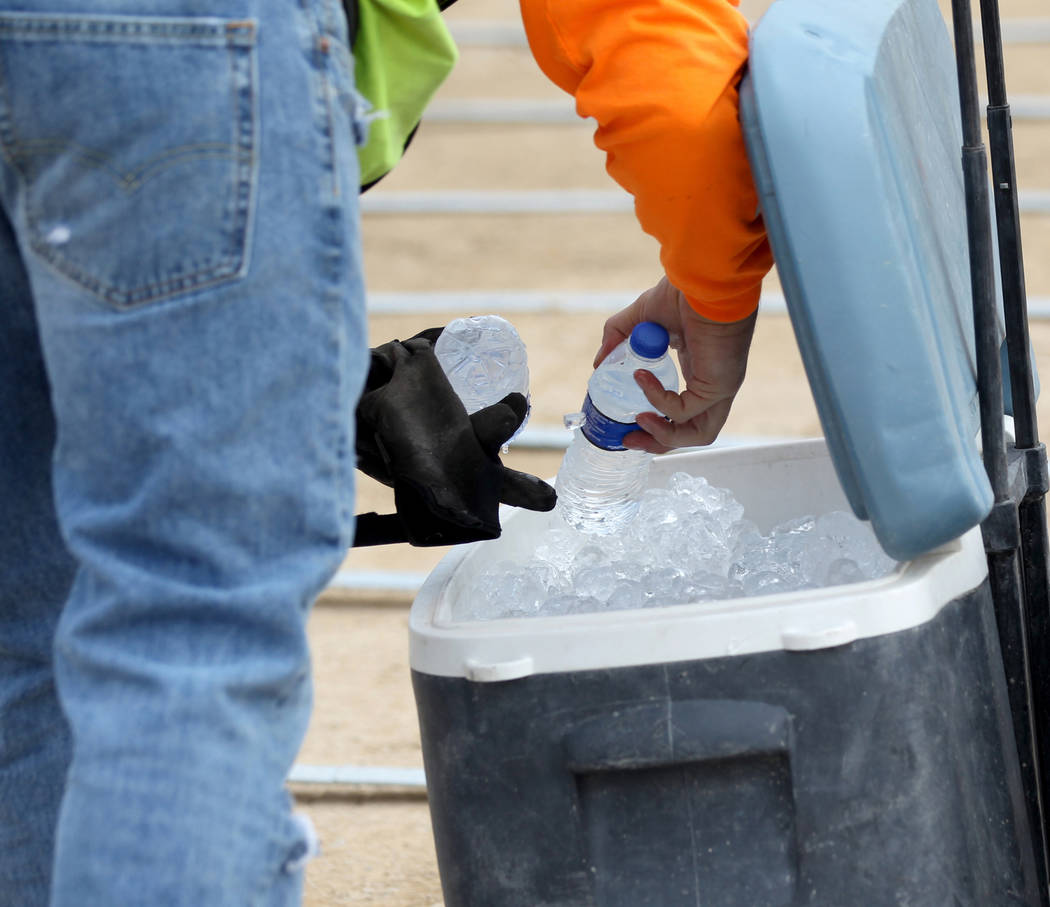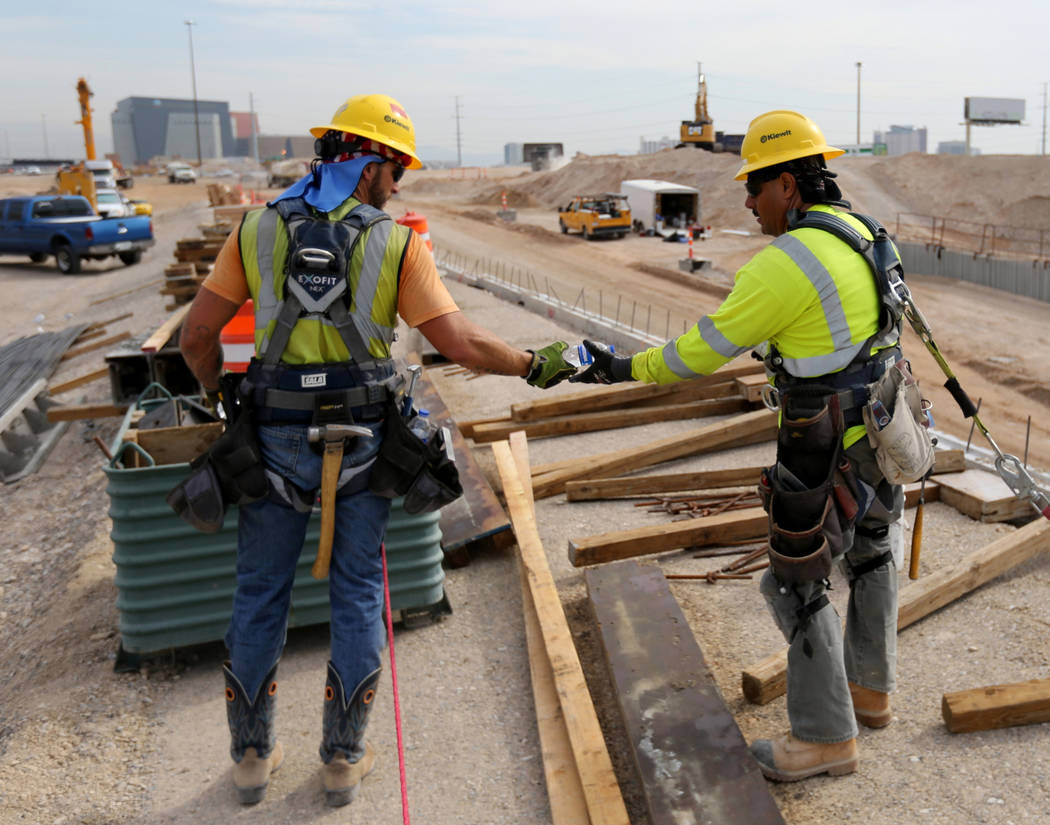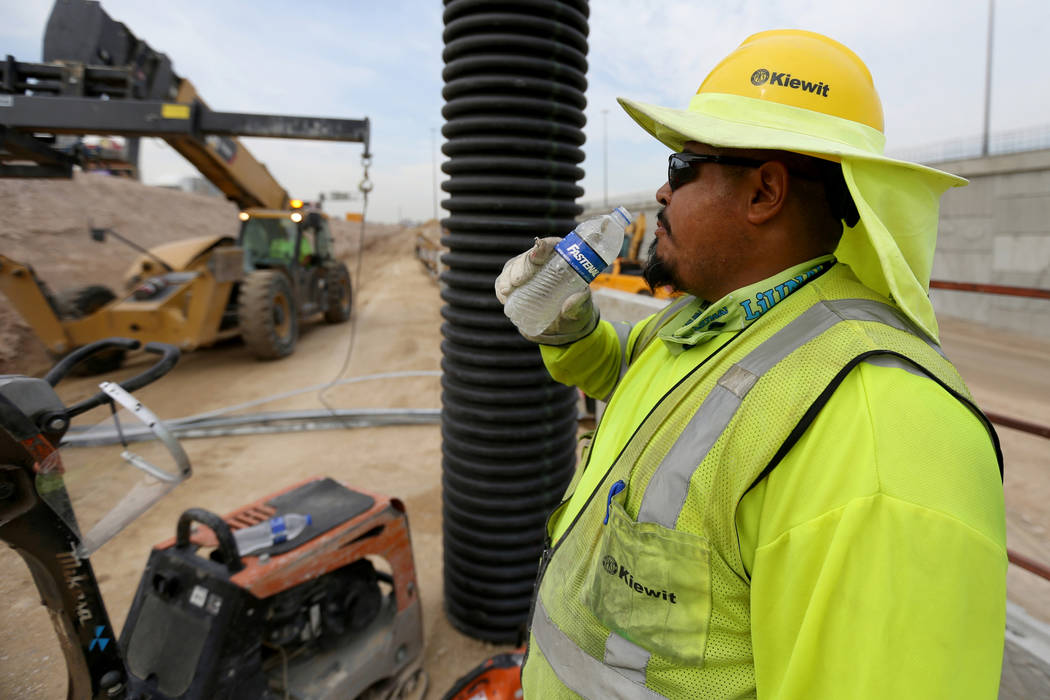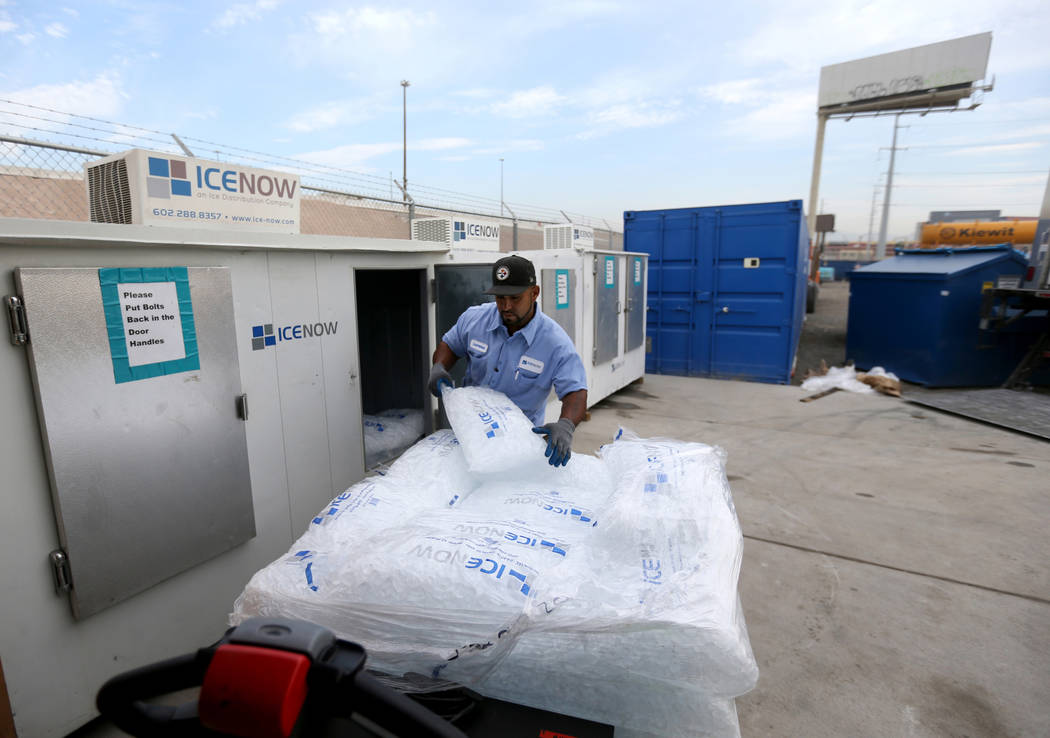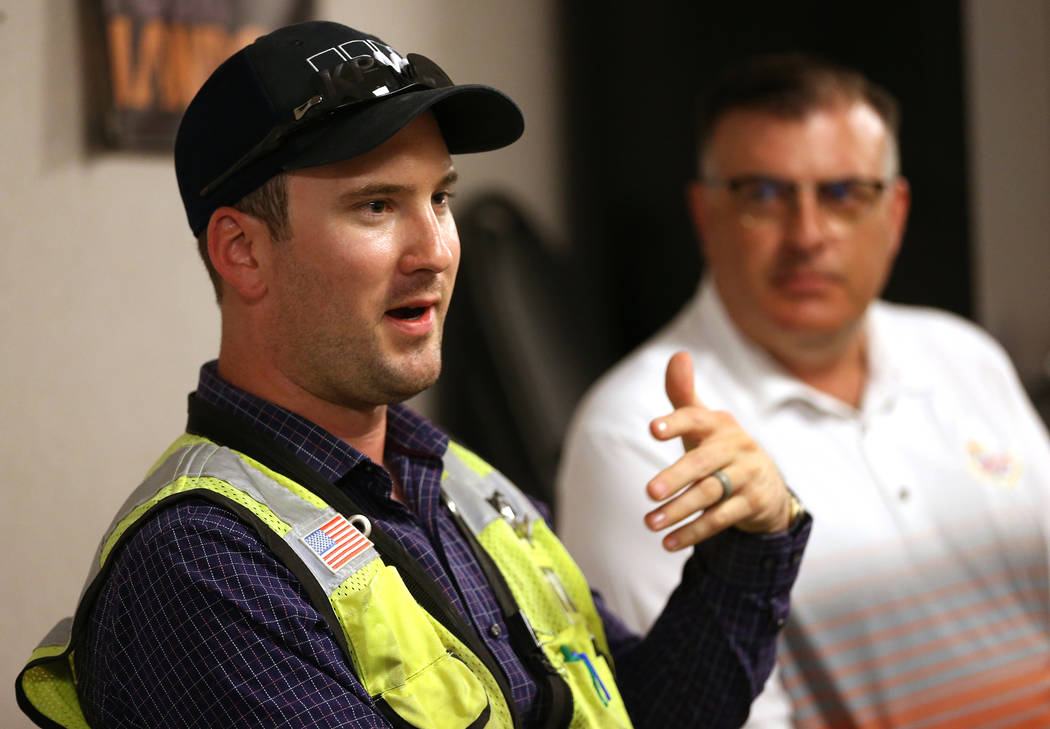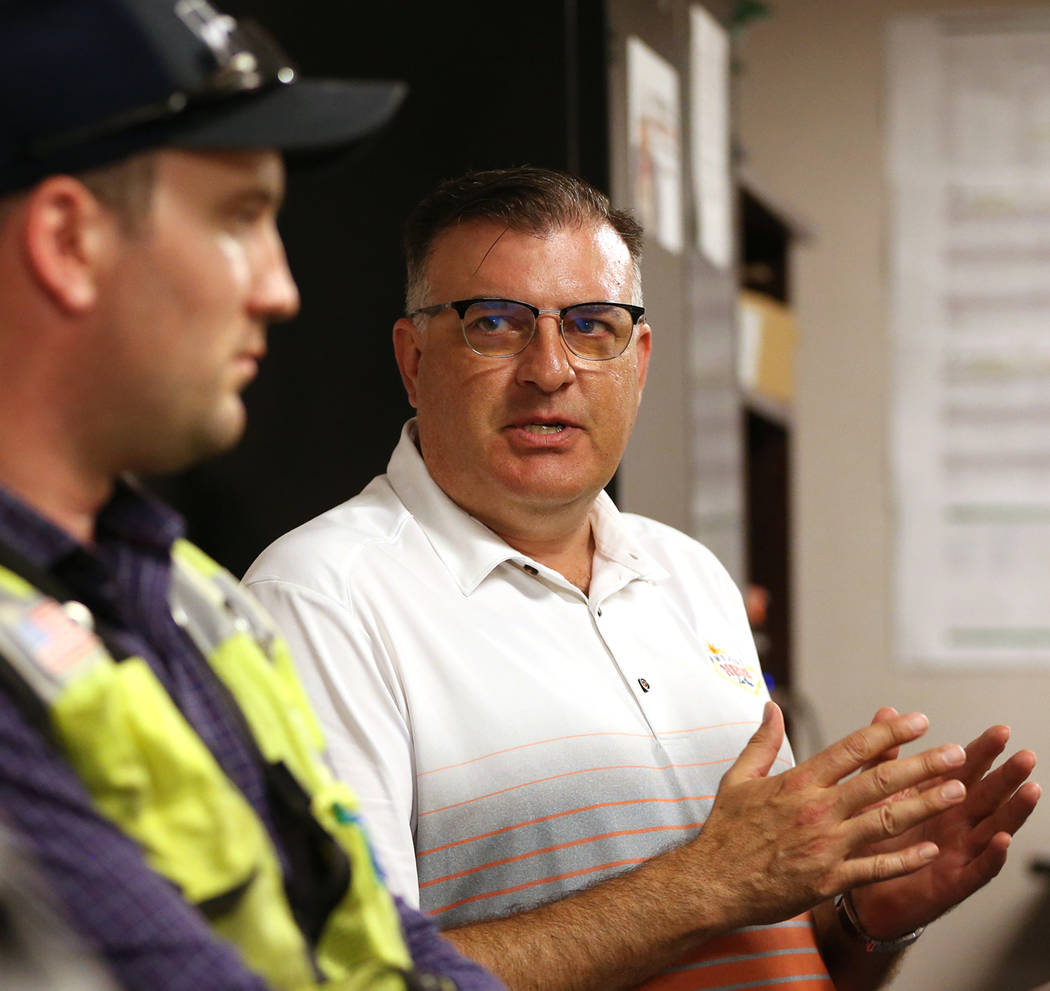 Gus Rivera drinks a half-gallon of water before going to bed every night, a ritual he's become familiar with over the past two years.
Waking up before the desert sun rises over Las Vegas, he'll toss back a couple of 16.9-ounce water bottles and eat some fruit as he heads out the door for another grueling day at the Project Neon construction site at Interstate 15 and U.S. Highway 95.
Staying hydrated is vital as summertime temperatures soared into the triple digits, compounded with the recent bout of humidity, he said.
"We know this project is schedule-driven, but what's a schedule over safety and making sure you drink enough water?" said Rivera, a construction worker who helps keep an eye on the safety
of his colleagues laboring away on Nevada's largest infrastructure project.
"We can go a million man-hours of work," Rivera said. "But if one thing goes wrong, then all that goes out the window."
Each day, Rivera and his co-workers guzzle approximately 7,000 small, 16.9-ounce water bottles totaling 924 gallons, said Tony Illia, a spokesman for the Nevada Department of Transportation.
Kiewit, the contractor hired by NDOT to complete Project Neon by next summer, enacted a policy to ensure its 240 on-site employees and roughly 140 subcontractors are getting enough fluids throughout the 12-hour workday.
Applying sunscreen, taking plenty of breaks and eating a healthy diet filled with proteins, fruits and vegetables also help the workers avoid heat-related exhaustion.
The slightest sign of headaches, body pains or dizziness will land a worker in the doctor's office to check for signs of dehydration, said Robert Murphy, the project safety manager for Kiewit.
"We do really well with overreacting to these situations," Murphy said. "The sooner we can react, the sooner they can recover."
It usually takes about two weeks for a new construction worker to acclimate to the extreme heat at the work site, Kiewit spokesman Jay Proskovec said.
Despite that, Proskovec said there have been no major reports of dehydration among the workers since construction started in April 2015 on Project Neon, the $1 billion effort to widen I-15 between Sahara Avenue and the Spaghetti Bowl interchange in downtown Las Vegas.
Proskovec said he doesn't anticipate any problems as construction continues through next summer — as long as the workers stick with the hydration program and continue to watch out for each other.
"The quality of work declines if our guys aren't feeling well, which means having to go back and do it over again," Proskovec said. "Everyone has equal ownership when it comes to safety."
Contact Art Marroquin at amarroquin@reviewjournal.com or 702-383-0336. Follow @AMarroquin_LV on Twitter.
Symptoms of severe dehydration
— Unable to urinate or dark urine
— Excessively dry skin
— Dizziness
— Rapid heartbeat
— Rapid breathing
— Sunken eyes
— Sleepiness
— Lack of energy
— Confusion or irritability
— Fainting
— Headache
— Muscle cramps