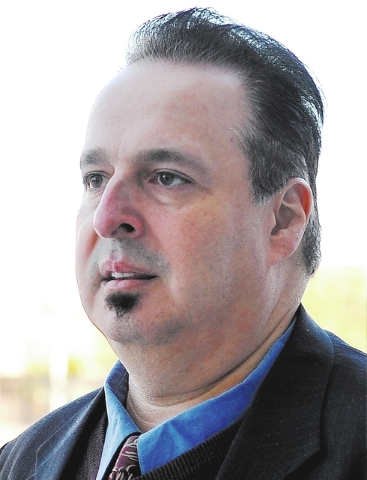 The longtime face of the massive scheme to take over and defraud Las Vegas-area homeowners associations is about to face punishment.
Former construction company boss Leon Benzer is to be sentenced Thursday, and federal prosecutors are seeking a stiff prison sentence for the man behind a multimillion-dollar conspiracy the likes of which Southern Nevada had never seen.
In court papers, Justice Department lawyers Thomas Hall and Alison Anderson are asking nearly 20 years in prison and $13.4 million in restitution.
It has taken the government nearly eight years to reach this point in the high-profile case. A total of 42 people either pleaded guilty or were convicted at trial. Benzer is among the last to be sentenced.
"His sprawling conspiracy left a trail of ruin in its wake, including HOAs with substandard repair work, defrauded mortgage companies, defeated HOA homeowners with diminished property values and dozens of Benzer's family members, friends and employees ensnared in his web of criminality," prosecutors wrote. "Indeed Benzer by himself caused a (more than) 40-person crime wave in the Las Vegas Valley between 2005 and 2009, perpetrating crimes including mortgage fraud, election fraud, threats of violence and intimidation, abuse of the judicial process, tax fraud and obstruction of justice."
Though Benzer pleaded guilty to conspiracy, fraud and tax evasion charges in January, he refused to cooperate with prosecutors to "help untangle the thicket of crime he organized and oversaw," Hall and Anderson wrote.
According to prosecutors, Benzer, 48, and the late construction defect lawyer Nancy Quon were the "principle architects" of the scheme. The goal was to gain control of HOA boards through election rigging, obtain construction-defect litigation contracts for Quon and, ultimately, construction repair work to Benzer's company, Silver Lining Construction.
The scheme was carried out to its fullest at Vistana in southwest Las Vegas, where Quon and her firm got more than $5.2 million in fees from a $19 million construction defect settlement in June 2007. Benzer's company was awarded more than $7 million to do the work.
FBI-led raids in September 2008 thwarted similar takeover attempts at more than a half-dozen HOAs around the valley. As many as a dozen HOAs were targeted by the Benzer organization.
Quon never was charged, but killed herself in March 2012 under the weight of the federal investigation.
Benzer's lawyer, Daniel Albregts, argued in court papers that Quon, not Benzer, was the real mastermind of the takeover scheme. Benzer dated Quon off and on between 2004 and 2007.
"Although he knows better now, he trusted her and, since she was a successful lawyer, he did not think she would risk her career and livelihood to engage in illegal conduct," Albregts said.
When Benzer moved to end the relationship, Quon threatened him and began stalking him, texting him 25 times a day, Albregts wrote.
"He worked long hours and hid in hotels with bodyguards instructed not to let her into his room," Albregts said.
Albregts described Benzer as someone of low intelligence who can "barely read."
He said Benzer also has a history of physical and emotional problems stemming from his childhood, when his father fancied himself as a mobster and his mother was addicted to gambling and frequently attempted suicide.
It's difficult to imagine Benzer as the organizer of the conspiracy, Albregts said in arguing for an unspecified lighter sentence.
"It is clear that Leon Benzer could not have created this scheme," he said. "It is also clear that Leon Benzer was in way over his head."
Defense lawyer Thomas Pitaro, who represented Quon during the takeover investigation, expressed surprise that Benzer is pinning the wide-ranging scheme on Quon.
"It's easy to blame someone who isn't here to defend herself," Pitaro said. "Sometimes what you say about someone says more about you than the other person."
Prosecutors insisted that Benzer clearly was the man who "called the shots."
"He took advantage of individuals who were in financial need and pitched those who were interested in fast money with no questions asked," prosecutors wrote. "He identified whatever weakness or frailty that would make someone receptive to his offer of easy money and lured them into the conspiracy, often taking advantage of family relationships and longtime friendships."
A tough prison sentence is needed to protect the public and show the next person who contemplates such a scheme that it is "absolutely not worth the risk," prosecutors said.
Contact reporter Jeff German at jgerman@reviewjournal.com or 702-380-8135. Follow him: @JGermanRJ