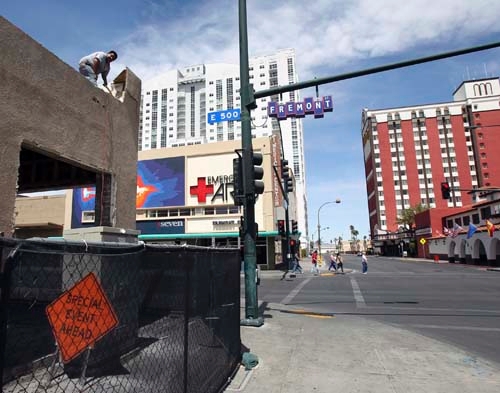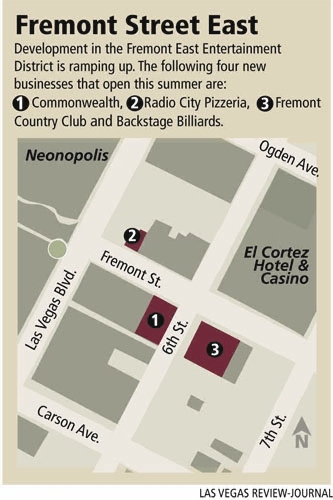 A vacant storefront at the corner of Fremont and Sixth streets is now a construction site for a new bar, but it's much more than just the home of a new business. It's considered a key element in the continuing revival of the block and another step in the revitalization of downtown.
The store, once the Hollywood Fashion lingerie and dancewear store, is expected to become the Commonwealth bar by late summer.
Vegas Seven publishers Ryan Doherty and Justin Weniger are spearheading the $1.5 million project with partners Michael Parks and Kenna Warner. Commonwealth will encompass a patio-level, East Coast-style pub, a rooftop garden bar and a speakeasy cocktail lounge directly behind the main building, at 102 S. Sixth St.
"We wanted to be part of this downtown revitalization, be part of the story," said Doherty, who also owns the clothing store Stitched at The Cosmopolitan of Las Vegas. "We're all fans of downtown. We settled on a bar – it could have been anything, but we thought that would be the most fun project."
The main bar and rooftop garden will serve beer on tap in pewter camping cups. A 700-square-foot speakeasy to the south of the main bar, with limited entry and a door open only to those with a reservation, will have a Prohibition-era ambience.
The project is already stirring up expectations.
"I expect them to bring an entirely new crowd to downtown," said Jonathan Jossel, who as director of Las Vegas properties for Tamares Real Estate serves as Commonwealth's landlord. "They will help bring people who are not already here to downtown. Locals and people who go to the Strip will come to Commonwealth."
Tamares owns a handful of buildings in the Fremont East district and includes Le Thai, Beauty Bar and Don't Tell Mama among its tenants. The company also owns the former laundry building at 106 S. Sixth St., which may be the site of either another dining establishment or a co-working space. Jossel hopes to announce the company's tenant selection in May.
Tamares fielded requests from convenience stores and big-box retail outlets for its Fremont East buildings, but Jossel wanted tenants that are more eclectic.
Commonwealth joins its neighbors at 601 Fremont St., the Fremont Country Club and Backstage Billiards, in planning a late-summer opening.
Remodeling is also under way at an orange storefront across the street from Tamares' holdings. Radio City Pizzeria, which opened last year at Tivoli Village, is expanding to 510 Fremont St., the former home of Lovo Cigars. The new location will have the same menu as the Tivoli restaurant and the same 50-cent Pabst Blue Ribbon on tap. The cigar shop recently moved into the Neonopolis.
Downtown stakeholders are buzzing about the latest developments on Fremont East, which took years to draw attention and investment, but is now steadily filling up one business at a time.
"The goal is to get the (first) block full. Then we move down to the second block, then the third block," said Gina Gavan, who oversees marketing for the Fremont East Entertainment District's businesses and property owners.
A limited liability company fronted by Zappos CEO Tony Hsieh in March purchased the former 7-Eleven building at the district's entrance on the corner of Fremont Street and Las Vegas Boulevard. Hsieh has yet to announce detailed plans for the vacant space.
The Fremont East Entertainment District celebrates its 10-year anniversary in October.
Contact reporter Caitlin McGarry at
cmcgarry@reviewjournal.com or 702-387-5273.