Questions surround professional guardian who left Nevada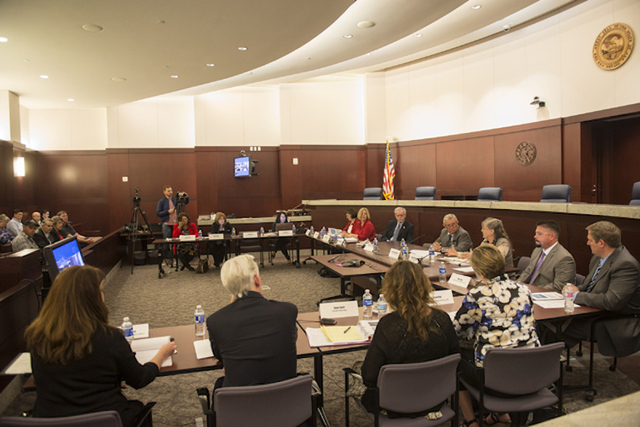 A private professional guardian recently packed up and left the state with seemingly little concern for the dozens of wards she left behind.
Without court approval, April Parks paid herself thousands of dollars from the accounts of the wards she was supposed to care for before running off to Pennsylvania last month, according to the court records.
Attorneys and the Clark County public guardian's office say those charges need to be investigated, claiming they have found evidence of repeated double billing, sloppy accounting and possibly fraud. And they're trying to recoup a portion of the money Parks charged, a task made difficult because Parks filed for bankruptcy earlier this month.
Parks had long been one of the most active guardians in Southern Nevada. Working out of her Boulder City office, she often acted as the surrogate decision maker for 50 to 100 wards at any given time.
A ward is someone deemed by a medical professional to be too incompetent or infirm to handle his or her affairs.
In December, Parks started resigning from 58 guardianship cases in Clark County. She claimed a law that was passed by the 2015 Legislature that requires professional guardians in the state to be licensed would make it too difficult to keep her business afloat.
The number for Parks' office was out of service when a Review-Journal reporter called. Calls to her cellphone and emails were not returned Thursday.
Resigning from cases is unusual for a professional guardian, according to attorney Adam Woodrum.
"You're not supposed to be able to resign like that," he told the RJ. He and his law partner and wife, Homa Woodrum, are representing the public guardian's office on all 39 cases the office received from Parks' caseload.
"You don't get to take the money and not do the work."
Since getting the cases and accounting data, the Woodrums have serious concerns about Parks' practices.
"There's a pattern that emerges," Adam Woodrum said.
No matter the size of the estate, she would only leave a few hundred dollars in the wards' accounts, he said.
Specifically, those patterns include billing an account at least twice for the same service on the same day, filing sloppy paperwork that the Woodrums say is almost impossible to follow at times, and billing several hours for menial tasks such as opening the wards' mail every month to the tune of $170 per hour.
In the case of Norman Weinstock, those double billings added up to more than $23,000 in guardianship fees that shouldn't have been paid, according to the Woodrums' filings.
Although Parks was paying herself from the accounts like clockwork, the wards received little attention.
One, 90-year-old Inessa Sanborn, was taping her shoes together because Parks wouldn't buy her a new pair, according to the Woodrums.
Parks, however, charged Sanborn more than $11,000 in guardianship fees, according to court records.
Weinstock, 74, was recently deemed competent to make decisions and had his personal rights restored.
On April 5, Weinstock spoke in court about what it was like having Parks as his guardian.
"I read in some paperwork where she said she bought me thousands of dollars worth of clothing," Weinstock told Family Court Judge Dianne Steele, according to a video of the proceeding. "I was with her for six years. She bought me one pair of sneakers, two pairs of house slippers, one of which didn't fit, and some other clothes that didn't fit."
"She didn't spend anything on me."
The public guardian's office now only helps manage his finances, but choices such as where he wants to live or what doctor he wants to see are his to make.
The Woodrums have been fighting to recoup a portion of the money Parks charged the wards.
Steele ordered Parks to return $22,000 in fees to Weinstock's account because it hadn't been approved. Steele also authorized Weinstock to sue Parks for any other charges he and his attorneys think might be fraudulent.
"Ms. Parks should be held liable for the fraud perpetrated against the ward and his estate," they wrote in a filing in the Weinstock case.
But when Parks filed for bankruptcy May 5 in Wyomissing, Pennsylvania, it pressed pause on all efforts to get back any of the money.
"Everything is on hold," Adam Woodrum said. "We now have to get permission from the Bankruptcy Court to do anything."
The attorneys are likely going to have to go to Pennsylvania to fight to get the bankruptcy case transferred to Nevada, he said.
Meanwhile, the Woodrums say they will continue to dig into as many of Parks' former cases as possible in hopes of building their case against her.
Contact reporter Colton Lochhead at clochead@reviewjournal.com or 702-383-4638. Follow him on Twitter: @ColtonLochhead
RELATED
Panel appointed to improve Clark County's troubled guardianship system
There's now a hotline to call with guardianship complaints
Clark County Commissioners, Nevada lawmakers move to reform 'appalling' guardianship program
Meeting scheduled
The second-to-last meeting of the Nevada Supreme Court Commission studying the administration of guardianships in Nevada will be Friday at UNLV's Thomas & Mack Moot Court, 4505 S. Maryland Parkway. The meeting is open to the public and will last from 11 a.m. to 5 p.m.