Rawson-Neal Psychiatric Hospital gets green light from feds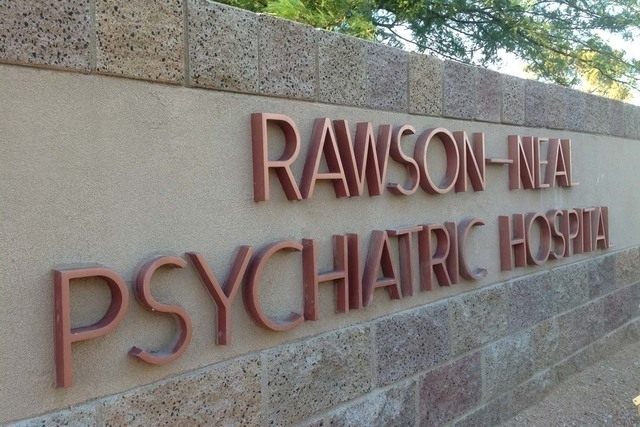 CARSON CITY — After a year, federal officials' ongoing probes of Rawson-Neal Psychiatric Hospital may have come to an end as the state facility was found to be largely compliant with regulations and will continue to be reimbursed by the Centers for Medicare and Medicaid Services.
The clearance and certification won't do anything to alleviate the crisis Clark County emergency rooms face in dealing with large numbers of the mentally ill, but the accomplishment pleases at least one local hospital official.
"It makes a huge difference," Dr. Dale Carrison, chief of staff and head of emergency services at University Medical Center said Thursday. "It's a certified facility now. It's good for everybody associated."
The Southern Nevada Adult Mental Health Services, agency that oversees Rawson-Neal was found to be in compliance with Medicare conditions of participation and federal requirements under the Emergency Medical Treatment and Labor Act, known as EMTALA, after a March 12 inspection.
"From the beginning, we have taken concerns regarding Rawson-Neal Psychiatric Hospital very seriously, and immediate action was taken to make certain those treated at this facility receive the best care possible," Gov. Brian Sandoval said in a statement Thursday.
A series of investigations by federal officials began last year after allegations of patient dumping emerged when James F. Brown, a patient at Rawson-Neal, was bused to Sacramento, Calif. with no family or support waiting for him.
After reports of improper patient discharges, the state initiated multiple investigations, implemented a corrective plan of action, and disciplined or terminated individuals responsible for violating policy.
Approval of transportation for out-of-state travel requests were strengthened, and a chaperone policy was implemented.
But the hospital continued to fall short of federal regulations in a subsequent inspection by federal officials.
On Jan. 9, federal officials warned Rawson-Neal and gave Nevada officials 90 days to correct deficiencies or risk losing its CMS certification and federal funding. The EMTALA violations included problems with maintaining the emergency room log, medical screening exams and appropriate transfers.
The agency that oversees Rawson-Neal also remained out of compliance with standards on oversight, quality assurance, performance improvement, and nursing services, according to federal documents.
Hospital officials submitted corrective plans and federal officials on March 12 conducted a follow-up inspection, which found the hospital to be back in good standing.
"The approval from CMS is a welcome validation of the quality care provided at Rawson-Neal Psychiatric Hospital," Mike Willden, director of the state's Department of Health and Human Services said in a statement Thursday. "I'm extremely proud of the … staff and commend them for this great accomplishment."
However, for the hospital to be in compliance with EMTALA, it had to close an outpatient clinic in late January. Officials had opened the clinic last summer to help reduce the large number of mentally ill patients seeking treatment in emergency rooms ill-equipped to treat them.
Because the clinic was under the same provider license as Rawson-Neal, it had to operate as a full emergency department, which was never the intention. The closure of the clinic only worsened the situation at local emergency rooms.
On Wednesday alone, UMC was holding 15 mentally ill patients waiting for beds at a psychiatric facility. Nine of them were in the emergency department and six others were in other floors of the hospital, Carrison said.
"It's still a problem," he said. "They still don't have adequate resources."
State officials have looked at alternatives to continue the services that were being offered at the outpatient clinic, but have not enacted any of the options because staff and funding are needed, said Dr. Tracey Green, the state's chief medical officer, at a March meeting of Gov. Brian Sandoval's Behavioral Health and Wellness Council.
Neither Green or CMS officials couldn't be reached for comment Thursday.
But not everything was good news for Rawson-Neal, standard-level deficiencies were cited during the March 12 inspection, according to an April 9 letter sent to Chelsea Szklany, administrator at Rawson-Neal. The statement of deficiencies was not released to the media.
Contact Capital Bureau reporter Sean Whaley at swhaley@reviewjournal.com or 775-687-3900. Find him on Twitter @seanw801. Contact Yesenia Amaro at yamaro@reviewjournal.com or 702-383-0440. Find her on Twitter: @yeseniaamaro.