Review-Journal taps industry veteran as new editor
February 5, 2016 - 4:27 pm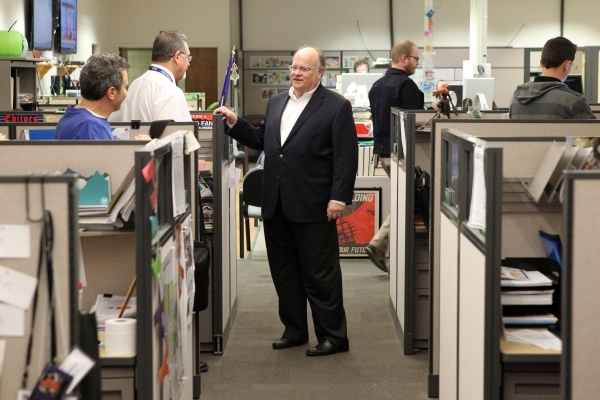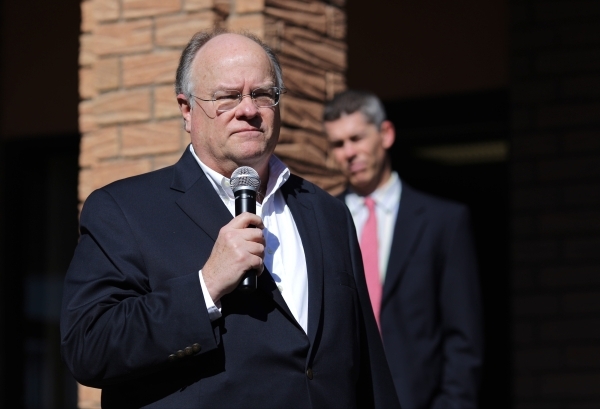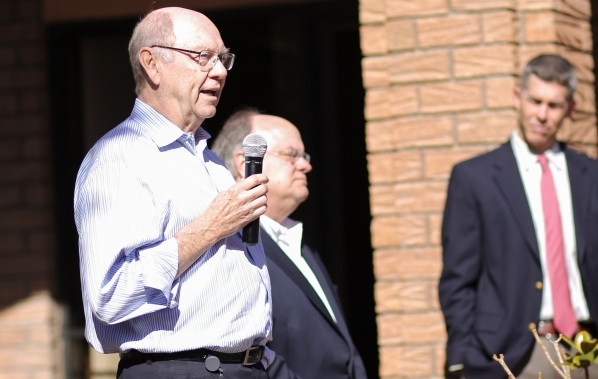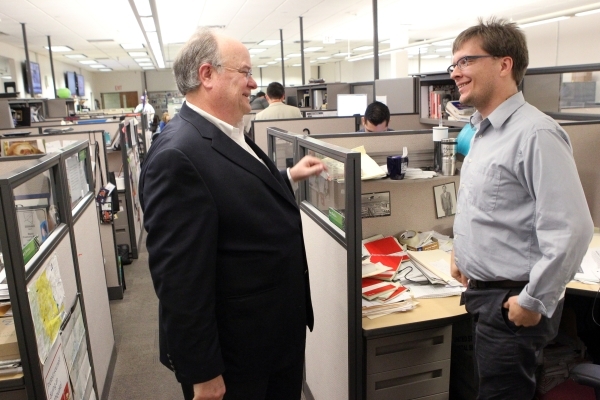 J. Keith Moyer wants the Las Vegas Review-Journal's staff to think big.
"This is a booming, growing city, and we want to reflect that," said Moyer, who took over leadership of the newsroom Friday as the paper's editor-in-chief and vice president of content.
Moyer laid out strategies Friday afternoon for building the Review-Journal into a regional media force. Plans he's weighing include greater emphasis on investigative and enterprise reporting; reader surveys to shape coverage beats; more multimedia storytelling; newspaper and website redesigns; and "everyday" news coverage that is "fair, balanced, contextual and indicative of the great newspapering we should be doing."
He said he also aims to give the paper a voice well beyond Las Vegas, with coverage of key Western controversies such as land use and water resources.
"I think this is a very good newspaper to start. I don't want anybody to think I come in here thinking this is a flawed newspaper," he said. "I don't think that at all. This newspaper has a rich history of being a really good Nevada newspaper. But we should cover as many statewide issues as we can, and then look for opportunities to do regional stories on big issues that Nevada is in the middle of."
Moyer, 63, shaped his news philosophies inside some of America's top newspapers.
He was president and publisher of the Minneapolis Star Tribune from 2001 to 2007. He also held top newsroom jobs with the Fresno Bee and several Gannett Co. newspapers, including the News-Press in Fort Myers, Fla.; the Democrat & Chronicle in Rochester, N.Y.; and the Arkansas Gazette in Little Rock, Ark.
Under Moyer's leadership, the News-Press won the 1989 Grand Prize in the Robert F. Kennedy Journalism Awards for its series about the struggles and successes of African-Americans in southwest Florida. While he helmed the Fresno Bee in the late 1990s, the paper twice won the California Newspaper Publishers Association's best paper in its circulation category.
Since 2010, Moyer has served as a senior fellow in the University of Minnesota's School of Journalism and Mass Communication.
Review-Journal publisher Craig Moon said Moyer was a natural choice to lead the paper.
"Keith's deep journalism experience, respect in the industry and his first-rate management skills will serve the Review-Journal well as we work to become one of the country's very best regional news sources," Moon said.
Raising the paper's profile will be easier given the deep financial resources of the newspaper's owners, the Adelson family, Moyer said.
"The Review-Journal, like so many newspapers in the United States, has been cut down to the nub. We're going to be in a unique position because of our ownership, their ability to support us financially and their desire for a first-rate regional newspaper," he said. "I think they understand and agree that more resources are going to be needed to make that happen."
Moyer is a graduate and alumni of distinction of the University of Florida's College of Journalism and Mass Communications. The Florida native is relocating from Minnesota to Las Vegas with his wife, Marilyn.
Moyer replaces Mike Hengel, who resigned on Dec. 22.
"I'm really excited to be part of this," Moyer said. "We're going to realize our potential."
To reach Moyer with suggestions and comments about the Review-Journal's news coverage, find him on Twitter @KMoyer.
Contact Jennifer Robison at jrobison@reviewjournal.com. Find @_JRobison on Twitter.