Roof collapses at North Las Vegas apartment building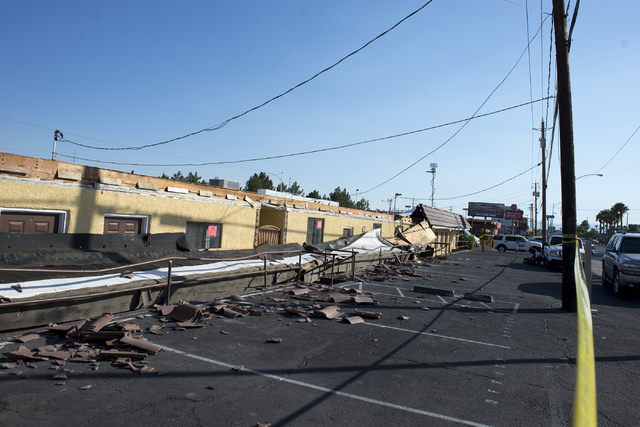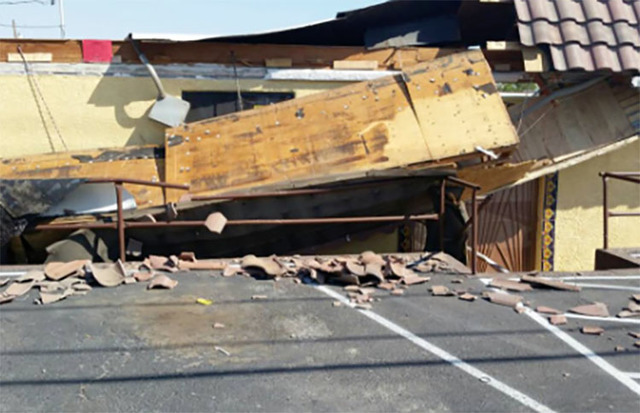 A structural collapse at a North Las Vegas apartment building Friday afternoon left residents in at least 15 units displaced, officials said.
The collapse happened about 1:30 p.m. and involved the front of the single-story building's mansard roof, which has sloping sides that run along each edge of the building like an awning, North Las Vegas fire Capt. Cedric Williams said. It's unclear what caused the collapse.
The building is at 2405 Las Vegas Blvd. North, on the corner of Webster Street, near Carey Avenue.
Though none of the units collapsed, Williams said the mansard incident at the entrance of at least five front units affected the entire building's structural integrity.
"The building itself is deemed uninhabitable at this point," he said.
There were no injuries.
Jenice Valdez, 25, was home with her three children about 1:30 p.m. when she heard a booming crash from her apartment in the back of the building.
"It was just a really loud noise," she said. "Everything immediately cut off — the air, the lights, the music, like we forgot to pay our bill, but we didn't."'
Her second thought was a power outage, Valdez said. It wasn't until a firefighter knocked on her door about 30 minutes later that she realized part of the roof had come down and cut off all the building's utilities.
The firefighter then told her she needed to leave.
"We packed up everything into our car," she said, adding that some firefighters helped.
Another resident, Carolyn Villazana, 62, was at the doctor's office during the collapse. She hadn't heard about what happened until she pulled up to the building about 6 p.m.
Villazana said she was shocked, adding that her 16-year-old cat, D.C., was still inside.
"She has plenty of water and food," she said, but Villazana was worried because she wasn't allowed to go inside. A firefighter told Villazana he would eventually retrieve the cat, she said.
Southern Nevada Red Cross was also on the scene assisting people who were displaced.
"We've helped 10 so far, but we're definitely expecting more than that," Red Cross spokesman Frank Rutkowski said. "A lot of them are at work still."
Valarie Evans, an official with the North Las Vegas building department, said her team was working to assess damages and determine what happened. She said it could have been an issue of weight or connection, but it was too early to tell.
"We still need to look at records, see if there's been any unpermitted construction," another department official said.
Red Cross assisting people from a building collapse in N. Las Vegas. About 15 units affected. Not clear # ppl yet. pic.twitter.com/GocgZHR1wY

— Red Cross S. Nevada (@SNVredcross) June 24, 2016
Contact Rachel Crosby at rcrosby@reviewjournal.com or 702-387-5290. Follow @rachelacrosby on Twitter.