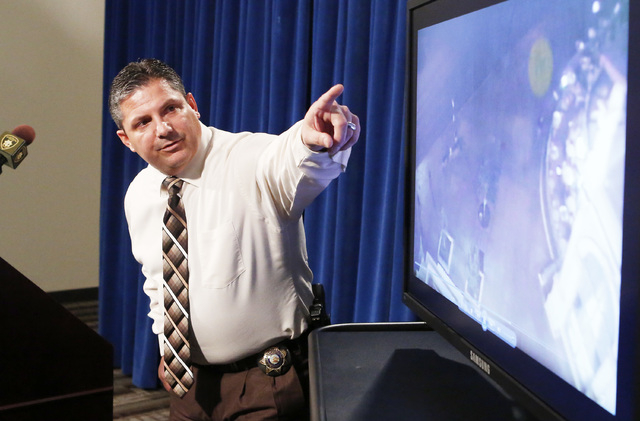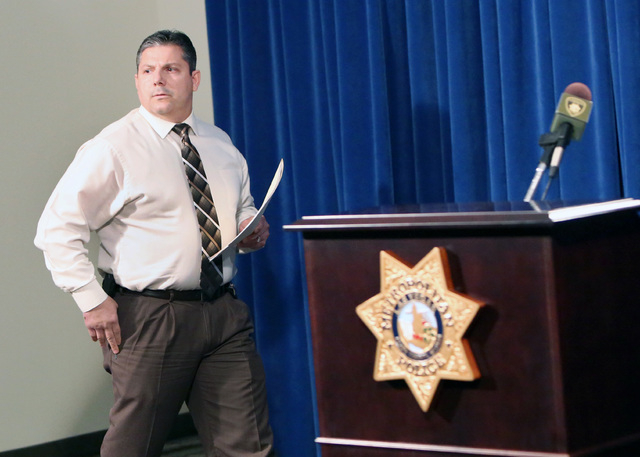 An RTC security guard who fatally shot an agitated bus rider on the Strip early Monday is considered the "true victim," Las Vegas police said Thursday.
The guard, who has not been identified, was shot six times himself and remains at University Medical Center in critical but stable condition, Metro Lt. Ray Steiber said. He appears to have acted in self defense.
Surveillance videos released Thursday, 14 witnesses and an initial investigation support Metro's version of the story, Steiber said.
Christopher Gene Boudinot, the 35-year-old Las Vegas passenger, and the guard fired 11 rounds a piece at each other at a bus stop in front of the Paris Las Vegas shortly before 2 a.m. The shootout started with an argument about a bus pass, Steiber said.
It started when Boudinot tried to board a Regional Transportation Commission of Southern Nevada bus, surveillance video shows. Witnesses told police he was drunk when he began arguing with the bus driver and another security guard about a bus pass.
On the video Boudinot can be heard saying "I am a local" and that he has a bus pass that is good for four months. He tries to scan a card, but a computerized recording says it is invalid.
The guard who eventually shot Boudinot had just exited the bus and was sitting on a bench waiting for another bus to board when he heard the commotion. He told Boudinot to get off the bus, police said.
Boudinot obeyed but then started harassing the guard who came in to help, referring to him in "derogatory terms," Steiber said, and asking for a badge number.
Boudinot would approach the guard, then walk away, according to police. He appeared agitated and was talking on his cell phone at the same time. The guard told him to keep away.
At one point, the guard pulled out pepper spray and began shaking it, Steiber said. Boudinot asked if he was going to use it.
The guard said "no" then put it away, police said.
Next, Boudinot told the guard he wanted to apologize, and the guard walked toward Boudinot, Steiber said.
But instead of apologizing, Steiber said, Boudinot stepped back, pulled out his gun and shot the guard. The guard returned fire as he fell to the sidewalk, killing Boudinot.
Witnesses, including a couple waiting for the bus who were just feet away from the shooting, corroborated the account, Steiber said.
The guard did not call for backup during the 13-minute confrontation, Steiber said.
When asked about Adrian Vince, a witness who told media this week that the guard had "murdered" Boudinot, Steiber said, "We don't believe that to be true."
The guard had been hired by RTC three months ago, Steiber said, but has worked in armed security for 15 to 20 years.
Boudinot said on Facebook on Dec. 1 that he had just graduated from the College of Southern Nevada. A week later he said he had a new girlfriend.
A week after that he was dead.
Military records show Boudinot served in the Army and the Army Reserve from 2007 to 2013. He was deployed in October 2008 to Iraq for a year and had garnered multiple awards, records show.
Boudinot had a concealed weapon's permit and his police record, according to Steiber, only includes a DUI arrest in Texas in 2006.
Contact Ricardo Torres at rtorres@reviewjournal.com or 702-383-0381. Find him on Twitter: @rickytwrites.