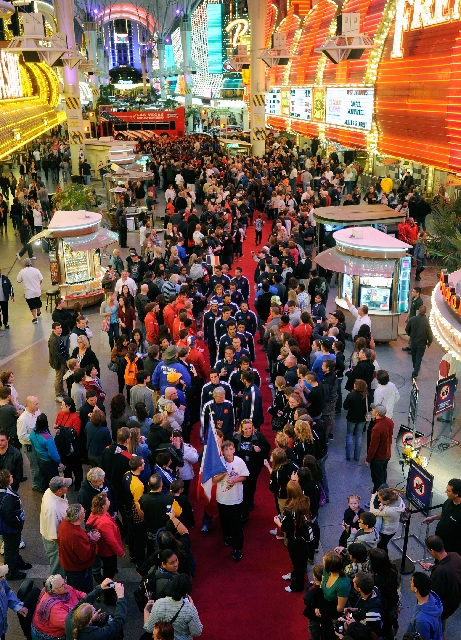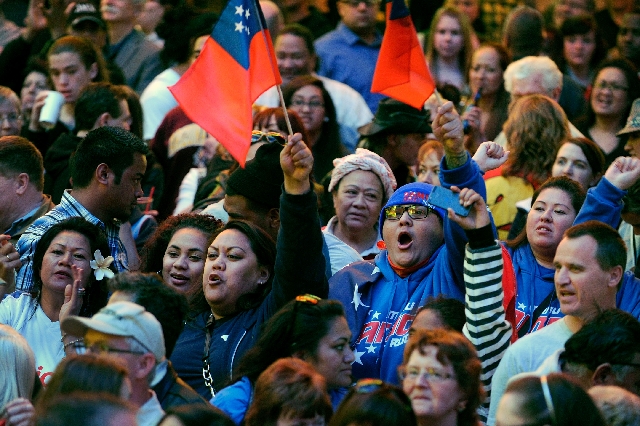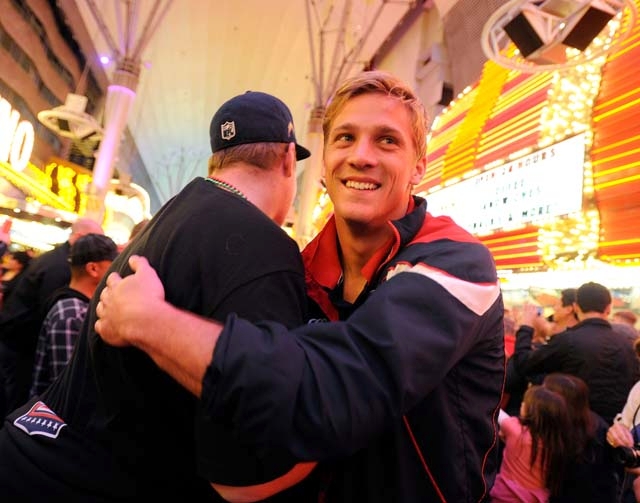 Dan Lyle likes having the USA Sevens rugby tournament in Las Vegas, proving it after last year's event by signing a two-year extension.
Lyle would like to keep the international tournament here — which last year drew record crowds to Sam Boyd Stadium — when the contract expires.
Whether he will is another matter and could depend largely on whether the proposed stadium at UNLV is approved
and built.
"I think that the environment that exists at Sam Boyd Stadium of having to build hospitality, build infrastructure, transport people out there in buses, all that put together, it's hard," said Lyle, executive vice president of USA Sevens Rugby. "We're lucky that Vegas overrides a lot of that. It's a world-class city without a world-class facility.
"You could have a permanent residency here from our perspective if there was something to connect (the event and city). It's like buying a house. You're going to live in it the rest of your life, or you're going to live in it until something else comes along."
The three-day tournament, which features 16 teams, begins at 4 p.m. today with pool play. The U.S. plays Australia at 6:34 p.m. and defending Las Vegas champion Samoa at 9:30.
Alexander Magleby became the Eagles' coach in March. He took over for Al Caravelli, who had coached the U.S. since 2006.
Lyle said the demands of coaching the national team and working a full-time job became too difficult for Caravelli.
"Al is by no means finished in the rugby sevens world," Lyle said. "It was kind of a mutual decision to seven or eight years into it find another voice and take a sidestep.
"Al did a lot of great things. They're able to take it on from there, change personalities, change a few things. Like anything, freshen it up a little bit to be able to keep moving it forward."
The Eagles are tied with Spain for 14th place in the series standings after four events on the nine-tournament, worldwide schedule. They finished last season 11th and were 10th in Las Vegas.
Last year's Las Vegas tournament drew 64,107 fans, including 30,112 for Saturday's play. That kind of showing convinced organizers to extend the contract after three years here.
But Sam Boyd seats only 36,800 and sits about nine miles from the Strip. A new on-campus stadium would seat about 60,000 and be convenient for visitors who want to take advantage of the city's famous fun side.
Other cities that might be interested in the tournament also have advantages that could be attractive to the event.
"I think it's accurate to say that we're not looking to leave at all right now," Lyle said. "We're not actively doing anything in that regard. There's no threat from our side, but there's the reality that we've got to shoehorn and build (the field) in there.
"We create an environment in there that's not on par with some of the facilities (in other cities). So you're kind of starting in a little bit of a hole, and that's not a fun place to be when you've got so many other world-class elements."
Lyle is careful to say he doesn't want to leave Las Vegas, that the city and UNLV have reached out to make this a successful and enjoyable tournament.
As a sign he wants to more fully commit to the city, Lyle also was behind bringing the Las Vegas ProSoccer Challenge to Sam Boyd. Major League Soccer teams Colorado and Chivas USA will meet Feb. 15.
However, just as concern has been raised about the National Finals Rodeo outgrowing the Thomas & Mack Center, even stronger attendance this weekend might not keep the rugby tournament here if a new stadium isn't approved.
The state Board of Regents is expected to vote on the stadium proposal Feb. 28, and the Legislature probably will take up the issue this session, which began Monday.
"If there was a new facility," Lyle said, "we could lock in a multiyear deal and work to bring other events here."
Contact reporter Mark Anderson at manderson@reviewjournal.com or 702-387-2914. Follow him on Twitter: @markanderson65.
WHAT: USA Sevens rugby tournament
WHERE: Sam Boyd Stadium
SCHEDULE: 4 p.m. today, pool play Rounds 1 and 2; noon Saturday, pool play Round 3 and quarterfinals; 9:30 a.m. Sunday, semifinals and finals