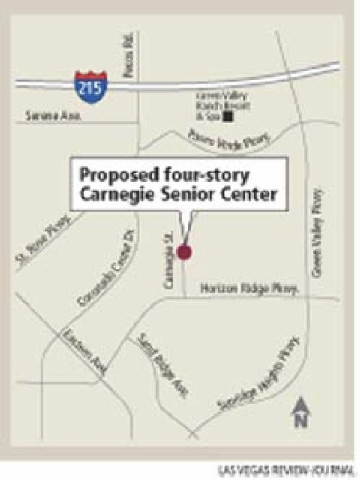 The Henderson Planning Commission recently approved a plan to build a four-story senior facility near the intersection of Carnegie Street and Horizon Ridge Parkway despite a city staff report recommending denial of the project.
"To clearly go against what your paid experts have told you after a lengthy study reeks of some other motivation and a breach of fiduciary duty," complained Mark Vosko, who owns a home near the site.
Vosko and other nearby homeowners fear the project will exacerbate current traffic problems and cause property values to drop.
Planning consultant George Garcia, who represents the developer, said city staff and area residents raised good questions about the project, but they were answered before the Planning Commission voted 3-2 in favor of it. The matter comes before the City Council on Tuesday .
"We're going to be a great neighbor," Garcia said. "It's a very high-end project."
Las Vegas architect Howard Perlman, who also designed The District at Green Valley Ranch, plans to build Carnegie Senior Living, an assisted-living and skilled-nursing facility, at 525 Carnegie St.
Garcia said the area has a need for facilities that allow aging residents to live near family and friends. Such facilities generate less traffic than other potential projects, he argued.
The Carnegie Street site was previously approved for a two-story senior facility with 85 beds. In April, Perlman submitted an application for a four-story structure with 221 beds. A neighborhood meeting was held in May.
"The applicant stated during the neighborhood meeting that the current approvals are no longer financially feasible, due to the economy and increased construction costs," according to the city's staff report.
In recommending denial, the report described the project's proposed density and height as "too intense for this site."
"Staff isn't suggesting that the assisted living use isn't appropriate for this site, but it is not appropriate at this size and scale, and is much more intense than most of the adjacent uses. … ," according to the report. "Staff is most concerned about the proximity of a four-story building to existing homes, as it will be by far the tallest building within at least one-half mile."
Vosko owns a home on Kenneth Avenue, across the street from the project. He said traffic at peak hours already traps residents of his subdivision as they try to exit onto Carnegie Street, especially when nearby Miller Middle School is in session.
"Potential buyers for homes are not going to want to purchase a home on that street if they are imprisoned," he said. "This is not only going to be a major nuisance for us, but it is also going to decrease our property value, because any conscientious potential home buyer who studied the traffic flow would refuse to purchase a home on that street."
Carnegie also narrows to one lane north of Horizon Ridge, creating further traffic problems.
"Many times I've been run off the road there," said Phil Wakefield, president of the Teton Ranch Homeowners Association.
Garcia said Perlman plans to help the city make temporary improvements to Carnegie that will alleviate problems until the owner of property on the east side of the street can make permanent improvements.
In a May letter, Wakefield informed city planner Greg Toth that he would not recommend the project to members of his community or surrounding communities "as this facility would be detrimental to the values of our most cherished investment. Our home ."
Wakefield also spoke against the project at the June 13 Planning Commission meeting. His community has 102 homes, including Vosko's.
Vosko said he has no objection to a two-story senior facility.
In Perlman's application for the larger structure, he requested waivers of code requirements for the number of parking spaces and the amount of common open space.
Specifically, he asked to reduce the number of required parking spaces from 255 to 127.
The applicant provided a parking analysis that included surveys of parking patterns in other assisted-living facilities around Henderson. The study showed that none of those facilities had parking needs as high as code requirements.
Nevertheless, staff deemed the request for fewer spaces "too drastic and not supported by an appropriate compensating benefit."
Perlman also asked to reduce the amount of common open space from 106,500 square feet to 81,035 square feet and the amount of usable open space from 74,550 square feet to 35,525 square feet.
He argued that residents of the facility would generally be dependent senior citizens who do not need the same amount of open space as those who are younger and more independent, but staff concluded that he had provided no study or data to support that argument.
Garcia said the neighbors whose property borders the project support it.
The developer has offered to knock down a wall on the property line and build a new wall eight feet into the property of the assisted-living facility. The facility would retain ownership of the 8-foot-wide strip of land, and the homeowners would be granted a use easement.
In addition, the developer proposed giving $3,500 to each of those home­owners to be used to landscape that land.
"City staff did not have a chance to review this condition prior to the meeting, therefore it was not voted on at Planning Commission," city spokeswoman Kathleen Richards wrote in an email. "The condition will likely be brought forward at the 7/2 City Council meeting."
Commissioners Todd Howell, Sean Fellows and Jerry Mansfield voted in favor of the project; Commissioners George Bochanis and Joe Belingheri voted against it.
City Councilman Sam Bateman represents the area where Perlman plans to building the assisted-living facility and lives down the street from the proposed project. He said he was "a little surprised" the Planning Commission approved it.
"If you're going to more than double it, I think we're probably going to have to take a close look at it, especially when staff's recommending denial," he said.
Contact reporter Carri Geer Thevenot at cgeer@reviewjournal.com or 702-384-8710.