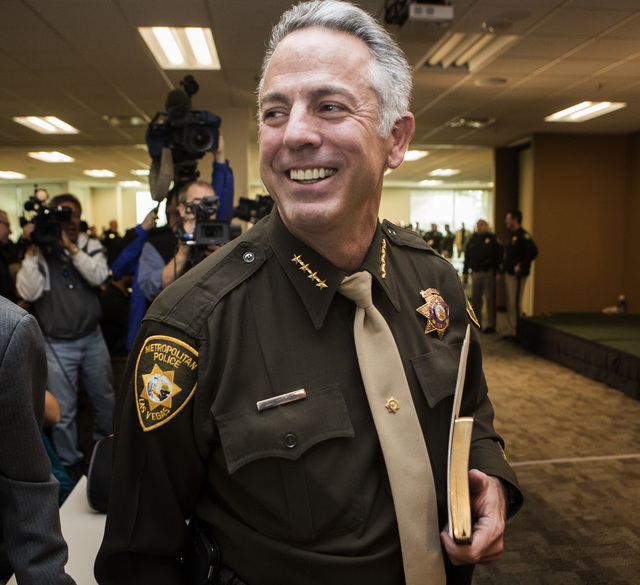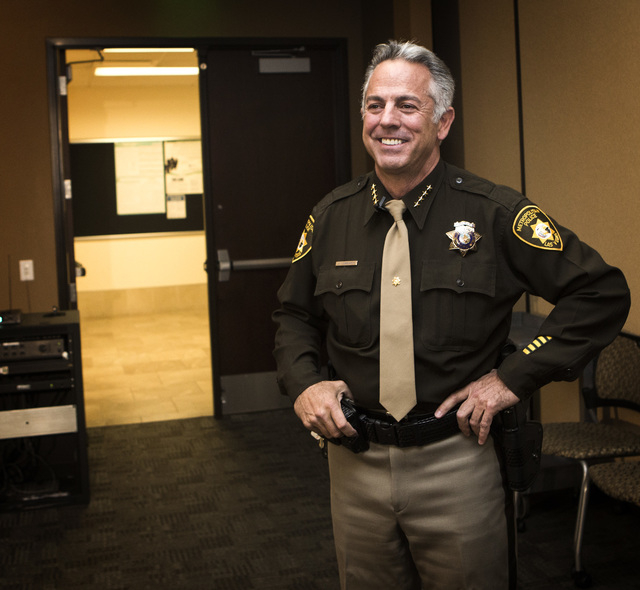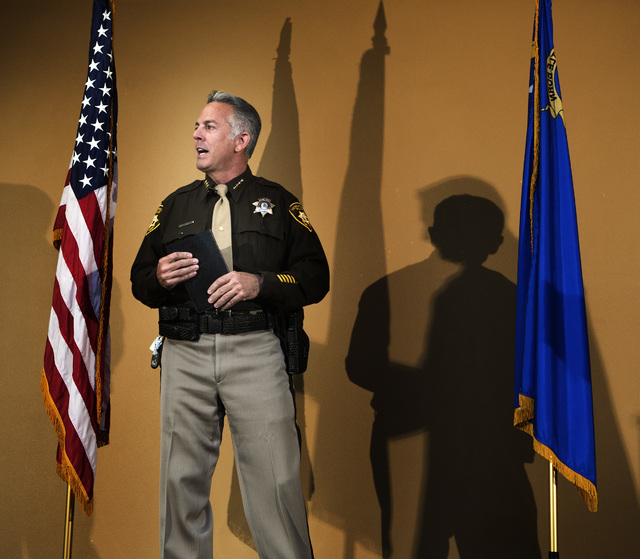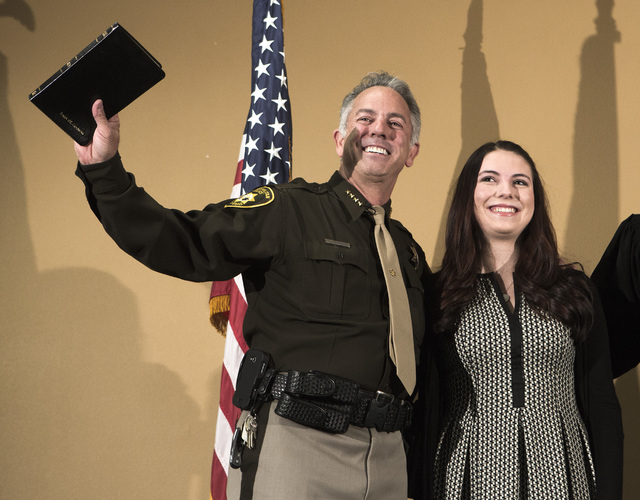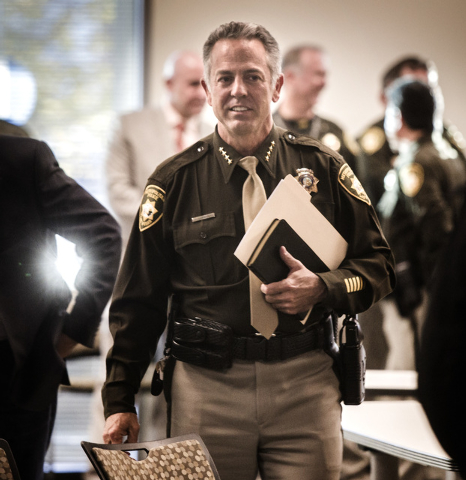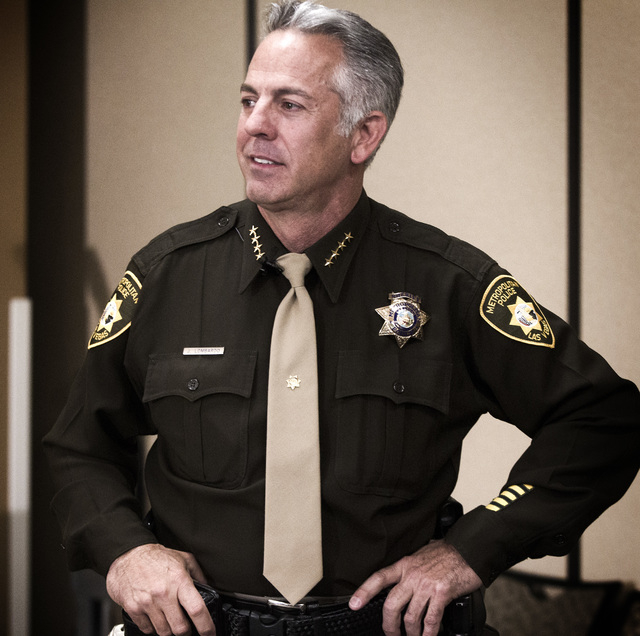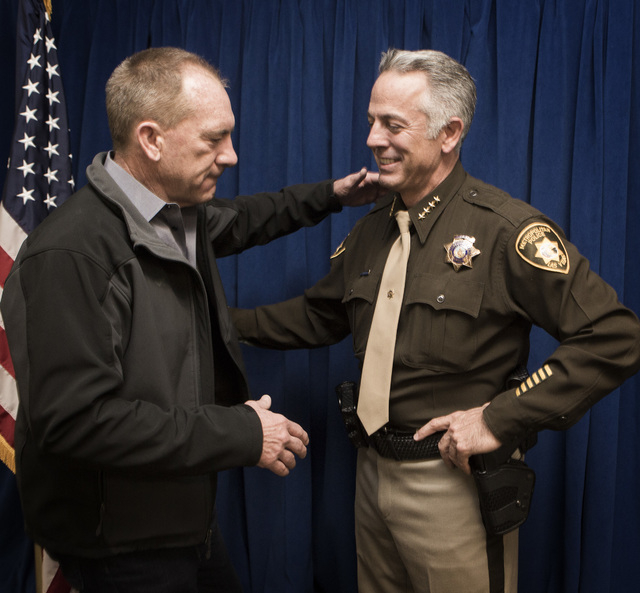 Recently elected Sheriff Joseph M. Lombardo was anxious while being sworn in Monday as the seventh sheriff since the 1973 creation of the Metropolitan Police Department.
While taking his oath at Las Vegas police headquarters as his daughter, Morgan, held a Bible, Lombardo stumbled a bit trying to repeat the oath, administered by Clark County District Court Judge Bill Kephart.
Rather than uttering Kephart's exact words in saying he would "well and thankfully perform all the duties of the office of sheriff of Clark County and the Metropolitan Police Department," Lombardo lost his place.
"… of the office of sheriff of Clark County… say that again?" Lombardo, 52, said with a slight chuckle.
But on the second try he got it right, sealing the deal on his elected office.
"You could tell I'm a little nervous," he said right after completing the oath.
A 26-year Metro veteran, Lombardo kept his speech concise and lighthearted, kicking it off by talking about a Metro tradition in which a team of SWAT and traffic officers drive the new sheriff to the swearing in.
"I complained about traffic the whole way," he added, drawing laughs from the more than 100 gathered for the ceremony.
Part of the caravan that picked up the new sheriff was SWAT officer Bobby Lewis, Lombardo said, giving the first of a handful of shout-outs during his seven-minute speech. They are two of only three officers left from their police academy class that graduated in 1988, Lombardo said.
"Twenty-six years ago I had no idea that I would be standing up here talking to you today," he said.
"I'm humbled, and I'm proud to be here as your sheriff."
Lombardo thanked many in the room, including his most recent predecessors, former Sheriffs Doug Gillespie and Bill Young.
"I consider them two of my best friends, and I've relied on them my entire career," he said. "I think they've taught me all the right things to do moving forward."
Lombardo's last job under outgoing Sheriff Gillespie was as assistant sheriff. Lombardo was Young's executive lieutenant, a handpicked assistant to the sheriff. Young served from 2003-07.
"He, among all candidates, knew what the job entailed," Young said after the speech. "I think he'll do a fantastic job. He's one of the best human beings I know."
Young reminisced about an interaction he had with Lombardo back in his executive lieutenant days.
"His office was right outside my door and he said, 'Jeez Bill, this is a lot of work!' " 58-year-old Young said, adding that he is glad his friend decided to make the jump.
Lombardo also thanked the man he said was his biggest influence in deciding to run for sheriff: his father, Joseph C. Lombardo. He smiled from his front-row seat as his son was sworn in.
"He's come a long way, and he's worked hard to get where he's going," the father said after the speech. "He's always put other people in front of him. He's always trying to help somebody."
The elder Lombardo said he always expected his son to be prominent, but he didn't think that would mean as sheriff until recently. He recalled the moment his son asked him for advice on whether or not to run in the election.
"I said, 'Man, you got it all, why you want to get your bottom kicked as the sheriff?' " he said. "If that helped him make his decision, I'm glad it did."
After endorsements by the likes of Gillespie and Young, among others, Lombardo defeated retired Metro Capt. Larry Burns in a tight race, winning the Nov. 4 election by just 2 percent.
Lombardo replaced Gillespie, who served two terms as sheriff starting in 2007.
Speaking to reporters after Monday's ceremony, Lombardo echoed many of the goals set forth during his campaign. The first is pushing for funding to hire more police officers.
Lombardo called Metro's ratio of officers to population — about 1.74 officers per 1,000 people — "deplorable." He said he will continue to seek more money from the city and county, but doing that through proposing a tax increase would be a last resort.
The most recent incarnation of the oft-considered and oft-rejected More Cops proposal came in November. Clark County Commissioner Tom Collins pitched another 0.15-percentage-point sales tax hike, but the commission tabled the proposal.
Collins hadn't asked Lombardo what he thought of the plan.
If approved, Clark County's sales tax would go from 8.1 percent to 8.25 percent and bring in an estimated $50.9 million in additional countywide revenue, with up to $37.4 million going directly to Las Vegas police.
Metro is the ninth-largest police department in the United States, with more than 2,600 officers and a budget of more than $511 million. The sheriff's base salary starts at about $140,000.
Depending on how many officers he can hire, Lombardo said, he eventually would like to have the department respond to minor, noninjury traffic crashes again.
Metro stopped responding to such crashes this past February.
Lombardo also touched on decentralizing Metro's investigative bureaus and assigning detectives to area command offices throughout the valley in hopes of providing quicker response time for crime.
Investigative bureaus currently are housed at Metro's headquarters, located at 400 S. Martin Luther King Blvd.
Young said that he expects Lombardo to put his footprint on the department and that he has high expectations for his former employee.
"I think he's going to take Metro to that next level."
But Lombardo is taking a simpler approach.
"My goal is to make this place better than when I showed up," he said toward the end of his speech.
But he clarified that goal, in a nod to his former bosses.
"I just want to make it a little bit better. I think we're a great organization, and if we just take a little step, we're going to be a greater organization."
Contact reporter Colton Lochhead at clochhead@reviewjournal.com or 702-383-4638. Find him on Twitter: @ColtonLochhead.