Six arrested in ramming of police cars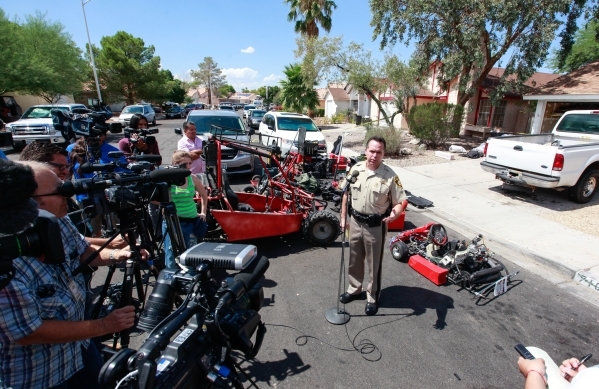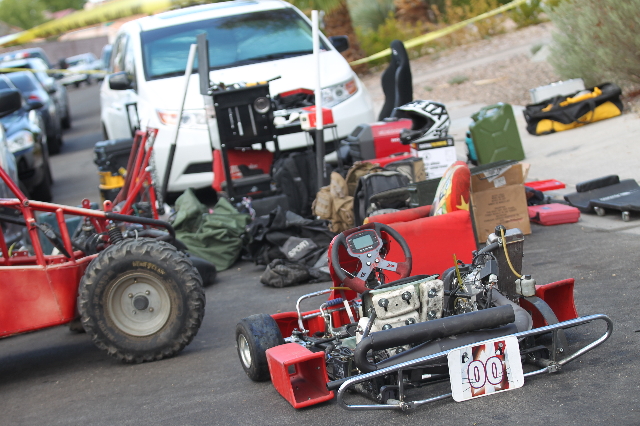 Six men suspected in a yearslong series of crimes that included repeated ramming of police cars were arrested Friday. Las Vegas police said three of them were caught in the act of committing more crimes.
Brothers Hugo Carbajal Jr., 27, and Francis Carbajal, 26, and Edgar Medina, 35, are accused of being in a ring that stole cars and committed hundreds of burglaries in the past several years, Metro Deputy Chief Tom Roberts said.
The three were arrested shortly before 7 a.m. Friday while they were "out committing some offenses" nearby, Roberts said, without elaborating.
Police later briefed reporters outside the Carbajal home in at 7108 Gunslinger St. in the south valley, where Roberts said stolen property was found during a search, including all-terrain vehicles, tools, go-karts, .50-caliber rifles and other weapons.
Three other men, Ivan Gonsalez, 29; Abel Elizalde, 29; and James Farnan, 23, were arrested later Friday, at least one in a Henderson home at 948 Sable Chase Place, where police said more stolen items were found, including motorcycles and tools.
The six men were booked into the Clark County Detention Center, Metro said. Each is facing about 100 felony charges.
Metro said the "crew" went out several nights a week for the past few years, committing 20 to 25 felonies a night, mostly auto thefts and burglaries.
Recently, police believe, the group stole vehicles, rigged them by putting something heavy on the accelerator and aimed them toward cars belonging to the Bureau of Land Management, Metro and the Nevada Highway Patrol. Those incidents — six total — began April 29 and occurred until late July.
The vehicular missiles didn't always hit their mark. One rammed into an officer's neighbor's car. And on July 22, police said, the group aimed a vehicle stolen in Mesquite the night before toward an officer conducting a traffic stop near Bermuda Road and Starr Avenue, missing the officer and striking a pole.
Five days later, police said the group used a stolen truck to ram an NHP car parked in a trooper's driveway at Desert Shores, near Cheyenne Avenue and Rampart Boulevard. The car was hit so hard it went inside the house and the truck caught fire.
In late July, Metro made public surveillance video of the group they said was ramming police cars. Roberts said citizen tips helped lead to arrests less than two weeks later.
Two vehicles from the video were found in an apartment complex near the Carbajal home, Roberts said, adding that other items found in the trio's possession, as well as surveillance video, connected the three to the burglaries and the vehicle rammings.
"They definitely got our attention," Roberts said of the group, who he described as "very quick," "methodical," but also a "menace to society."
Roberts said the group would break into vehicles, find garage door openers and enter garages while residents slept. The group would also buy wrecked vehicles, fix them with stolen auto parts, then sell the fixed vehicles, he added.
On Friday afternoon, officers searched a third home at 5454 Surrey St., near Hacienda and Eastern avenues, police said. Two storage units at 3008 Sunset Road and 4770 Pecos Road, four vehicles and a business at 2967 N. Lamont St., described by Roberts as an auto-parts establishment, were also searched. Police found said they found weapons, cars, motorcycles and tools during those searches, many of them stolen.
Metro said some of the suspects could face federal charges, since at least two have felony convictions and are not allowed to possess weapons, Roberts said. Felons can face stiff federal sentences simply for having guns, regardless of whether they've committed more crimes.
Brian Comeno, 52, arrived at the two-story Carbajal home Friday afternoon after police called to tell him items he reported stolen Thursday could be picked up.
He said a few houses in his neighborhood near Spring Mountain Road and Rainbow Boulevard have recently been hit by burglaries.
"We would be foolish to think that they are (the only crew)" committing burglaries, Roberts said, warning the community to beware of their surroundings to "reduce the chance of becoming a victim."
Review-Journal writer Chris Kudialis contributed to this report.
Contact Ricardo Torres at rtorres@reviewjournal.com and 702-383-0381. Find him on Twitter: @rickytwrites.