SkillCon attracts the super talented to Las Vegas
December 16, 2017 - 11:39 pm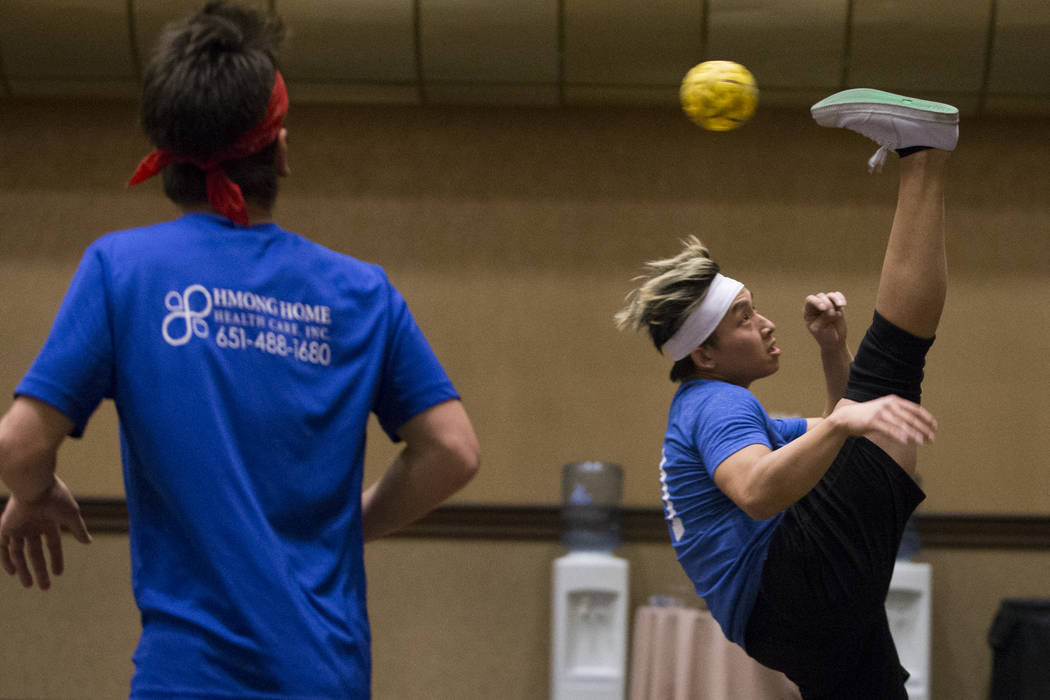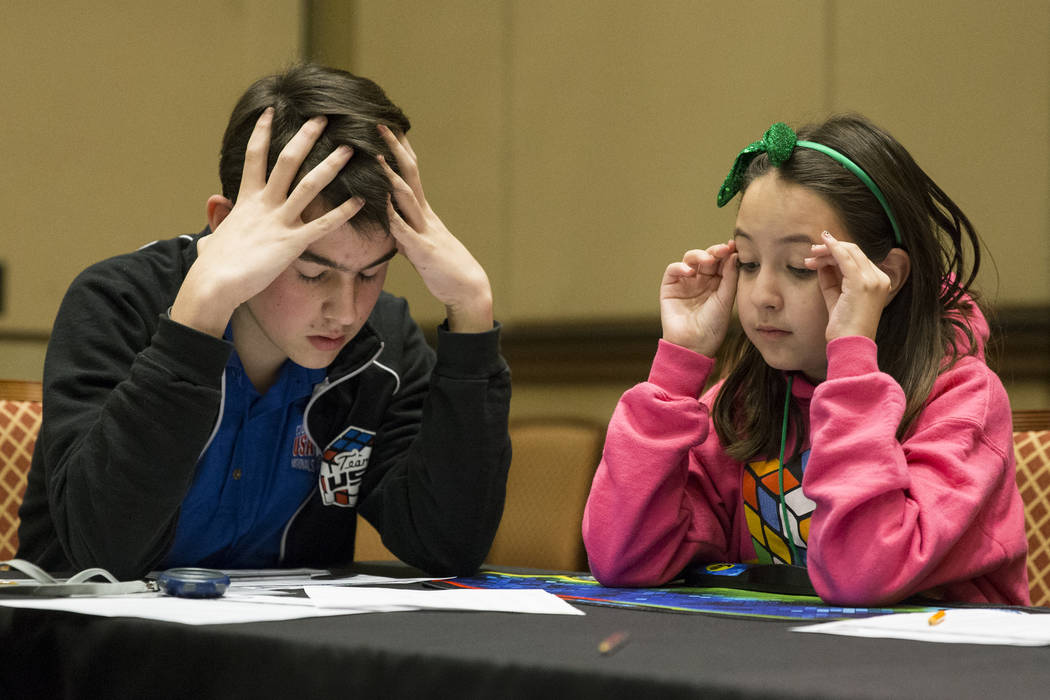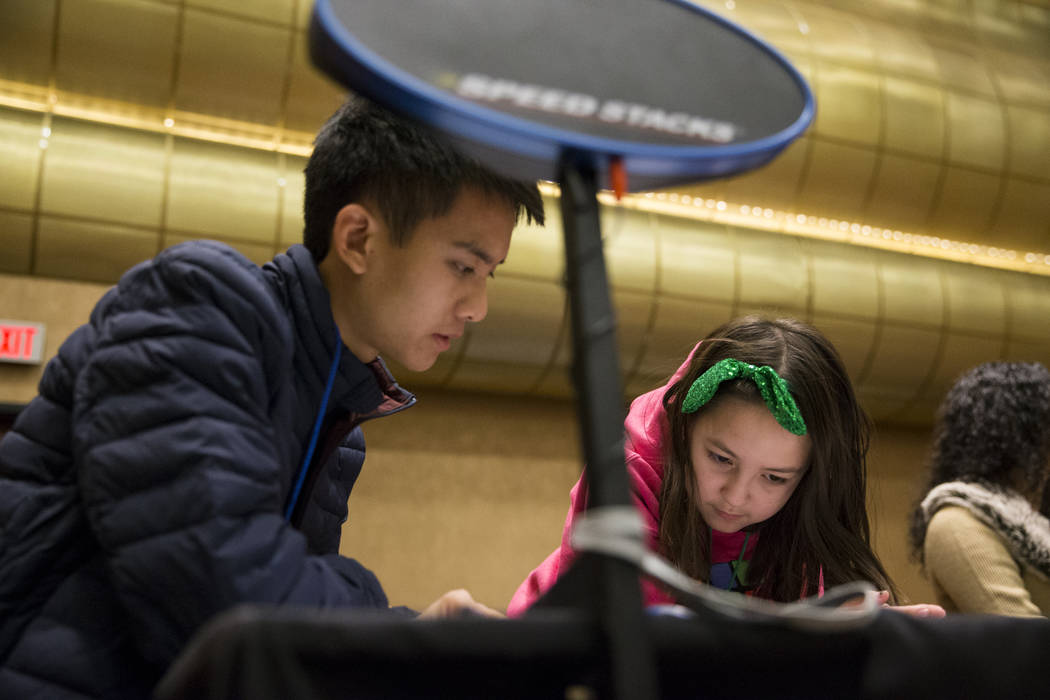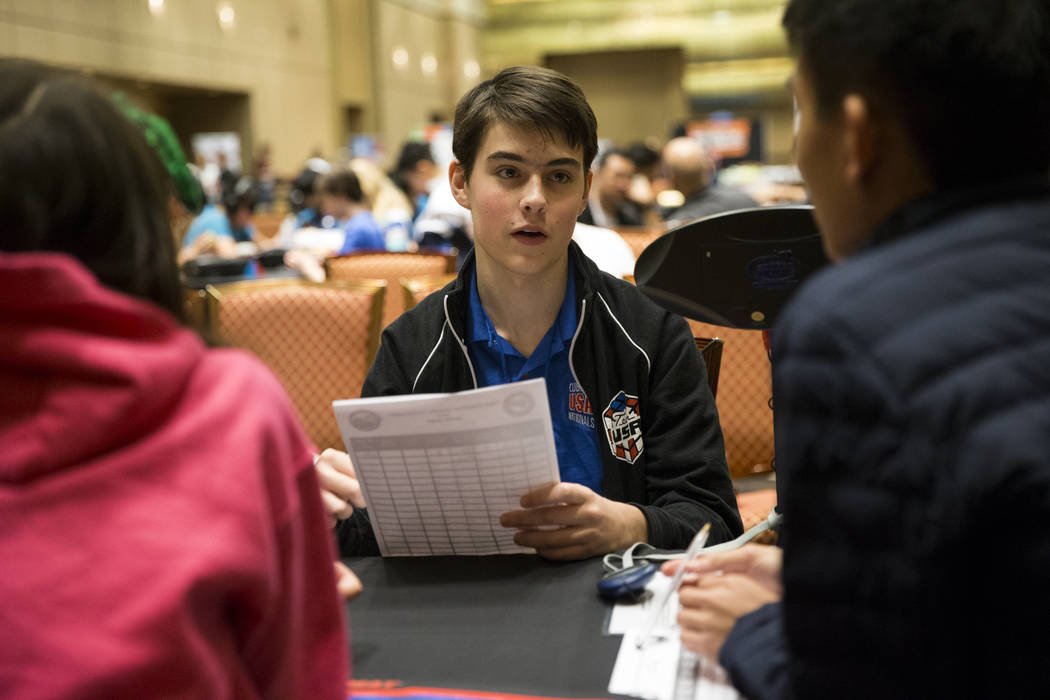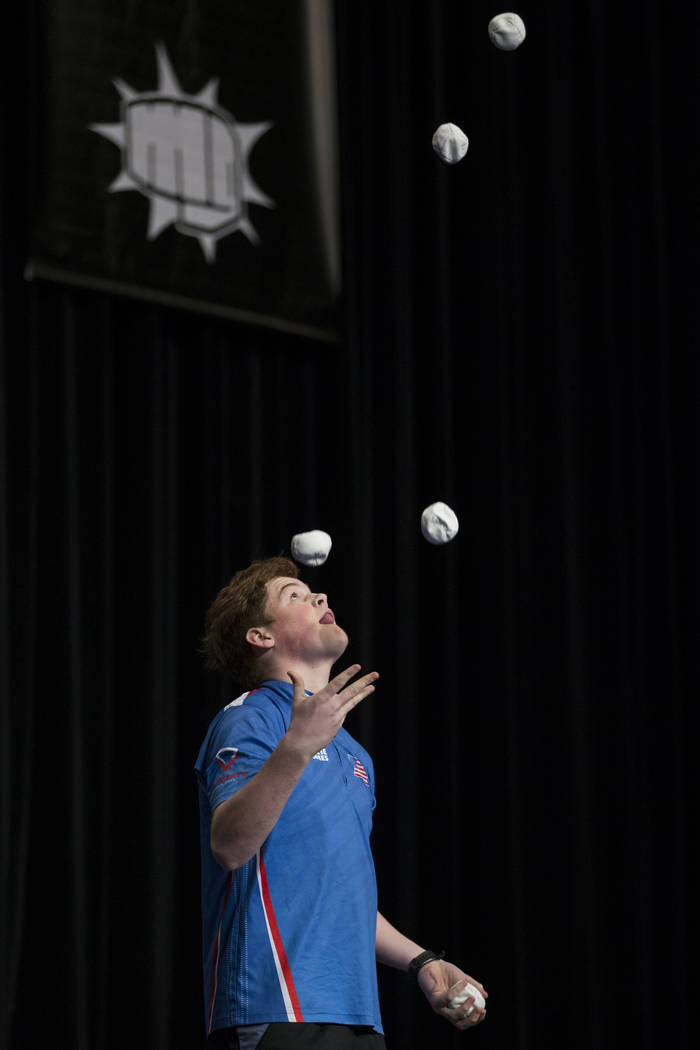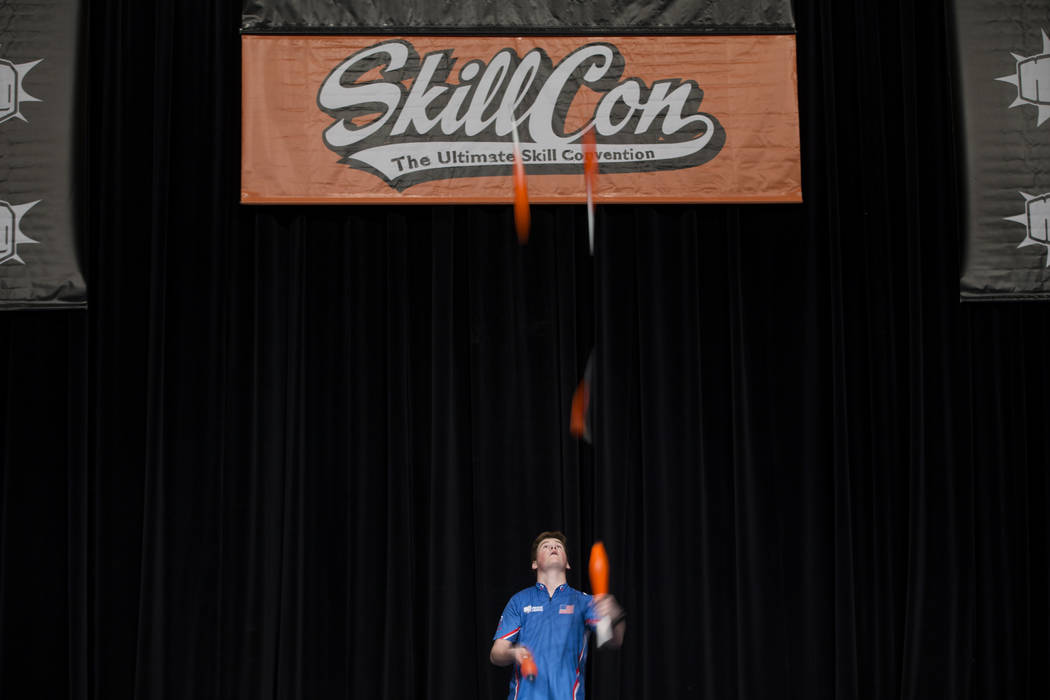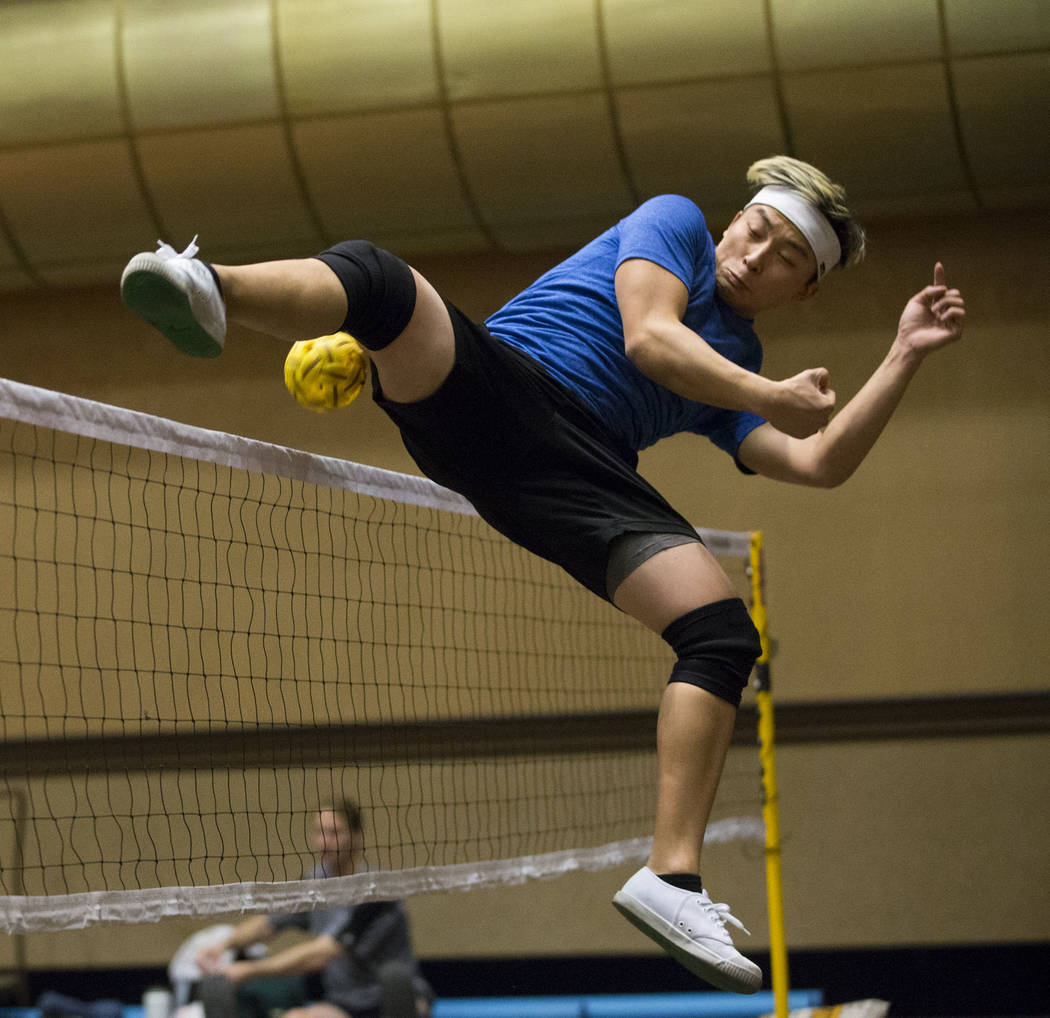 In one corner of the Rio convention area, children sat clustered around tables, some with blindfolds on, twisting Rubik's Cubes in their hands. In the center of the room, about 10 games of cornhole were being played simultaneously.
Those are just two of many competitive skills in action during SkillCon, a three-day expo underway at the Las Vegas hotel.
Among the others: juggling, bodybuilding, eSports, fidget-spinning, footbag (also known as hacky sack), dodge ball, robotics, bottle flipping, weightlifting and a team sport called Sepak Takraw.
It was a Sepak Takraw tournament in the far corner of the Rio's Pavilion that drew the largest crowd Saturday.
Sepak Takraw, which a lay observer might call a mix of volleyball and martial arts, is a popular team sport in Southeast Asia, according to the tournament's host, Jeremy Mirken. Teams of three traveled from Canada, France, Finland, Laos, Thailand, Myanmar and Malaysia to participate in the SkillCon event.
Two teams stood on opposite sides of a 5-foot net. A player standing at the net tossed a hard plastic ball into the air and his teammate kicked it over the net to "serve." A player on the opposite team deflected the ball with his head, launching it into the air, a second teammate kicked the ball high and close to the net, and the third player launched into a backflip and spiked the ball downward with the top of his foot.
Jim Thao, 31, led his team to a 2-0 victory by consistently flipping at the net and kicking the ball downward fast enough that the opposing team couldn't return it. Thao said he started playing in California when he was 16, and it took him three years and many YouTube videos to learn how to incorporate flips into his game.
"That would be a good thing for you to score points easier because the ball is very fast for them to play defense or pick up the ball," Thao said.
The Sacramento, California, resident plays as a hobby, traveling for tournaments in Minnesota, Texas and Thailand, where the world championship is held each year.
Mirken, 36, said he started playing hacky sack in high school and eventually was invited by a friend to play Sepak Takraw with a group of Laotian immigrants in Oakland, California. After that, he said he played every day for about four years.
Mirken said he hopes that by organizing tournaments and recruiting teams to compete at events such as SkillCon, he is helping the sport gain popularity in the United States.
"It's a really unique blend of skills. Obviously it's visually dynamic, so people are drawn to it because you're seeing the kinds of acrobatic kicks that maybe only happen once every 10 or 15 soccer matches," he said. "But you see it in almost every point [in Sepak Takraw] when the play is high-level."
"It just has a lot to offer in terms of opening the eyes and the minds of young people," Mirken said. "There aren't just four major sports. It's not just about baseball, hockey, basketball and football. There are these other unique games that can make you cooler and give you more opportunities as a human being."
Playing the game has taken him around the world, he said, including to India and Indonesia, places he probably wouldn't have visited otherwise.
Of cubes and minds
Travel is also a perk of competition for 12-year-old Parth Garg, who competed in Saturday's Speed Cube Solving event. Garg, who practices every day for about 30 minutes, solved a 3-by-3 Rubik's Cube using one hand in just under 25 seconds, his mom recording on her phone and shouting words of encouragement after he slammed the solved cube on the table.
Garg and his mom traveled from Boston to compete in the convention. The 4-by-4 two-handed competition was Parth's fourth competition of the event and his 19th event overall.
"My dad could do it, and I wanted to be faster than him," said Parth, who wears a burger-shaped hat during competitions for good luck. "So now I am. Much faster."
Near the entrance of the convention area Saturday afternoon, Dave Farrow, who holds two marks recognized by Guinness World Records, was concluding a memory game demonstration.
To cope with his dyslexia and ADHD as a child, Farrow learned to associate card numbers and suits with objects. The four of spades, for example, becomes a flamingo in his personal pictorial method, and the eight of hearts becomes an ice cream cone.
"Essentially by using these codes you can kind of trick your brain into taking a lot of information and making it less and less and less so it becomes manageable, and then it becomes superhuman," Farrow told a small group gathered at his table.
At the conclusion of his demonstration, Farrow took photos with participants and encouraged them to keep practicing.
"I won't forget this experience, and I hope you don't either," Farrow said with a grin.
Contact Kimber Laux at klaux@reviewjournal.com. Follow @lauxkimber on Twitter.
If you go
SkillCon continues through Sunday, from about 8:30 a.m. to 7 p.m.
Admission for the general public is $20 per pass.
To obtain a pass, or learn more what events are slated Sunday, visit www.skillcon.org.