Southern Nevada among nation's highest in homeless population
December 12, 2017 - 5:56 pm
Updated May 15, 2019 - 3:57 pm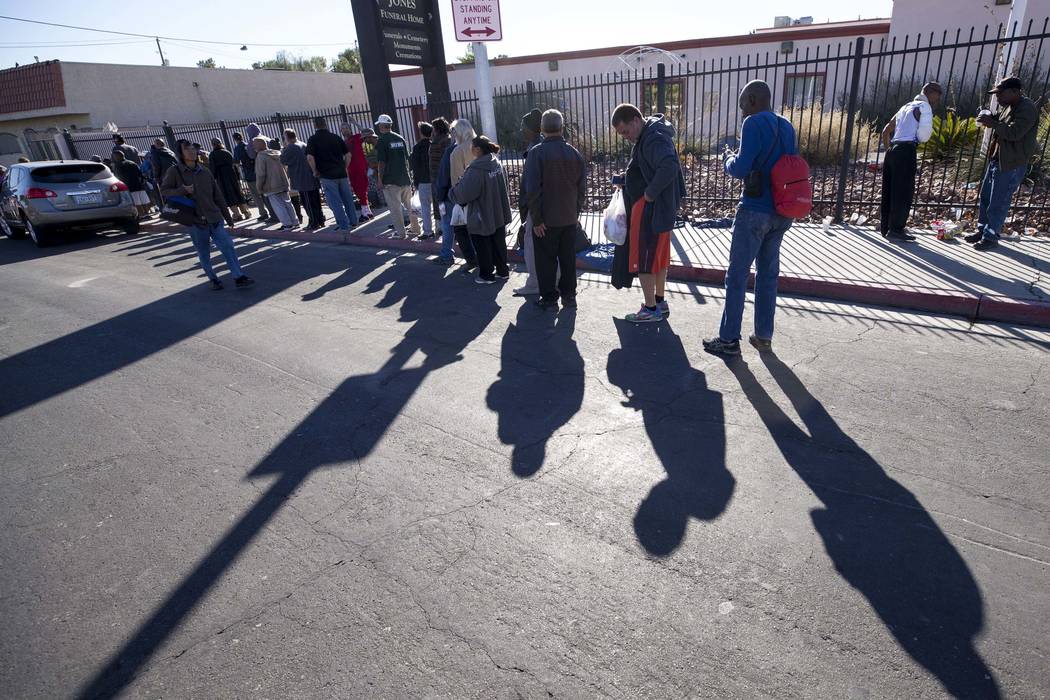 Las Vegas is the smallest American city among the top 10 in homeless population in shelters in 2017, a recent report shows.

A January point-in-time count in Las Vegas/Clark County found 6,490 homeless people, making it the region with the eighth-largest homeless population this year. Las Vegas is the smallest city among the 10 with the largest homeless populations, according to the U.S. Department of Housing and Urban Development's annual report released this month.
That marked an increase of 282 people, or 4 percent, over the 2016's point-in-time homeless population count. The annual count, taken on a single night in January, does not capture all of the people who will be homeless at some point during the year.
The 2017 estimate for homeless people in Southern Nevada is near 25,000 people, 5,000 fewer than last year's estimate.
However, the amount of unsheltered homeless people in Southern Nevada rose at a much faster rate: by 14 percent to 4,353 homeless people living outside shelters, on streets, in parks or vehicles. Las Vegas/Clark County ranks fifth among large metropolitan areas with the highest rates of unsheltered homeless, with 67 percent.
Only the California cities Fresno, Los Angeles, San Jose and Oakland had higher rates of unsheltered homeless.
Of the 553,742 people in the United States who were homeless on the night of the point-in-time count, roughly 35 percent were unsheltered. Nationwide, nine out of 10 homeless children were sheltered — either in emergency shelters or transitional housing.
In Nevada, 58 percent of the nearly 7,900 homeless people counted in January were unsheltered.
Local officials have struggled for years with how to deal with how to decrease the number of people living in parks and on sidewalks in the Las Vegas.
The city of Las Vegas is on the verge of launching a new initiative, modeled after the Haven for Hope in San Antonio, Texas, to connect homeless people to a range of services. The new courtyard is planned for Foremaster Lane, near a cluster of homeless shelters, in an area dubbed the "Corridor of Hope." The initial phase, pegged for a March opening, will feature security, shade structures, a day room and portable restrooms.
The point-in-time Southern Nevada homeless count is still significantly lower than it was earlier in the decade. In 2011, the annual count of homeless people surpassed 8,000.
Contact Jamie Munks at jmunks@reviewjournal.com or 702-383-0340. Follow @JamieMunksRJ on Twitter.