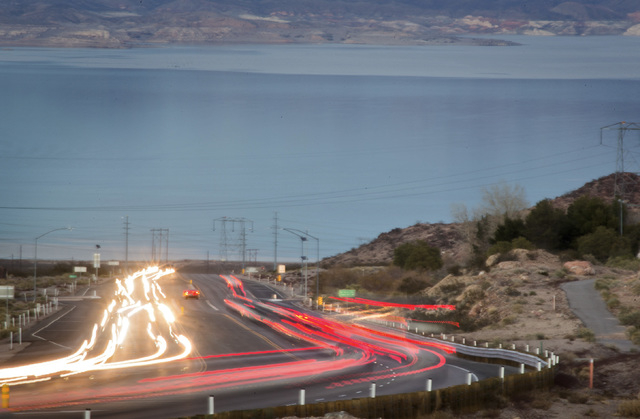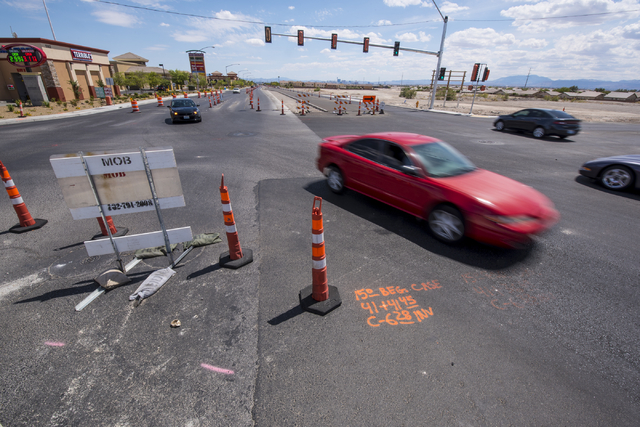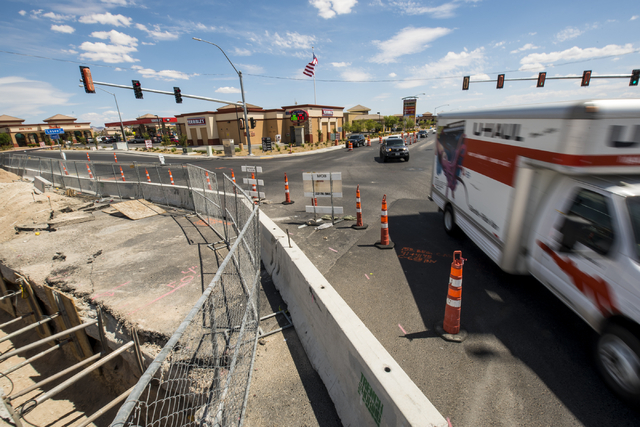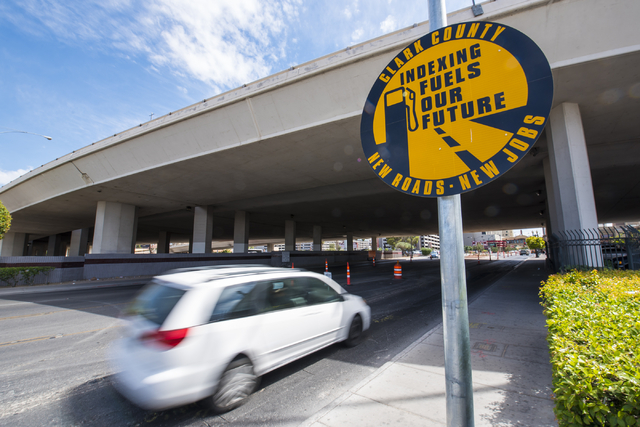 It would be hard to argue that Clark County's fuel revenue indexing program hasn't been a success so far.
But is it successful enough to persuade voters to authorize the tax for another 10 years?
It's a debatable question and one that voters won't have to contemplate for another year and half.
On the positive side, dozens of road construction projects countywide, some of which were bound to miss prioritization cuts, were designed, are underway or completed.
Another plus: Thousands of construction workers got jobs, a boost to the local economy any way you slice it. Some who have lingered in unemployment lines are back to work; some two-income families have more disposable income and are spending it.
Economic development leaders preach the mantra that improved infrastructure is a key consideration companies consider when determining whether to invest in a community.
The obvious downside to the public is the cost. Southern Nevada consumers have paid more at the pump as a result of increased fuel taxes. Another downside: those annoying orange cones everywhere. Ask anybody about road construction in Southern Nevada and they're bound to have a tale of woe to tell about some aspect of road work.
Last year, on July 1, the fuel tax increased by 3.35 cents a gallon on top of a 3.25-cent-per-gallon rise when indexing first took effect.
In just over a month, on July 1, it will go up again, probably by around 3 cents a gallon. The exact amount hasn't been calculated, because it's based on the level of the Producer Price Index — that's where the word "indexing" comes into play — and the federal government won't announce that until next month.
In July 2016, the tax could rise again, but probably by a fractional amount because there's a 10-cent-per-gallon ceiling on increases over the life of the three-year program that ends Dec. 31, 2016.
But most consumers almost forgot about gasoline tax rates in the fall when crude oil and the base price of gasoline plunged. For about six months, consumers paid more than $1 less per gallon of gasoline than they did a year earlier. Even today, after gasoline prices have steadily risen since late April, it's about $1 less per gallon than it was a year ago.
SOMETHING FOR EVERYONE
"When fuel revenue indexing was initially approved, it gave the residents of Clark County the opportunity to see what could be done," said Tina Quigley, general manager of the Regional Transportation Commission of Southern Nevada. "So far, the public response we have received has been very supportive."
Because projects were evenly distributed across the county, there was a high likelihood that something good would happen to a road on every commuter's route.
The Regional Transportation Commission's goal was to approve 199 projects, providing an estimated 9,000 jobs, and collect enough revenue to expand bonding capacity for between $700 million and $800 million worth of projects.
Marc Traasdahl, the Transportation Commission's finance director, said the revenue collected can be used in different ways. It can be used as a guarantee against 20-year bonds secured for large projects; it can be used for smaller pay-as-you-go projects; and it can be used as matching funds for projects funded by grants and special programs requiring a local contribution.
Commission officials have been pitching the program as collecting "a dime a day" from drivers and fuel revenue indexing as "investing in our community, one gallon at a time."
They've been getting considerable branding mileage by marking every construction site with bright yellow signs marked "fueling our future" with graphics of a roadway and a gasoline pump.
Nowhere was the message more prominent than in one of the program's largest undertakings, its $30.8 million contribution toward the $318 million Interstate 11 Boulder City bypass project.
As the first addition to the nation's interstate highway system since 1992, the I-11 project has raised considerable attention to Southern Nevada's efforts to build infrastructure, and a host of dignitaries attending the April 6 groundbreaking event brought political star power to what ordinarily would be a mundane event.
The I-11 fuel revenue indexing contribution wasn't even the largest project on its list. A $43.2 million contribution is being made on the 215 Beltway project between Decatur Boulevard and Fifth Street, bringing the roadway up to federal freeway specifications.
Another $32 million is going toward Beltway improvements farther south at the McCarran International Airport connector.
Another big project for the city is the Main Street-Commerce Street one-way road couplets that are being redesigned with improved flow, bicycle paths, pedestrian areas and landscaping with a contribution of $13 million.
Then, there are the smaller projects that aren't big in the dollars-and-cents category but are important in a commuter's daily drive. Among the smallest projects on the list are designs — but not construction — for a series of pedestrian-activated flashing warning light systems. In Las Vegas, $7,000 for each project was allocated for projects at Gowan Road and Shermcrest Way, Sahara Avenue and Las Verdes Street, and Smoke Ranch Road and James Bilbray Drive.
STRETCHING FUEL TAX DOLLARS
As happy as transportation leaders have been with the projects that have been undertaken, they're even more excited that it appears they're going to get even more bang for their buck.
Because of a combination of greater tax collections than anticipated and project bids coming in below estimated costs, the Transportation Commission will go deeper into the list of project proposals than anticipated. Instead of 199 projects with a capacity of $700 million to $800 million, the commission already has authorized 215 projects with a capacity of about $1 billion.
There's still a lengthy list of projects that didn't make the cut, but at least 16 fewer than planners originally thought.
But maybe some of those projects will make the cut if voters extend the life of the program next year.
In a program dubbed FRI2 — the second phase of fuel revenue indexing — the Transportation Commission went to Clark County, the cities of Las Vegas, Henderson, North Las Vegas, Boulder City and other smaller municipalities in the county to form a wish list of road projects that could be accomplished if the indexing is continued.
The municipalities came up with $5.6 billion worth of projects. The commission collaborated with the Nevada Transportation Department to trim the list to about $3 billion worth of projects and prioritized the work.
The tentative list includes $1.9 billion in commission projects for the county and municipalities and $1.2 billion in Department of Transportation work. Those projects, over 10 years, would provide an estimated 40,500 jobs.
Among the highlights of the proposed list are $96.7 million for Beltway improvements, $125 million for some form of guideway system for Maryland Parkway, and $200 million for transportation projects associated with the Las Vegas Global Business District project. It's unclear whether the Maryland Parkway project would be light rail or specialized mass transit system using buses.
Quigley, a member of a transportation committee studying options for the Las Vegas Convention and Visitors Authority's $2.3 billion overhaul of the Las Vegas Convention Center, said it's too early to project what kind of transportation improvements will be considered for the Global Business District plan, but at least there will be money available to get it started.
Another project on the list: $50 million for extending Las Vegas Boulevard south to Primm as an alternative route to Interstate 15 when the freeway is congested or closed after a traffic accident.
Quigley and other transportation leaders have run some of the program by legislators and are supporting a measure to amend Assembly Bill 314, which would order the public vote extending indexing beyond 2016.
The amendment blends two questions into one on the indexing proposal.
Regardless of whether the amendment passes, the question of fuel revenue indexing will appear before voters when voters choose a new president in 2016.
Count on the transportation question generating considerable local debate as candidates make their case for their respective offices next year.
Contact Richard N. Velotta at rvelotta@reviewjournal.com or 702-477-3893. Follow @RickVelotta on Twitter.