Sparks Assemblyman Hansen to be GOP speaker in 2015 session
November 8, 2014 - 7:01 am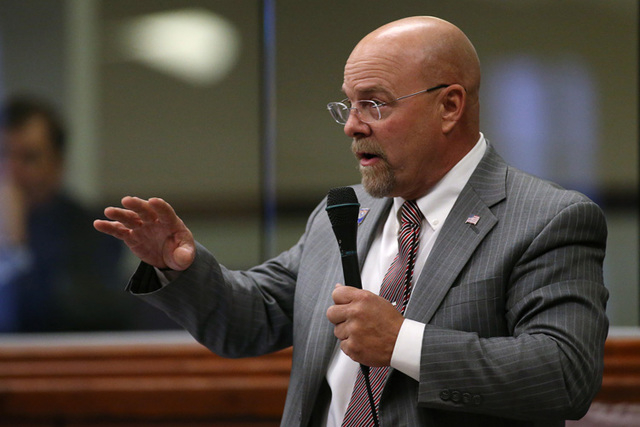 CARSON CITY — The new GOP majority in the state Assembly late Friday named Assemblyman Ira Hansen of Sparks as the speaker designee for the 25-member caucus.
The brief announcement came after a meeting lasting several hours in Las Vegas. He will formally take over from Speaker Marilyn Kirkpatrick, D-North Las Vegas, in February when the session begins.
"It is a tremendous honor and privilege to serve the people of Nevada and I look forward to meeting with (Gov. Brian) Sandoval and Senate Majority Leader (Michael) Roberson to join together in continuing to move Nevada forward," Hansen said.
The vote for Hansen means that Reno Assemblyman Pat Hickey, who has served as the Assembly GOP minority leader in previous sessions, will not continue as the caucus leader in the 2015 session.
Hansen, a conservative member of the Assembly, was first elected in 2010 and served in the 2011 and 2013 sessions.
Hickey, R-Reno, has been serving as the Assembly minority leader. But Republicans were thrust into the majority on Tuesday when voters turned out six Democratic incumbents and filled four empty seats previously held by Democrats with GOP candidates.
The pickup of 10 seats turned the 15-member GOP minority into a 25-member majority, giving Republicans control of the Assembly for the first time since 1985.
Only 12 members of the caucus are veterans however, making the GOP's first chance to govern the Assembly in 30 years a challenge.
No committee leadership assignments were named by the caucus.
But the caucus also announced that Assemblyman Paul Anderson, R-Las Vegas, will be Assembly majority leader.
"Nevada's continued comeback is our top priority," Anderson said. "I look forward to working with the Senate and governor to accomplish great thing for all of Nevada."
Anderson congratulated Hansen and said he looks forward to " a strong united front as we move forward with the business of the state."
Conservative GOP activist Chuck Muth said Hickey was ousted because "he didn't show enough respect to the conservative members of his caucus in the last session, because he supported moderate challengers this year against conservatives who ended up winning GOP primaries anyway, and he didn't give the time of day to other conservative Republican candidates in the general election who he incorrectly thought didn't have a prayer. He reaped what he himself sowed."
Republicans swept to power in the Assembly with the Republican "red wave" that saw the party take over the state Senate and all statewide constitutional offices in the Tuesday election.
It will be the first session since 1929 that the governor and two houses of the Legislature are all Republican.
Contact Sean Whaley at swhaley@reviewjournal.com or 775-687-3900. Find him on Twitter: @seanw801.