State officials shut down Las Vegas cryotherapy business
October 27, 2015 - 2:39 pm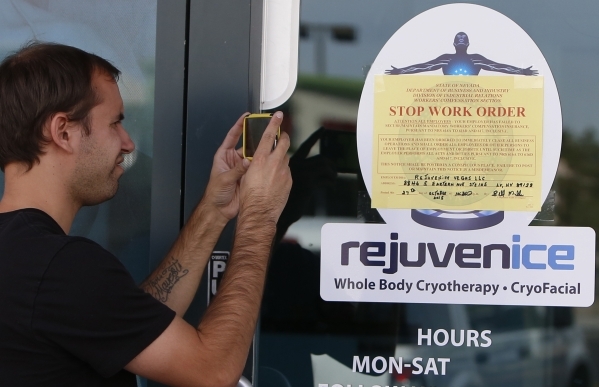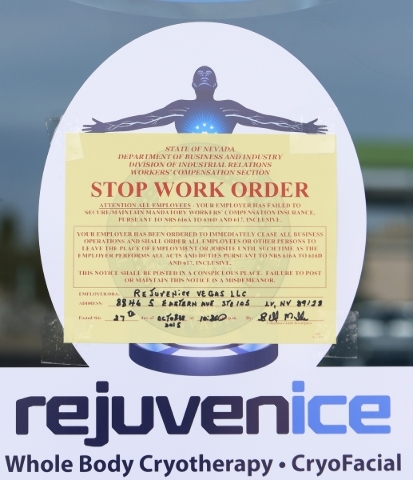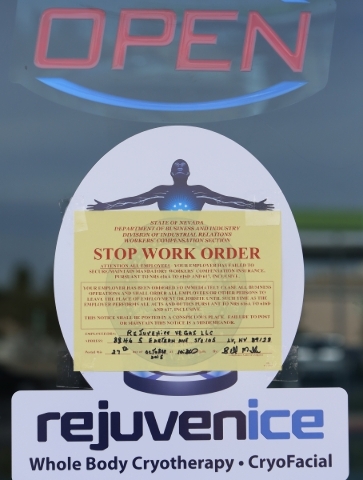 A south Las Vegas Valley cryotherapy business where an employee was found dead last week was closed Tuesday by state officials.
Rejuvenice, 8846 S. Eastern Ave., near Pebble Road, did not have an active workers' compensation policy, said Teri Williams, spokeswoman for the Nevada Department of Business and Industry. That department's Division of Industrial Relations Workers Compensation investigation.
"The facility was unable to produce the required proof of an active workers' compensation policy and the stop work order was issued today," Williams said.
The stop work order also is in effect for the Rejuvenice location at 8751 W Charleston Blvd., near Fort Apache Road, Williams said. The order can be lifted upon proof of a valid policy.
Chelsea Patricia Ake-Salvacion, 24, of Las Vegas died while using a cryotherapy machine, which can produce temperatures hundreds of degrees below zero, according to her family and the Nevada Occupational Safety and Health Administration. She closed shop at the Rejvenice on Eastern Avenue on Oct. 19, and her body was found there the next day.
The Clark County coroner's office has not released her cause or manner of death.
Nevada State Board of Cosmetology inspectors planned to visit the two Rejuvenice locations Tuesday afternoon to determine whether unlicensed services were being provided to clients. Board Executive Director Gary Landry said the Rejuvenice on Eastern was issued a cease and desist order on Monday, but inspectors delayed their follow-up actions because of the closures.
If they reopen, the Rejuvenice locations will be inspected to ensure they are in compliance with Board of Cosmetology rules, Landry said.
So far none of the regulatory boards or agencies looking into Rejuvenice are doing so because of the cryotherapy the business markets. It involves putting people in chambers where they are exposed to extremely cold temperatures for short periods. It's marketed as a way to offer faster recovery and pain relief, making it popular among athletes. It also is promoted for weight loss and as a beauty treatment.
This is a developing story. Check back for updates.
Contact Steven Moore at smoore@reviewjournal.com or 702-380-4563. Find him on Twitter: @steve_smoore_rj