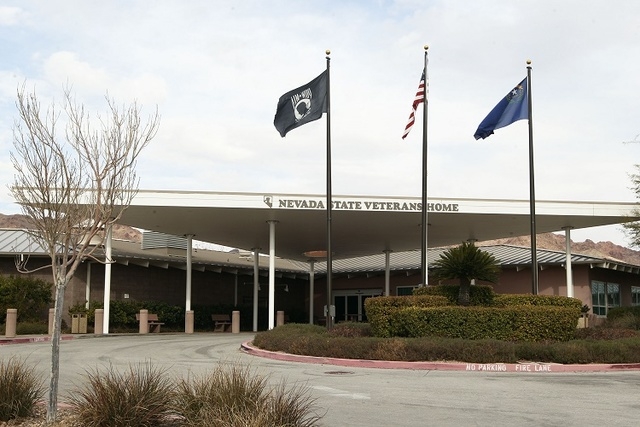 Nevada's state-run veterans nursing home, cited by federal and state officials for multiple deficiencies in 2013 including one that led to the death of a resident, has new leadership and has been under review by an independent panel since early this year.
Herald M. McBride, the new administrator at the Nevada State Veterans Home in Boulder City, has led the facility since Sept. 15. Poppy Helgren, the new director of nursing services, began working Aug. 4 after the former director retired.
Former administrator Frank Bellinger resigned, and his last day was Aug. 1. Officials said he took another job but wouldn't provide details. Bellinger couldn't be reached for comment.
"In the state, personnel matters are confidential," said Kat Miller, director of the Nevada Department of Veterans Services. "Once a person has left our employment, that's a personal matter. I don't talk about that."
In January, Miller appointed a panel to conduct an ongoing review of the nursing home's operation and practices. The panel was formed after December reports in the Review-Journal detailed problems experienced by residents that were substantiated by state investigators.
In one case staff's failure to monitor a patient, former Nevada legislator and longtime optometrist Robert Robinson, resulted in him being left outside in extreme heat for a prolonged time in summer 2013. He died less than three weeks later of sepsis, cellulitis, cutaneous burns and prolonged environmental heat exposure.
Miller said she didn't form the panel as a result of last year's deficiencies or Robinson's death but as part of a larger campaign to improve services for Nevada veterans.
In the midst of leadership changes and the panel review, the veterans home at times continues to fall short in meeting standards of care. The latest complaint investigation at the nursing home in July found that the facility "failed to ensure medications were administered as per the physician's orders for two of three sampled residents," according to state investigation documents.
"Patient noted to be trembling and shaking by member of kitchen staff outside in designated smoking area… Found to be having muscled spasm to bilateral legs, rocking back and forth, and states he hasn't had his medicine in a couple days," according to state investigation documents.
Last month, a new policy covering medication shortages and unavailable medication was written, and the nursing home's clinical staff were trained on it, according to a plan of correction made public Thursday. Before the policy change, staff waited for the pharmacy to refill residents' medication, but staff also could access medication from the emergency supply.
The changes were made to ensure that even doses of minor medication, such as vitamins, are not missed.
Clinical staff also were trained on how to keep accurate and up-to-date medication orders on documents upon admission, according to the plan of correction.
The panel, which has met three times this year, also tracks citations and violations at the facility. The panel's first meeting was in March.
While the panel's meeting agendas are posted for public view, Miller said she didn't think to announce the formation of the group to the public.
"It was something that I did for our agency," she said.
The panel has identified concerns the group wants to monitor. The top concern is resident safety, said panel chairman Bob Garlow, who is also chairman of the Nevada Veterans Assistance League.
The panel also has been looking at response times to call lights in residents' rooms, frequency of showers, food quality and excessive heat safety "to ensure that the care that they are receiving is the highest that we can provide," Garlow said this week.
During the 2015 legislative session, Miller plans to recommend that the panel be made a legislatively authorized body in statute.
Panel appointments then would be made by the governor.
Copies of the panel's meeting minutes are now sent to Gov. Brian Sandoval, Garlow said.
The panel already has made improvements at the veterans home, Miller said. Officials have seen better staff responses to residents' call lights when they need assistance.
"Staff was not always as responsive," she said.
The veterans home has been under investigation by the Nevada attorney general's office since Robinson's death in 2013.
"I don't know when it'll be completed," Miller said of the investigation. "Because it's in litigation, I can't provide any information."
Robinson's family in July filed a federal lawsuit against the facility, the administrator and other unnamed defendants in his death.
Garlow said the panel did review the facility's role in the Robinson case. There is now a policy in place requiring staff to conduct hourly checks outside the facility.
"The program they have in place basically … just ensures that (incidents like that) should never happen again," he said.
Miller hopes the panel will continue to make improvements.
"They provide another set of eyes and ears on everything that we do and it's very helpful," she said.
Contact Yesenia Amaro at yamaro@reviewjournal.com or 702-383-0440. Find her on Twitter: @YeseniaAmaro.