Summerlin moms find ways to bond with their children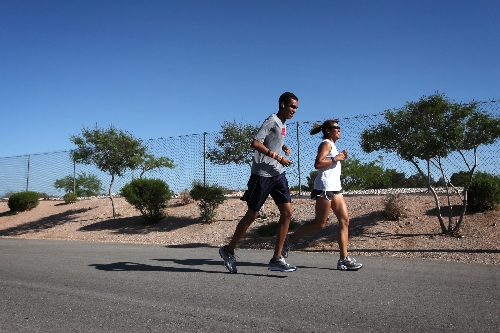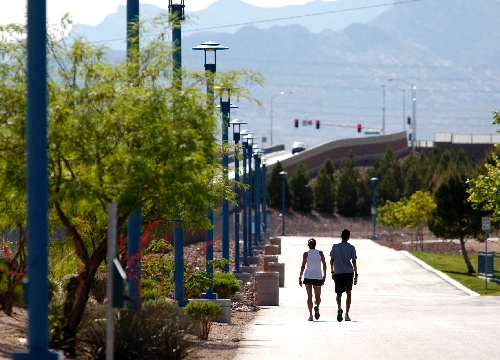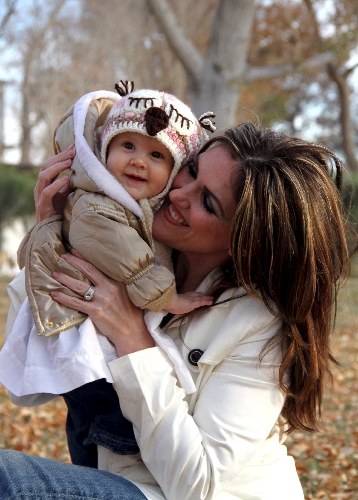 Mother's Day is Sunday, and according to Hallmark, Americans buy 133 million cards for the holiday that honors those who dried our tears and made sure we ate our vegetables.
View recently sat down to talk with some special Summerlin mothers about how they spend quality time with their children.
RUNNING WITH MOM
Terri Russell lost her mother when she was 6 and said she took on a mothering kind of attitude with her younger sibling. Now 43 and a single mother, she is working three part-time jobs while pursuing a master's degree and said she is especially close with her only child, Nicholas, 16.
"I think that experience really shaped my life and made me what I am today, setting goals," she said of her mother's death.
One of those goals was running. She took up the sport in 2006.
"I wanted to check that off my bucket list," she said. "I figured if Oprah could do it, I could do it. Six years later, I've done 19 half marathons, two full marathons and, in 2009, I got into triathlons and … I've done two half Ironmans. I thought it was going to be a once-in-a-lifetime thing, but after that first race, it just became part of my lifestyle."
Seeing his mother's success, Nicholas began running with her about three years ago. He had stopped playing basketball but wanted to stay in shape.
"And my mom said, 'You should do a half marathon, it would be pretty cool,' " he said.
Since then, they go running together nearly every day. Sundays see them on longer runs, covering at least seven miles. They go through Desert Shores or Red Rock Canyon for those workouts. Running led to Russell picking up her third job as a sales associate at Fleet Feet Sports, 7575 W. Washington Ave., Suite 123.
Russell said she's the one who's more apt to say, "Let's do another mile," but "at this point, we start together, but he waits for me at the end because he's a lot faster than me."
Nicholas is also taller. Mom is 5 feet 9 inches. Nicholas is 6 feet 6 inches and still growing.
"I always encourage him to run his own race," Russell said of Nicholas. "When we race, we're at the start line together. I kiss him and say, 'Good luck and I'll see you at the finish line.' "
As for Nicholas, he said he doesn't worry about how his mother is faring during a race.
"It's cool (to run with her) … I think it's fun because it doesn't seem like many people do that with their parents" he said. "I post it on Facebook, 'Went training with my mom.' It's something unique we can do together."
Mom and son travel to enter half marathons, mostly to California, taking in the sights afterward and making the trips into mini vacations. They're eyeing the Mesquite Half Marathon in November.
Nicholas said that when he goes to friends' homes, he picks up on their relationships with their parents.
"They feel safer talking to their peers than their parents," he said, adding that's not the case for him. "I think it's the rapport I have with my mom. I can tell her anything."
They also like to go to the movies together. Nicholas aspires to go to film school at New York University. He said his fellow students at West Career and Technical Academy, 11945 W. Charleston Blvd., where he's a sophomore, tell him he acts older than his age.
"I think I get it from my mom," he said. "I'm more goal-oriented. I'm looking forward to college, not focused on the (day to day)."
THE 'FAMOUS' MOM
Not many children can claim their mother is Marilyn Monroe, but Matilda Hanson can. The 1-year-old can also claim her mom is Shania Twain, Madonna and Cher.
Her mother is Lisa Cash Hanson, 42, who has been performing since she was 20 and appeared in the Las Vegas Strip tribute shows "Legends in Concert" and "American Superstars."
Hanson takes her responsibility to her child seriously, saying, "a mother's job is to raise that baby and try to instill morals and strength and character so they can walk through the world."
With her new role as a mother, she has suspended any performances for months but kept busy with her own projects. In November, she began a blog, Mompreneur Mogul, at mompreneurmogul.com, which focuses on how to find advertisers and make money through blogging.
Hanson said she doesn't profess to be an expert but said "only a mother can understand holding a keyboard in one hand and a wet washcloth in their baby's mouth, to help with her teething, in the other. Men don't go through that, but mothers do. I know what it's like to try to run a blog, maintain a house and (be a good mother) … I don't proclaim to be a big expert (but) other people have come to me for advice. I just share what I know. I share my experiences."
She has also written an e-book, "Get Famous —- The Most Amazing Mom Bloggers Resource on the Planet." As if that's not enough, Matilda spawned an idea for a baby product just by being active during diaper changes. Hanson's perfecting the prototype so it can be patented.
One-on-one moments with Matilda include story time at the Summerlin Library, taking walks and enjoying the park swings.
"I have to daily remind myself to just breathe and sit down on the floor with her and just play and not think about the 10 million projects I have," Hanson said, "because I'll never get this time back with her. The whole point of doing a business at home is to be home, to be with her."
Contact Summerlin/Summerlin South View reporter Jan Hogan at jhogan@viewnews.com or 387-2949.