Summit will examine root causes, solutions for youth homelessness
October 31, 2017 - 8:22 pm
Updated November 1, 2017 - 11:49 am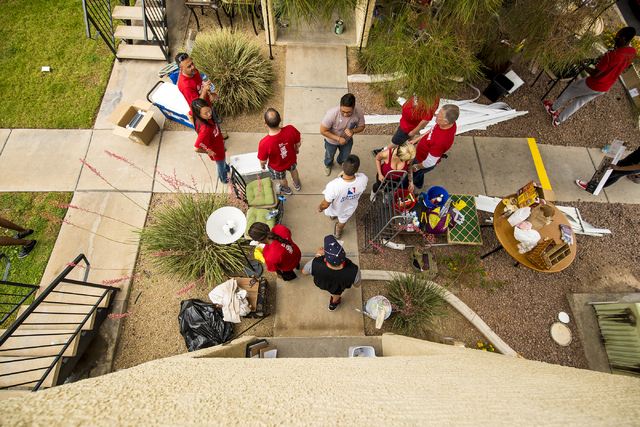 Youth homelessness's effects can ripple into many systems, local officials say — foster care, adult homelessness, juvenile incarceration, mental health, social services, hospitals.
Combating the problem, Nevada Partnership for Homeless Youth Executive Director Arash Ghafoori said, starts with awareness. So the issue's causes and solutions will be explored Thursday during the inaugural Intersections: The 2017 Southern Nevada Youth Homelessness Summit at The Venetian.
The summit, part of Youth Homelessness Awareness Month, will run 9 a.m. to 4:30 p.m. in the hotel-casino's San Polo Ballroom. It is presented by Las Vegas Sands Corp. and Nevada Partnership for Homeless Youth, with support from the UNLV Greenspun College of Urban Affairs and the Las Vegas Review-Journal.
The event, which will be annual, aims to raise awareness through personal testimony, data and experts' presentations. The event will also launch the yearlong Southern Nevada Plan to End Youth Homelessness, a collaboration by local service providers, civic leaders and businesspeople.
The plan will be unveiled at the 2018 summit.
"If we really want to elevate the bar in what we're doing in terms of systemic response, we really need to shine the spotlight on the issue and the complexities that exist with it," Ghafoori said. "What we want to do is start looking at the root causes of this issue and exploring the intersection of these issues," he added. "Not enough people understand youth homelessness."
Recent U.S. Department of Housing and Urban Development data show that Clark County had ranked third nationally in the number of unaccompanied homeless children and youth living on the streets and in shelters. Nevada ranked first nationally in the rate of homeless youths living unsheltered.
The Review-Journal is owned by the family of Las Vegas Sands Corp. Chairman Sheldon Adelson.
Highlights planned for Summit 17:
• A state of the union on youth homelessness by the UNLV Greenspun College of Urban Affairs
• A review of the national policy landscape by Darla Bardine, J.D., Executive Director of the National Network for Youth (NN4Y), the United States' largest public education and policy advocacy organization devoted to homeless youth
• A personal story by Giuseppe Pizano, a former homeless youth
• Interactive focus group sessions exploring the intersections between youth homelessness and other key community issue areas, including human trafficking, education, immigration and LGBTQ issues