Tears flow as friends, coaches share memories of Christina Portaro
September 4, 2011 - 9:59 pm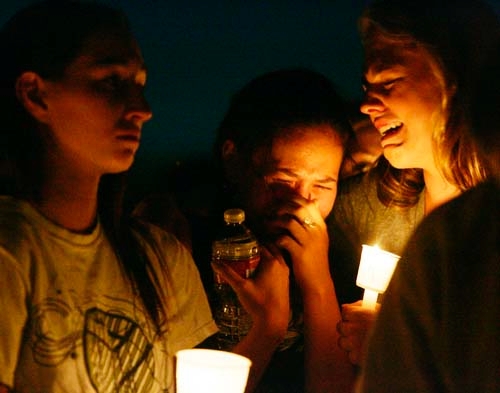 More than 100 of Christina Portaro's friends gathered Sunday evening in an impromptu vigil to say goodbye to the popular Faith Lutheran Junior/Senior High School volleyball player one day after she died in an ATV accident in Utah.
"Her life force is right here surrounding us," Rob Portaro, her uncle, said at a park across the street from the school in the Summerlin community of Las Vegas. It was his second vigil in about five months for a young relative.
Michael, Christina Portaro's older brother, was gunned down March 30 while selling concert tickets outside the Tenaya Creek Brewery.
With candles burning and tears flowing, Portaro's friends and coaches shared their memories of the energetic 16-year-old junior who, all agree, lived her short life to the fullest.
"Christina always pushed the boundaries," said Amy Fisher, her volleyball coach. "I was blessed to have her. She brought fire to that team."
Fisher recounted a particularly tough contest last season when Portaro's leadership surfaced. "She told us we can't just play," Fisher said. "She said we have to compete. She challenged everybody to be better."
"She loved life," friend Chandler Young said. "She's with Mike now."
The volleyball team will honor Portaro by having her uniform number, 13, stitched on the side of team jerseys. "It's so they'll always have her by their side," said Kimberly Perryman, whose daughter grew up with Christina Portaro.
An unidentified friend perhaps said it best: "I just hope we can remember to laugh through our tears."