Thousands watch Latinos strut their cultures on Fourth Street
September 14, 2013 - 7:24 pm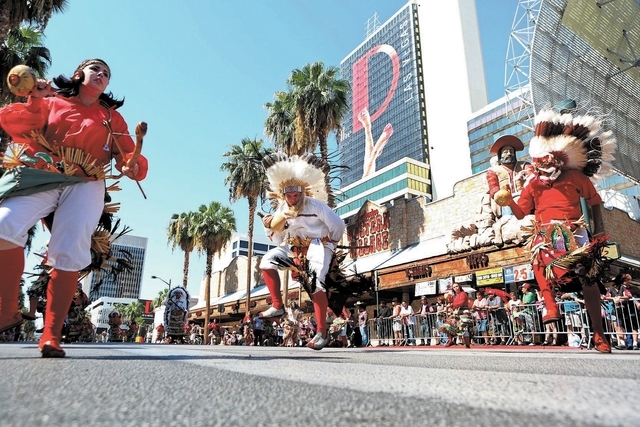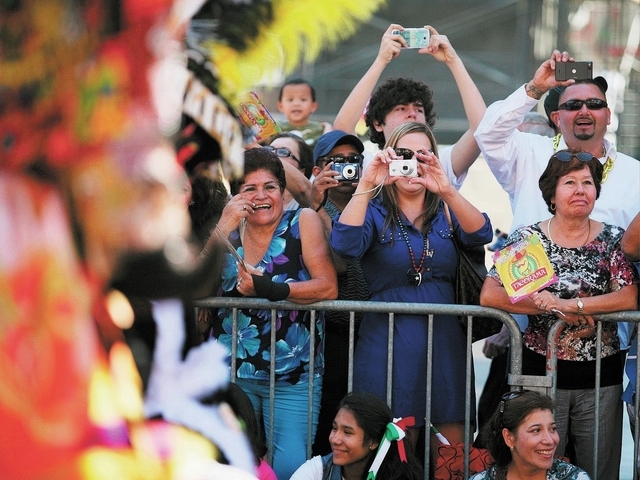 "Chihuahua! Would you look at all the Charros!" exclaimed Leticia Cisneros.
The Las Vegas resident was among thousands of people who showed up at Saturday's Fiesta Las Vegas Latino Parade Festival, the third annual held in downtown Las Vegas.
Chihuahua is a common phrase in Mexico to express amazement, the Mexican equivalent of "Holy Cow!" Cisneros was impressed by the Charros, or Mexican cowboys, as they created circles with their lassos, stepping in and out of them as they twirled them around their bodies.
The rodeo act, which rivals that of any juggler on the Strip and requires more concentration than bull-riding, was just one of dozens of eye-popping performances as the parade made its way along Fourth Street.
The parade was three hours of patriotism, carried out by immigrants from dozens of Central and South American countries, all to celebrate their respective independence days under the banner of Mexican Independence Day, which is Monday.
The parade keeps getting bigger and bigger. The crowds have doubled in size along with the floats. There were nearly 100 entries this year.
And it was all pulled off by three Las Vegas residents who worked around the clock in their spare time: Anasatcio Del Real, Sheila Macias and Rocio Ledesma, the event's founders.
All Latinos by heritage, they said traditions in the home country must carry on, not much different from the way the Irish celebrate St. Patrick's Day or the Germans Octoberfest.
"Las Vegas is a diverse city. Latinos here make up a sizable portion of the population. They're all hard-working people who deserve a break, and there's no better break than a parade and a festival," said Del Real, who works for the city's cultural affairs office.
"It's been fun to see how the parade keeps growing in popularity year after year," he said.
The were so many people that sections of stadium seats were erected to accommodate them.
If the parade was a stage to show off the wide variety of Latinos who live in the Las Vegas Valley — immigrants from Colombia, Peru, Ecuador down to Chile — then it was also an occasion for politicians to remind this formidable voting bloc that they're out there representing them.
U.S. Sen. Dean Heller, R-Nev., dressed in cowboy boots, offered a few words of encouragement on immigration reform after crawling out of a pickup. He's all for the so called "Gang of Eight" 13-year-plan to create a pathway to U.S. citizenship for he country's estimated 12 million immigrants here illegally.
"It's not amnesty," he said. "It's going to be a tough act to become a U.S. citizen." Fines and back taxes are going to have to be paid, and the U.S.-Mexico border is going to be fortified, he said.
State Sen. Ruben Kihuen, D-Las Vegas, the parade's grand marshal, was born in Guadalajara. He said he looks forward to next year, when thousands of people who live in the Silver State illegally will finally get a shot at driving Nevada's roads legally — the result of legislation that he sponsored in Carson City.
"It's a law that was long overdue," he said.
But Saturday's parade and the ensuing celebrations that were expected to last until midnight mostly was a time to have some fun.
"This is my first year here, and I'm loving it," said Cisneros as she watched from the sidewalk, which teemed with hundreds of people. "I already can't wait until next year."
Contact reporter Tom Ragan at tragan@reviewjournal.com or 702-224-5512.