Trike riders bring attention to veteran suicides
January 23, 2016 - 6:04 pm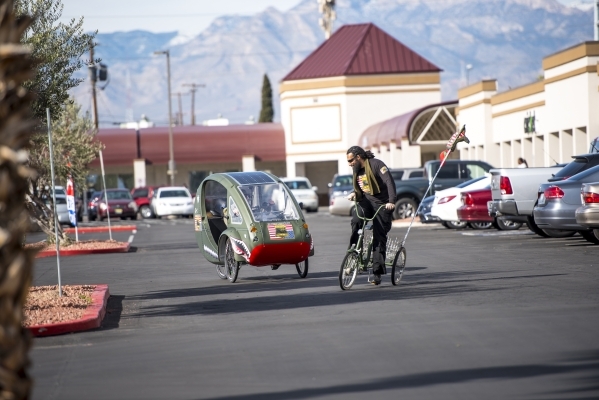 Kelley and Peter Guidry reached a milestone Thursday night: with help of other veterans they pedaled the first 222 miles of a 2,222-mile journey they hope to complete by Veterans Day in their #22DamnMany campaign.
That's the number of veterans — 22 — who kill themselves every day nationwide. That translates to about 120 each year in Nevada, according the Guidrys.
They should know. They are both post-9/11 Air Force veterans who flirted with suicidal intentions after they were discharged from Nellis Air Force Base. But they recovered with help of a Veterans Affairs prevention-and-treatment effort.
Then they founded their nonprofit "Forgotten Not Gone" organization to raise awareness about the problem with a mission to get suffering veterans physically active and interacting with society.
"We're not some person in a three-piece suit starting a veterans organization because it's a good idea," Peter said. "We are the suffering veteran that got around it with other veterans to figure out how to overcome the thing that was holding us back."
The campaign revolves around their recumbent trikes, a laid-back healing mechanism that Peter used to take pressure off his aching knees and cope with thoughts of suicide in his depressed mind.
"It makes you feel like a kid again," he said, riding around the parking lot Friday morning in front of the VA Community Resource and Referral Center on West Owens Avenue.
While he pedaled, Kelley pounded drums with Jeffrey Trower in his "Drum Circle Music Enrichment Program," one they claim beats the VA's oft-prescribed pain-killer-and-psyche-drug treatment for combating mental health problems.
The pharmaceuticals don't mix with alcohol as she learned before turning to a holistic approach like the VA offers in physical therapy, acupuncture and tai chi classes to help veterans deal with combat stress through mind-body alternatives.
Of the 7,800 veterans who commit suicide each year, 69 percent are 50 years old or older, she noted.
And as Rep. Joe Heck, R-Nev., said during a meeting this week with veterans: over 50 percent of the suicides are in the population of nondeployed service members.
"They're struggling with the same issues that the civilians struggle with," he said, listing such depression triggers as failed marriages and financial issues.
"So we've got to build a better mental health system in general," Heck said, adding that Las Vegas has the fewest number of publicly funded mental health beds "of any metropolitan area in the country."
Peter said his experience parallels the point Heck made. "There are noncombat people who never had the access to the same therapists that can help them overcome their disability so they're just stewing away, getting worse and worse."
After about three months of riding recumbent trikes, "I got my husband back," Kelley said. "His level of anxiety went down. He was riding at 2 o'clock in the morning."
Contact Keith Rogers at krogers@reviewjournal.com or 702-383-0308. Find him on Twitter: @KeithRogers2.
HOW TO GET HELP
Service members, and their loved ones can call 1-800-273-8255 and Press 1, send a text message to 838255, or chat online to receive free, confidential support 24 hours a day, 7 days a week, 365 days a year, even if they are not registered with VA or enrolled in VA health care.
VA website