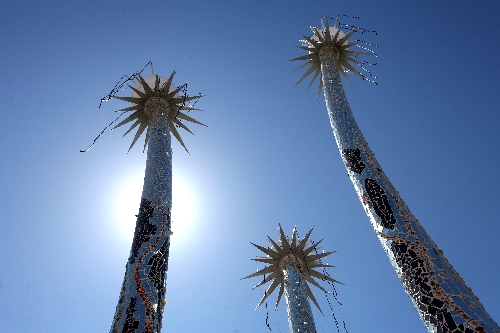 Nevada Highway Patrol troopers are treating this weekend's Electric Daisy Carnival like they handle the hordes who turn out for the annual NASCAR race at the Las Vegas Motor Speedway.
They realize it won't be cars spinning around the track, but the heads of partyers who participate in the all-night music festival. Trooper Loy Hixson said a handful of motorists were arrested for driving under the influence during the carnival's first visit to Las Vegas last year, but it wasn't a huge problem.
Unlike the race, attendees don't stream up Interstate 15 at the same time or even leave the event at the same time, so traffic isn't a issue.
"We didn't have any concerns when it came to traffic," Hixson said. "It consistently trickled in, and people left periodically."
The Nevada Highway Patrol will have traffic control troopers at Interstate 15 and Speedway Boulevard and each gate that leads into the racetrack from Las Vegas Boulevard. He said troopers will be stationed at the entrance from 6 p.m. to 8 a.m. each day of the festival to ensure traffic moves smoothly.
The stations will not be DUI checkpoints, but officers will be on the look out for erratic drivers.
"That's one of our concerns, that when you have a big event, there is the possibility they will drive home (intoxicated)," Hixson said. "There are times when we will come in contact with the driver."
Contact reporter Adrienne Packer at apacker@reviewjournal.com or 702-387-2904.
Electric Daisy Carnival