Trump's steel tariffs may be driving up costs of road projects
Updated July 9, 2018 - 3:54 pm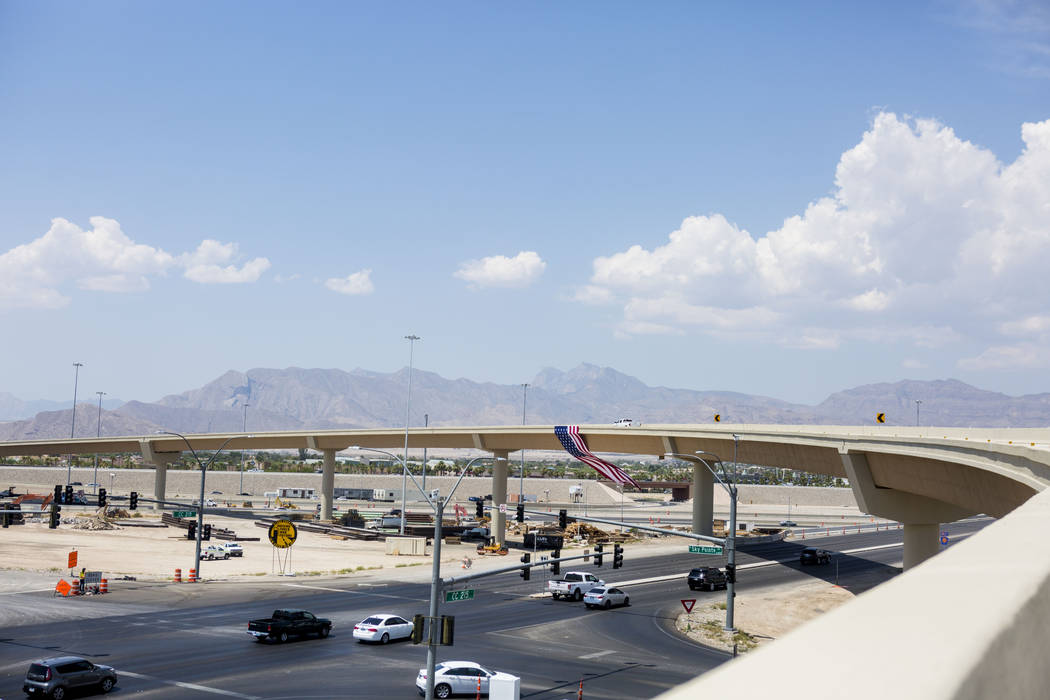 President Donald Trump's steel tariffs may be driving up costs for state road construction projects, as displayed during a recent round of bids for the next phase of the Centennial Bowl interchange in northwest Las Vegas, the Nevada Department of Transportation said Monday.
NDOT had estimated it would cost $49 million to $59 million to build the next three ramps linking U.S. Highway 95 and the 215 Beltway, but Las Vegas Paving submitted a lone bid of $61.5 million to complete the project by 2020, NDOT Director Rudy Malfabon said.
The higher-than-anticipated bid was attributed to Trump's order this year to impose a tariff — or tax on imported goods — of 25 percent for steel and 10 percent for aluminum.
"We've been hearing from contractors that it is causing an issue nationwide with steel prices," Malfabon said during the monthly NDOT board meeting held Monday.
Malfabon said he will examine whether the high-price proposal was caused by any internal errors by NDOT, which would likely prompt the agency to restart the bidding process.
If the steel tariffs are the culprit, then the NDOT board will consider on Aug. 13 whether to award a $61.5 million contract to Las Vegas Paving.
Aggregate Industries, Fisher Sand & Gravel, Meadow Valley Contractors and Security Paving Co. all showed interest in the project, but did not submit bids, NDOT spokesman Tony Illia said.
Work is scheduled to start by fall on the next phase of the Centennial Bowl, which calls for building a flyover ramp carrying vehicles from northbound U.S. 95 to the westbound Beltway, a ramp connecting southbound U.S. 95 to the eastbound Beltway and a third ramp linking the eastbound Beltway to southbound U.S. 95.
Construction of the Centennial Bowl began in August 2015, and the initial phase was completed in 2016 with the opening of a ramp linking northbound U.S. 95 to the eastbound Beltway. A half-mile span connecting the westbound Beltway and southbound U.S. 95 opened in July 2017.
Separately, Malfabon said that he's working with NDOT's environmental team to determine where to build a direct-access carpool lane on Interstate 15. The move comes one month after NDOT scrapped plans to build the ramp at Hacienda Avenue amid concerns raised by MGM Resorts International and developers for the Raiders' new stadium.
The direct-access carpool ramp at Hacienda was supposed to help ease congestion when the Raiders play in Las Vegas. However, the stadium's developers now want to convert the Hacienda overpass into a pedestrian walkway on game days.
In other action, the Federal Highway Administration rejected NDOT's proposal to build a general-purpose ramp at City Parkway and U.S. 95 because it did not meet current standards for interstate access, Malfabon said.
NDOT officials are now considering whether to build a high-occupancy vehicle ramp for City Parkway and U.S. 95, aimed at relieving anticipated traffic jams as the surrounding downtown Las Vegas neighborhood undergoes redevelopment.
Contact Art Marroquin at amarroquin@reviewjournal.com or 702-383-0336. Find @AMarroquin_LV on Twitter.