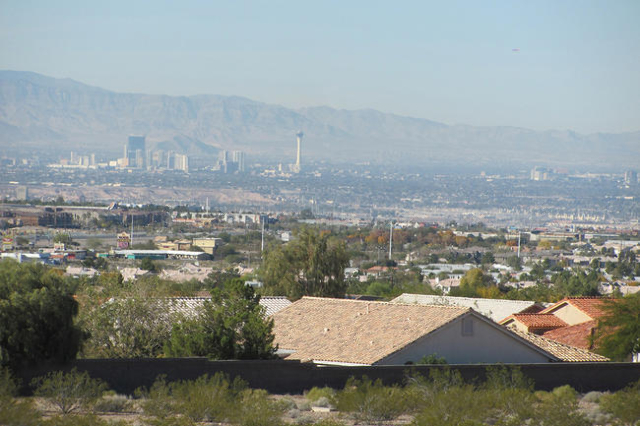 Score Henderson high for more comings than goings. U-Haul International, a Reno company, on Thursday listed Henderson seventh in its list of Top 10 U.S. Growth Cities for 2015.
In a statement, the do-it-yourself moving giant said its rankings derive from net gains of incoming one-way U-Haul truck rentals versus outgoing rentals for the past calendar year. 2015 data came from more than 1.7 million one-way U-Haul truck transactions.
U-Haul said 52.1 percent of truck rental customers for Henderson were coming rather than going in 2015. The company added that Henderson had 6 percent more U-Haul arrivals year-over-year and departures fell 2 percent.
On a Web page announcing Henderson's seventh-place ranking, U-Haul mentioned the city's Artisan Booze District and how the city supplied magnesium for munitions and airplane parts during World War II.
"We have the amenities you'd expect to find in Nevada's second-largest city, including five-star resorts, seven championship golf courses and outstanding dining and shopping experiences," Henderson Mayor Andy Hafen said in the statement. "We're proud that we are able to offer our residents outstanding master-planned communities, diverse educational opportunities and an array of family-friendly cultural and recreational experiences. I'm proud to live in America's premier community."
U-Haul is announcing the Top 10 Growth Cities in a countdown format; it began revealing the list Jan. 22 and is naming a city per weekday. The company will name its top growth city for 2015 on Feb. 5.
Listed cities so far include Missoula, Montana, No. 10; Manteca, California, No. 9, New York City's Manhattan borough No. 8, and College Station, Texas, No. 6.
To see stories on U-Haul's Top 10 Growth Cities, visit http://myuhaulstory.com/
Find Matthew Crowley on Twitter @copyjockey